Visiting Rome in winter is an insider tip. Get to know Rome and its treasures and delicacies without the hustle and bustle of tourists.
Winter in Rome is the ideal travel time if you want to enjoy churches and museums in peace. With the exception of the Christmas season, there are few tourists in Rome and you can roam the city, churches and museums with more tranquility.
Partner-Links helfen uns dabei, unsere Informationen kostenlos bereitzustellen. Für abgeschlossene Buchungen erhalten wir eine Provision – ohne Mehrkosten für Sie! Mehr
Partner links help us to provide our information free of charge. For completed bookings we receive a commission – at no extra cost to you! More
I link dei partner ci aiutano a fornire gratuitamente le nostre informazioni. Riceviamo una commissione per le prenotazioni completate, senza alcun costo aggiuntivo per voi! Di più
Winter weather in Rome
It doesn't get really cold in Rome until the winter solstice on December 21. It is often windy at night, but frost is rare. Sometimes there can be fog in the morning, which gives the city and the parks a special atmosphere.
The Romans hope that it will snow in the nearby Apennines. Then they go to one of the nearby ski resorts.
Really cold it can be until the middle of February, but it is not the same in all years. From mid-February you can feel spring approaching and by March it is often quite warm.
There are also often heavy downpours, but they usually do not last long. Long lasting rain is rather rare.
The urban area of Rome is quite extensive and the climate varies. Thus, it often rains more in the north of the city and snowfalls are also more likely.
Climate data Rome winter
| | | | |
| --- | --- | --- | --- |
| | Dec | Jan | Feb |
| Tmax Ø | 12°C/53.6°F | 11°C/51.8°F | 12°C/53.6°F |
| Tmax absolute | 21°C/69.8°F | 21°C/69.8°F | 23°C/73.4°F |
| Tmin Ø | 5°C/41°F | 4°C/39.2°F | 4°C/39.2°F |
| Tmin absolute | -6°C/21.2°F | -7°C/19.4°F | -7°C/19.4°F |
| Sunshine hours Ø | 3.5 | 3.7 | 4.8 |
| Days with rain Ø | 10 | 8 | 9 |
Source: www.wetter.com
3 reasons to visit Rome in winter
Rome is also interesting in winter. In the pre-Christmas period the city is festively decorated. Right in January, the winter sales begin and shopping is then really fun. There is not much going on at the sights, the churches and museums and the quietness increases the enjoyment of art. You can also enjoy the heavy Roman cuisine in the long winter evenings.
Ice and snow in Rome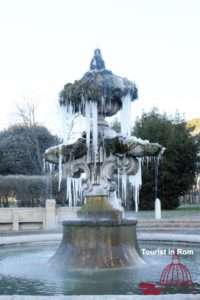 Every now and then there is snow in Rome. When it snows in Rome, it gets really funny. Since the Romans are in principle only with summer tires on the road, nothing works. The traffic comes to a complete halt, the schools remain closed. The buses do not drive anymore. The exceptional situation lasts at most two days, then everything is over.
If you are lucky enough to experience snow in Rome, you should definitely take pictures. You can remember that for a long time.
The fact that there are icy temperatures for Roman conditions is nothing unusual at the end of January and the beginning of February. If it stays cold for longer, the wells freeze. This special spectacle could be admired in late January 2017.
What's going on in winter in Rome
For opening hours, exhibitions, events and concerts please read our monthly overviews.
December 8 with the Feast of the Immaculate Conception is an official holiday.
Hotels
The hotels around Termini Central Station are reasonably priced, but you always need public transport to get anywhere, or you have to walk a long time. If you want to get to know Roman city life, hotels right in the center are ideal, on the ancient Martian field, which stretches from the Tiber to Piazza del Popolo, the Spanish Steps and Piazza Venezia. If you choose a hotel on the other side of the Tiber, you should not choose too far from the Vatican. We have put together some hotel recommendations on our hotel page.
Rome Winter Food
In winter you can immerse yourself in the pleasures of Roman cuisine without regrets. Tie napkin and off you go! Deep-fried artichokes – Carciofi alla Giudia (say Kartschofee alla Djudeea), pickled artichokes – Carciofi alla Romana, fried zucchini flowers, deep-fried stockfish – baccalà, fried rice balls – Supplì, fried olives with meat filling – Olive Ascolane, with a beautiful buffalo mozzarella from Campania, white bacon – Lardo, spicy sausage and cured ham. Also popular are preparations made from beans or lentils, which are served in clay pots "cocci".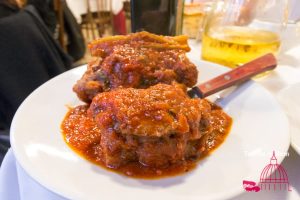 It continues with a nice pasta dish, for example, the Gricia (pronounced Greetscha) bacon and the sheep's cheese Pecorino, the Amatriciana (pronounced Amatritschana) – a Gricia with tomatoes, or Cacio e Pepe – there the noodles are finished in a cheese melt.
A classic Roman main dish is the oxtail in tomato sauce – coda alla vaccinara (pronounced vatscheenara), or offal. If you are not so adventurous, you are on the safe side with a saltimbocca alla romana – veal escalope with cured ham and sage. Also excellent is polenta with sausage or pork ribs in tomato sauce.
In Rome there is very good fresh fish. Some restaurants also offer raw fish, such as raw scampi or gamberi, tartare and carpaccio.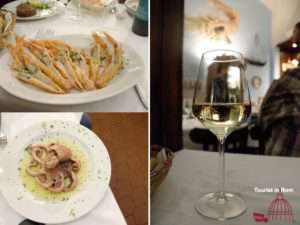 Our favorite for the fish is the bar Sotto il Mare in Via Tunisi, below the entrance to the Vatican Museums. This place is very rustic, also the service, but the fish dishes are prepared with the utmost care. For dessert there is fruit ice cream in the fruit skin from Naples.
Another good place for the fish is Ripa 12 in Trastevere in Via di San Francesco a Ripa. Here you get, among other things, sea bream – Orata or sea bass – spigola – raw filetted with rocket.
Browse our category Food in Rome.
Shopping
Especially in the Christmas season in Rome you will find a huge range from classy designer fashion to international chains with mass production.
As soon as the Christmas season is over, the first shops are lowering their prices. You can find real bargains in Rome after the 6th of January. On the Via del Corso and the side streets you will find everything your heart desires.
Other well-stocked shopping centers are Euroma2, which is not easily accessible by public transport, and Porta di Roma, bus line 38 from Termini and line 80 from Piazza Venezia.
Outside Rome, there are two outlet centers, in Castel Romano and in Valmontone.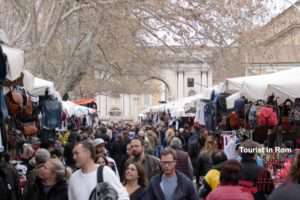 Bargains and collectibles can also be found at the Porta Portese flea market every Sunday morning between Viale Trastevere and Tiber, Tram 3 and 8.
More details you find in our category Shopping in Rome.