April is high season in Rome. To get in at museums like the Colosseum and enjoy your stay worry-free and without long queues, you need to prepare well in advance.
What's on?
There is a lot going on in Rome in April. Palm Sunday on April 2 marks the start of celebrations at the Vatican, culminating on Easter Sunday April 9.
On April 21, Rome's Founding Day is celebrated. There are events at the Circus Maximus and a parade in historical costume on Sunday April 23. April 25 is a national holiday and so there are some nice bridge days until May 1.
Partner-Links helfen uns dabei, unsere Informationen kostenlos bereitzustellen. Für abgeschlossene Buchungen erhalten wir eine Provision – ohne Mehrkosten für Sie! Mehr
Partner links help us to provide our information free of charge. For completed bookings we receive a commission – at no extra cost to you! More
I link dei partner ci aiutano a fornire gratuitamente le nostre informazioni. Riceviamo una commissione per le prenotazioni completate, senza alcun costo aggiuntivo per voi! Di più
Long periods of rain are extremely rare. Most of the time it doesn't rain for long and it is enough you have a light rain cape that you can quickly put on.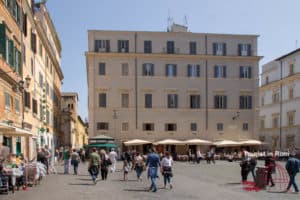 Usually, light summer clothing is sufficient. To be able to sit outside in the evening, you need a light jacket.
When visiting sacred sites, your shoulders and knees must be covered. If you wear off-the-shoulder shirts or dresses, you will need a shoulder scarf or pareo. Comfortable shoes are also important in Rome, as you will be walking a lot and the sidewalks are often bumpy.
Opening hours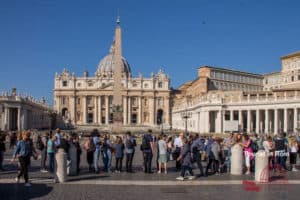 St. Peter's Basilica is closed during the Pope's celebrations, for which you need invitation cards. In April, these are the masses of Pope Francis on Palm Sunday, Maundy Thursday, Good Friday, Holy Saturday and Easter Sunday as well as the audiences on Wednesday mornings.
The exact dates can be found in our article Easter in Rome.
Vatican Museums
City museums and national museums
In Rome, some of the museums belong to the municipality and some to the state.
The city's museums include the Capitoline Museums, Trajan's Markets, Imperial Forums and numerous other museums. National museums include the Colosseum, Castel Sant'Angelo, Borghese Gallery and many more. For the full list of museums, opening times and tickets, see our Rome Museums page.
Free entry
For all the museums of the Municipality of Rome, such as the Capitoline Museums and the Markets of Trajan, free admission on April 2. Admission to the national museums is also free and no reservations are required with the exception of the Borghese Gallery.
Events