Rome April, here you will find information about April in Rome. April in Rome is high season and it takes a little preparation to enjoy your stay carefree and without long waiting lines.
Italians love this period because they can go on vacation without losing many working days. After the Easter week from April 5th to 13th, on April 21st Rome's foundation is celebrated. Then, April 25th is a national holiday followed by the 1st of May.
In April the hotels in Rome are heavily booked. To find out how to find a reasonably priced room and which areas are suitable, read our information about hotels in Rome.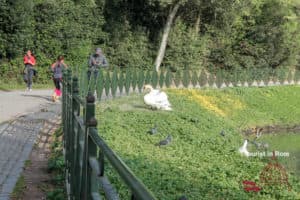 April in Rome is climatically very pleasant. If you have some time, visit one of the Roman villas and of course a lookout point. If you can reserve a day for a trip, there are destinations in the area surrounding Rome such as the excavations in Ostia Antica or the Villa Adriana and the Villa D'Este in Tivoli.
But you can also reach more distant destinations such as Pompei, Naples, Florence or Venice in one day with the high-speed train.
After an intense day, you can experience Rome's culinary offerings in the evening. Whether light Mediterranean cuisine or hearty Cucina Romana, you can eat very well in Rome. You can find out more in our category Food in Rome.
There are queues everywhere in Rome in April. The purchase of the bus ticket or train ticket in the airport can take a quarter of an hour. There are queues for luggage storage in Rome and at car rental companies.
You can avoid the queue at the Vatican Museums by booking your ticket online or with a guided tour.
You can avoid the queue at the Colosseum by booking your ticket online in good time or with a guided tour. Tickets are often sold out weeks in advance.
There are also queues at the ticket offices at the Capitoline Museums. Unfortunately, there is no way around it.
Reservation is mandatory for the Colosseum and the Borghese Gallery. Reservations are recommended for the Vatican Museums. For the Borghese Gallery you have to make a reservation with the
Roma Pass
on +39 06 32810. Since the gallery is usually fully booked well in advance, we recommend purchasing the tickets directly.
Opening hours:
8:30 – 18:15 closing 19:15
On Good Friday April 10 the closure is at 13:00
More details about Colosseum Tickets>
Tickets to the National Museums
Vatican Museums Rome April
The Vatican Museums are closed on Easter Monday April 13th and every Sunday except the last Sunday of the month.
Opening hours
9 – 16 closing 18.
There are extended opening hours on the following days: Good Friday April 10th, Holy Saturday April 11th, Tuesday April 14th, Saturday April 18th + 25th, Thursday April 30th. 9 – 17 closing 19.
You can visit the Vatica­n Museums at night every Friday starting from Friday  April 17th. 19 – 21:30 closing 23:00
Free entry to the Vatican Museums is on Sunday, April 26, 2020. However, there are long lines and it gets extremely crowded.
9 a.m. – 12.30 p.m. Closing 2 p.m.
The Apostolic Palace in Castel Gandolfo is open on weekdays in April 8:30 a.m. – 1 p.m. closing 2 p.m., on Saturdays 8:30 a.m. – 4:30 p.m. closing 5:30 p.m., on Sunday 10 a.m.- 2 p.m. closing 3 p.m. Closed on Easter Sunday and Easter Monday.
Tickets to Vatican Museums and Sistine Chapel
St. Peter's opening hours
Entry to St. Peter's Basilica is free of charge.
In any case, we would advise you to take a guided tour, because otherwise you will not be able to capture many of the details of the basilica with its more than 1,500-year history. If you book the tour in advance on the Internet, you can pass the queue at the security checkpoint with priority granted by the visitor service of St. Peter's Basilica.
More information about St. Peter's Basilica.
Opening hours:
St. Peter's Cathedral 7-19 – St. Peter's Dome 8-18 – Treasury 9-18:15
When is St. Peter's Basilica closed in April
St. Peter's Basilica is closed during the Pope's celebrations, for which you need invitation cards.
The dates for April are:
Pope masses on Palm Sunday 5.4., Maundy Thursday 9.4., Good Friday 10.4., Holy Saturday 11.4., Easter Sunday 12.4., with invitation cards.
The exact dates can be found in our article Easter in Rome.
General audiences every Wednesday morning, with invitation cards
Cirque du Soleil – Totem
Postponed The Cirque du Soleil is in Rome in April with the show "Totem". Do not miss this impressive spectacle!
2.-5.4. Romics International Festival of Comics, Animation, Cinema and Games
Fiera di Roma – Rome fair Train FL1 direction Fiumicino airport

4.4. Postponed 7th Formula E race of the 2019/20 season
07:00 Allianz E-Village opens
08:00 – 08:30 Formula E Free Practice
08:45 – 09:15 Jaguar I-PACE eTrophy Qualifying
09:45 – 10:50 Formula E Qualifying
14:00 Rome E-Prix 2020 (45 min + 1 lap)
15:00 Formula E Podium Ceremony
16:20 Jaguar I-PACE eTROPHY Race
Tickets

5.4. Pope mass in St. Peter's Square with advance booking, blessing of palm branches (usually olive branches)
5.4. 12:00 Angelus Prayer of the Pope
5.4. Free entry to the National Museums and the museums of the municipality of Rome
9.4. Holy Thursday, April 10th Good Friday with the Way of the Cross, 11.4. Holy Saturday with mass of the Easter night and 12.4. Easter Sunday. Details in the calendar of our article Easter in Rome.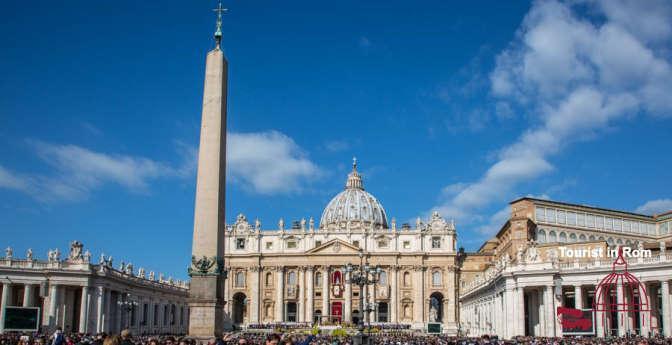 Easter is usually high season in Rome. This year it will be… ►►►
13.4. 12:00 Regina Caeli of the Pope
17.-19.4. Roma Moto Days
Salon of motorcycles and scooters
Fiera di Roma – Rome fair train FL1 direction Fiumicino airport
18.4. 19:00 Oltre la serratura
Concert in the Villa of the Order of Malta
Quintetto di fiati "Santa Cecilia – Concertgebouw"
Andrea Oliva, flauto – Francesco Di Rosa, oboe – Calogero Palermo, clarinetto, Andrea Zucco, fagotto – Guglielmo Pellarin, corno
musiche di F. Danzi, F. J. Haydn, J. Ibert e G. Gershwin
19.4. 12:00 Angelus prayer of the Pope
25.4. Liberation Day, national holiday
26.4. 12:00 Angelus prayer of the Pope
Rome has a lively music scene. Many pubs and music venues offer live music, especially on weekends. Classical music can be found in many churches and palaces.
2.4. Geoff Tate Empire 30th Anniversary Tour
Traffic live club Via Prenestina 738
113, 150F, 313, 314, 501, 508, n075 Prenestina/Tor Tre Teste


Tickets

6.4. Bohemian Symphony – The Queen Orchestra
Teatro Olimpico, Piazza Gentile da Fabriano 17


Tram 2 Apollodoro, Flaminia/Reni
Tickets

Atlantico is a concert hall in the EUR quarter. You take the Metro B to EUR Fermi and then the bus 705 or 706 to Colombo / Atlantico. Viale dell'Oceano Atlantico, 271D Metro B EUR Fermi → 705, 706

A jewel is the Parco della Musica, built by the internationally renowned architect Renzo Piano, in the north of Rome on Via Flaminia. Tram 2

The Parco della Musica has several auditoriums and an open air theater. Here you find performances in all styles.
Some events are organized together with the House of Jazz "Casa del Jazz" Events and tickets Casa del Jazz
Bus 160, 671, 714, 792

Pappano – Levit: Respighi, Bach, Busoni
Antonio Pappano direttore
Igor Levit pianoforte
Bach-Respighi Tre Corali
Bach-Stokowski Toccata e Fuga in re minore BWV 565
Busoni Concerto per pianoforte e orchestra con coro maschile
Maurizio Pollini pianoforte
Brahms Intermezzi op. 117
Beethoven Sonata per pianoforte n. 28, op. 101
Chopin Polacca op. 44
Chopin Barcarola op. 60
Chopin Mazurka op. 56 n. 3
Chopin Scherzo n. 3 op. 39
Antonio Pappano dirige Rossini
Rossini Armida: Sinfonia
Rossini Semiramide: "Quali accenti!… Bella imago degli dèi"
Rossini Otello: "E a tanto giunger puote"
Rossini Messa di Gloria
Paganini: Concerto per violino
Rossini Il barbiere di Siviglia: Sinfonia
Paganini Concerto per violino n. 1
Mendelssohn Sinfonia n. 3 "Scozzese"
Matinée Rossini Il barbiere di Siviglia: Sinfonia Mendelssohn Sinfonia n. 3 "Scozzese"
Haydn 2032 – I giochi e i piaceri
Kammerorchester Basel
Giovanni Antonini direttore
Haydn Sinfonia n. 69 "Laudon"
Haydn Sinfonia n. 61
Haydn Sinfonia n. 66
Beethoven "Imperatore"
Beethoven Concerto per pianoforte n. 5 "Imperatore"
Mahler Sinfonia n. 1 "Il Titano"
Practical tips for Rome April
In April it is climatically very pleasant in Rome. The maximum temperature is 20° C and there are seven hours of sunshine, the minimum temperature is 8° C. There are an average of five rainy days. As a rule, however, it does not rain for long. As precaution you shall therefore have a light rain cape.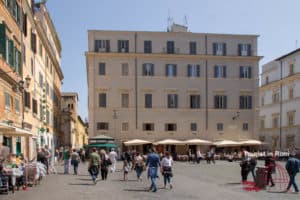 The temperatures are very pleasant during the day and it can get really warm in the sun. For siting outside in the evening, you need a light jacket.
Please note that you must cover your shoulders and knees when visiting sacred sites. If you wear off-shoulder shirts or dresses, you need a scarf or pareo. Comfortable shoes are also important in Rome, as you will be walking a lot and the sidewalks are often bumpy.
Of course, getting up very early requires a certain effort. Nevertheless, we would like to recommend that at least once you get up early in the morning.
There is very little traffic in Rome until six in the morning and you can take undisturbed beautiful photos of the sunrise at monuments and places. You may also meet a wedding couple at a photo shoot, at the Spanish Steps, at the Trevi Fountain or at the Colosseum. The sunrise in Rome is at 6:53 a.m. at the beginnin of April and at 6:08 a.m. at the end of the month.
Early morning is also the best time to jog.
High season in Rome, what you should consider
April is high season in Rome. Be prepared to spend many time of your stay in queues unless you reserve in advance. Avoiding queues should therefore be your first priority.
Public transport is overcrowded at rush hour, especially metro line A, but also some bus routes.
The hop on hop off buses give you a very good orientation. It is best to get an overview on the day of arrival and use the hop on hop off buses for the journey from Termini Central Station to the Basilica Santa Maria Maggiore, to the Colosseum, to the Circus Maximus with the Aventine and to Castel Sant'Angelo with the Vatican.
The best way to get around the city center is on foot. Choose one of the small romantic side streets with less traffic. Read our information about the city center. We have put together some tips with a half-day program in the category three days in Rome.
The Trevi Fountain is another major attraction in Rome. A city police officer told me that the fountain is well attended until 3 a.m. During the day the accesses sometimes have to be closed due to overcrowding.
Our recommendation: Book a hotel in the center and visit the fountains and squares before breakfast when there are few other visitors. It is a unique experience!
Roman gastronomy is usually excellent. Whether you want an opulent dinner, a pizza, a sandwich, an ice cream or something sweet, in Rome you will find a large selection of the best quality. It is therefore not necessary to get roped into the first restaurant that comes along with colorfully printed billboards and plastic models of the dishes. Good restaurants don't need that.
Rome has an interesting street food scene and of course the best pizza al taglio. The best ice cream parlors in Rome offer flavors for every season.
In April ends the season of artichokes, "Carciofi", which you can find fried especially in the ghetto. They are very tasty and are called "Carciofi alla Giudia". The typical Roman pasta dishes can be found all year round. The preparation of Cacio e Pepe with sheep's cheese and pepper is very tasty; variations are the Gricia, the Amatriciana and the Carbonara. Read more about Roman cuisine and get an overview on a street food tour.
It is also very beautiful by the sea. Many Romans go to Ostia on weekends and if you want to eat by the sea, you should reserve a restaurant.
Italian fashion is known worldwide and everyone will envy you for your purchases. Leave enough space in your suitcase for your purchases!
The luxury brands can be found around Via dei Condotti, which leads from the Spanish Steps to Via del Corso. Shops in all price ranges can be found along Via del Corso.
Rome also has art and antiques. Many visitors also stock up on gastronomic specialties. Read Shopping in Rome.
In the south of Rome is the
Appia Antica Regional Park
with numerous catacombs. The "Regina viarum" has been a free open-air museum for more than a hundred years. It is a popular destination, especially on weekends, and you can eat very well here. If you can set it up, you should take a day to explore the area surrounding Rome.
The trip to the sea to Ostia by local train from the pyramid (Metro B) to Ostia Lido is very popular. On the way you can see the very interesting excavations in Ostia Antica. Here you will find the ruins of a complete ancient commercial city with theater. When the weather is nice, you can take a walk on the beach and enjoy the fresh salty sea air. Also read
day trip to Ostia
.
A visit to Villa D'Este in Tivoli is fabulous. The numerous fountains and water games that are fed by the Aniene River are an impressive spectacle. There is also an organ fountain that is powered by water.
Also close to Tivoli is Villa Adriana, built by Emperor Hadrian. It is the largest villa ever built by an emperor. It is very pleasant here in April.
Very intersting is the trip to Castel Gandolfo. There you can visit the papal summer residence on the slopes of the volcano lake and have a good lunch with local wine.
A little further away is Assisi, where St. Francis founded his order. You can visit the Basilica of Francis there and enjoy a lunch of the excellent cuisine of Umbria.