July is extremely interesting in Rome. Concerts, long summer evenings and numerous events make July in Rome particularly livable and lovable. Opening times of museums, events and concerts, here you will find the most important dates.
Unfortunately, queues are everywhere. Whether in front of ticket machines, in front of security controls or in front of museums.
In order to comply with the distance rules, the capacities are reduced. Only a limited number of passengers are allowed on buses and in the metro. The number of visitors to the museums is regulated, as is the number of customers who can stay in a store at the same time.
In these times of corona prevention everything is slowed down and you need a good planning to really enjoy your stay in Rome. Here you will learn everything, that you have to know.
The Roman center is not very big and you can walk to many attractions. Read in our article Hotels in Rome which neighborhoods are suitable for your accommodation.
Queues at the attractions
Basically, everywhere is controlled that the minimum distances are observed. This applies also to the free attractions such as St. Peter's Basilica or the Trevi Fountain.
Avoid queues at St. Peter's Basilica by booking a tour or audio guide with the official visitor service Vox Mundi.
The number of visitors to the Vatican Museums has been drastically reduced. You must therefore book the tickets or the tour online.
Due to the distance rules, only a few visitors can enter the Colosseum at the same time. Tickets are often sold out weeks in advance.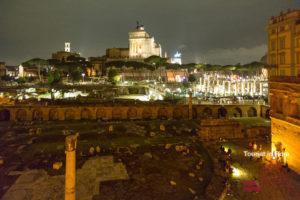 Reservation is mandatory for the Colosseum, the Borghese Gallery, the Vatican Museums and all museums of the City of Rome.
For the Borghese Gallery you have to make a reservation with the Roma Pass on +39 06 32810. Since the gallery is usually fully booked well in advance, we recommend purchasing the tickets directly.
Opening hours
: 10:30 – 18:15 closing 19:15 Details on the
Colosseum tickets>
Night tours in the Coloseum only by reservation
Colosseum Night Tour Tickets>
Tickets to the National Museums
Vatican Museums Rome July
The Vatican Museums are closed on Sunday.
Opening hours
10 a.m. – 8 p.m.
There are extended opening hours every Friday and Saturday
10 a.m. – 10 p.m.
The free entry to the Vatican Museums on the last sunday of the month is suspended.
The Apostolic Palace in Castel Gandolfo is open in July on Saturday and Sunday 10 a.m. – 6:30 p.m.
Tickets to Vatican Museums and Sistine Chapel
St. Peter's Basilica opening hours
The entry to St. Peter's Basilica is free.
St. Peter's Basilica 7-19 – Dome 8-18 – Cathedral treasure 9-18:15
In any case, we would like to advise you to take a tour of St. Peter's Basilica so that you can properly grasp the many details of the basilica with its 1,500-year history. More information about St. Peter's Basilica
When is St. Peter's Basilica closed in July
St. Peter's Basilica is open every day in July.
There are no papal audiences in July.
There are no public papal masses in July.
The Pope's Angelus prayer takes place every Sunday at noon in St. Peter's Square.
Estate Romana · Roman summer
The Roman summer brings holiday mood to Rome. There are numerous concerts in parks and free open air cinema.
Stalls and restaurants are being built on the banks of the Tiber. Details about summer in Rome>
Rome has a lively music scene. Many pubs and music venues offer live music, especially on weekends. You can find classical music in many churches and palaces.
A jewel is the Parco della Musica, built by the internationally known architect Renzo Piano, in northern Rome on Via Flaminia.
In July there is a colorful mix of classical and contemporary music. Events and tickets
Tram 2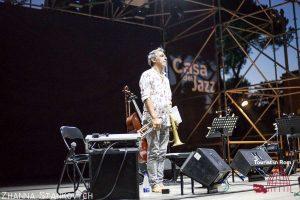 There are several auditoriums and an open-air stage in the Parco della Musica. There are performances in all styles. Some events are also organized together with the Casa del Jazz. Events and tickets Casa del Jazz Bus 160, 671, 714, 792

The concerts, which usually take place in the thermal baths of Caracalla, are now held in the Circus Maximus. Events and tickets Circus Maximus
Metro B Bus 51, 81, 85, 87, 118, 160, 628, 715

The Roman theater of Ostia Antica
Another spectacular venue is the Roman theater in the excavations at Ostia Antica. The theater was built at the time of Augustus with 3,000 seats and expanded to 4,000 seats in the 2nd century.
Events and tickets Ostia Antica
Metro Piramide – Ostia Lido stazione Ostia Antica

Every year in summer, the Rock in Rome Festival takes place In July there are concerts at the horse racing track Le Capannelle on Via Appia. Rock in Rome is canceled in 2020 and will take place again in year 2021. Events and tickets
Bus 118, 520, 664

At the Olympic Stadium in July concerts of Cesare Cremonini and Tiziano Ferro held. Events and tickets
Bus 32, 69, 168, 200, 226, 301, 446, 628, 911 Tram 2

Practical tips for Rome in July
In July, the maximum temperatures in Rome are regularly above 30 ° C and the minimum temperatures are rarely below 20 ° C. Rain is rare. Grasses and meadows turn brown. You should choose your accommodation with air conditioning. A regular breeze moves through the city and the temperatures are not uncomfortable in the shade.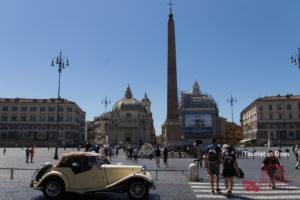 Since you spend a lot of time outdoors in Rome, you need protection against the sun. A sun hat or a parasol are well suited. You also need comfortable shoes.
When visiting the sacred sites, including the catacombs and the Vatican Museums, the shoulders and knees must be covered, even on hot summer days.
When planning your day, be careful not to walk around in the heat of the afternoon. You should plan rest periods with a visit to a park, a swimming pool or a trip to the sea.
In any case, you should avoid too much effort.
The hop on hop off bus is a comfortable ride.
A ride on an e-bike or a Vespa is a bit more adventurous.
A lively and colorful nightlife develops after sunset.
Rome is a shopping paradise. Regardless of whether you want to stock up on fashion, look for vintage or antiques or bring a culinary specialty home with you, you will find the right suggestions in our category Shopping.
The Romans hardly eat lunch on hot summer days. In our category food you will find tips on street food, pizza, the best ice cream parlors, but also on very elegant restaurants.
Rome has wonderful surroundings. In summer, the Romans like to escape the heat of the city. You drive to the sea or in the mountains.
You can reach many destinations by public transport. It is of course more convenient with a rental car.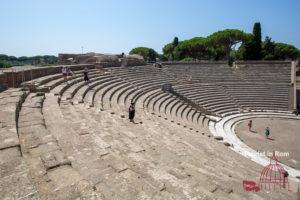 Ladispoli, Santa Severa and Santa Marinella are very nice seaside resorts in the north of Rome. To do this, take the FL5 train line, which runs from Ostiense, Trastevere and San Pietro stations to Civitavecchia. A 3-zone ticket is sufficient for Ladispoli, and 4 zones for the locations of the two saints.
It is very easy to get to Ostia Lido. A ticket for city traffic is sufficient for the journey and on the way you can visit the excavations of the old port city of Ostia Antica.
Formia is very beautiful in the south of Rome. The journey from Roma Termini takes around 90 minutes.
The most famous summer residence of the Romans in Castel Gandolfo. Here the popes spent the summer at around 400 m. Pope Francis, on the other hand, remains in Rome and the palace and gardens in Castel Gandolfo can be visited.
You can get to Castel Gandolfo by train from Roma Termini or from Ciampino with a 3-zone ticket. The train station is on the volcanic hill between Lake Albano and the village.
Very nice is a trip to Umbria, for example to Assisi or Orvieto, is also nice.
With the high-speed trains you can also take a day tour to Naples, Florence, Milan or Venice.