Rome is a very popular destination in spring. The mild temperatures and the many greenery make Rome worth living and loving.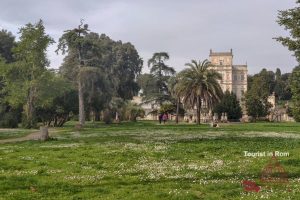 In spring, the trees and flowers in Rome are in full bloom. The gardens and parks of the city are full of colors and offer a breathtaking sight.
Many visitors come to enjoy the spring in Rome. Many attractions sell out early and it is often a challenge to organize tickets.
Play it safe by booking a guided tour, because then the organizer will take care of the tickets. Or you can set up a ticket alert with our partner Tiqets and be the first to know when tickets go on sale for your desired date.
Partner-Links helfen uns dabei, unsere Informationen kostenlos bereitzustellen. Für abgeschlossene Buchungen erhalten wir eine Provision – ohne Mehrkosten für Sie! Mehr
Partner links help us to provide our information free of charge. For completed bookings we receive a commission – at no extra cost to you! More
I link dei partner ci aiutano a fornire gratuitamente le nostre informazioni. Riceviamo una commissione per le prenotazioni completate, senza alcun costo aggiuntivo per voi! Di più
5 reasons to visit Rome in spring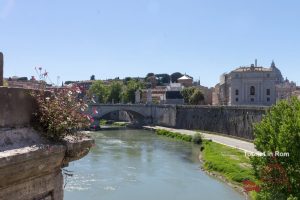 In spring, Rome becomes one big open-air theater. The Romans put their clothes suitable for polar expeditions back in the closet and everything becomes lighter and airier. Everywhere it greens and blossoms. In the numerous parks, nature offers a magnificent spectacle and in the center, history and culture offer an impressive atmosphere on every street corner. Make yourself comfortable and watch the colorful hustle and bustle of the city.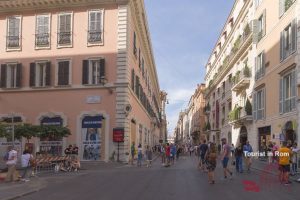 Rome is a shopper's paradise for fashion, local gastronomic specialties, jewelry and for art and antiques. In the center around the luxurious Via dei Condotti, you can find the latest summer fashions for every taste and budget in spring.
The pleasant temperatures are ideal for visiting the numerous open-air museums. Whether you choose to visit the archaeological area around the Colosseum or the Via Appia Antica and its catacombs, the excavations of Ostia Antica, the Biopark, the Rose Garden or the Botanical Garden, there is plenty to see and do everywhere.
Even if the sea water is still cold, a trip to the sea is worthwhile for sunbathing or for a beach walk. Enjoy a good fish dinner in one of the many seaside establishments or in one of the excellent restaurants. Here are tips for a day trip to Ostia Antica and Ostia Lido.
Rome is a foodie's paradise at any time of year. With the warmer weather, it's worth exploring the street food scene at lunch or even in the evening. Many restaurants adapt the otherwise heavy Roman cuisine for the warmer season. There are many fantastic creations. With the pleasant temperatures, it is also a good idea to enjoy a good artisan ice cream in a Roman ice cream parlor.
Spring weather in Rome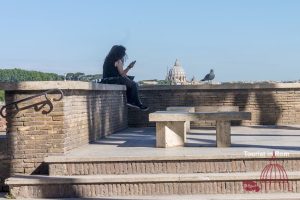 Spring is a popular time to visit because of the pleasant temperatures. March 20 is equinox and astronomical spring begins.
The weather is not always stable in spring. But there is a greater chance that it will be pleasantly warm than cold and rainy.
Before you pack your suitcase, check the weather forecast. But remember that probability of rain is a statistical prediction. With a probability of 90%, it will rain somewhere in Rome, maybe only 10 minutes. In order for it to rain in Rome for a long time and extensively, it needs a special weather situation, such as the famous mediterranean depression.
So it is usually enough to have a light rain cape with you that you can quickly put on. During the day you should think about sun protection, at night you will need a light jacket until the end of May.
Climate data Rome Spring
March
April
May
Tmax Ø
16°C/60.8°F
19°C/66.2°F
23°C/73.8°F
Tmax
absolute
25°C/77°F
30°C/86°F
34°C/93.2°F
Tmin Ø
7°C/44.6°F
10°C/50°F
13°C/55.4°F
Tmin
absolute
-6°C/21.2°F
-2°C/28.4°F
2°C/35.6°F
Sunshine hours Ø
5.1
5.9
7.3
Days with rain Ø
8
8
7
Source: www.wetter.com
What's going on in spring in Rome
Very much happens in April. It starts with the Easter celebrations. These are followed by the celebrations of Rome's Founding Day on April 21 and Liberation Day on April 25. The only holiday in May is May 1st. In June a state holiday is celebrated on June 2 and the day of the Roman city patrons Peter and Paul on June 29.
For opening hours, exhibitions, events and concerts, please read our monthly overviews.
Hotels
To really immerse yourself in Roman city life, hotels right in the center are ideal.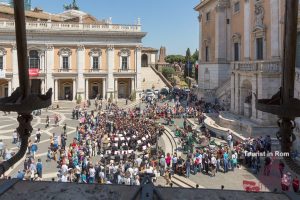 However, it's not easy to find budget hotels in spring in the ancient Campus Martius, which stretches from the Tiber to Piazza del Popolo, the Spanish Steps and Piazza Venezia. We have compiled some hotel recommendations on our hotels page.
Cheaper are the hotels around Termini Station or in the outskirts. However, you will always need public transportation to get to the center.
Food
The traditional Roman cuisine suits better to winter. But many restaurant offer great and delicious creations that go well with spring. Be surprised!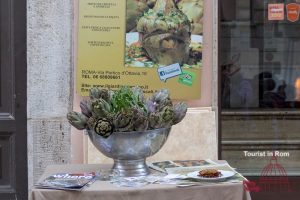 Among the classics, we would like to mention artichokes. They are a winter vegetable, but you can still find them fried until the end of April – Carciofi alla Giudia (pronounced Kartschofi alla Djudia), or cooked in oil – Carciofi alla Romana. Other classic antipasti are fried zucchini flowers – fiori di zucca, fried stockfish – baccalà and fried rice balls – supplì.
Pasta is something Romans eat all year round. The basic recipe is Gricia (pronounced Greedja) – with cheek bacon and the sheep's cheese Pecorino, variations are Amatriciana (pronounced Amatridjana) – with tomatoes, and Carbonara, with egg. And there is Cacio e Pepe – melting the pasta in the pecorino is a skill, and black pepper is added.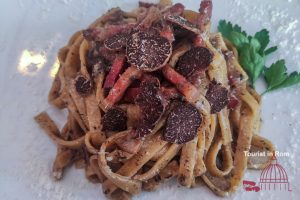 There are many good trattorias in Rome. Giordi near Campo de' Fiori, Virginiae behind Piazza Navona, Miscellanea near the Pantheon, La Canonica in Trastevere or Isidoro between the Colosseum and San Giovanni are just a few examples.
Rome has very good fresh fish.
Some places also offer raw fish, for example raw scampi or gamberi, tartar and carpaccio. However, raw fish has its price.
All pasta dishes with seafood also go very well with the season. The choice is wide, from mussels to lobster.
For fish, our favorites are the rustic bar Sotto il Mare on Via Tunisi, below the entrance to the Vatican Museums, and the elegant Ripa 12 in Trastevere, but there are many others.
Browse our food in Rome category.
Shopping
In Rome you will find a huge offer from noble designer fashion to mass-produced goods of international retail chains. Here you can stock up on the latest summer fashion at good prices.
From mid-June, prices drop in preparation for the summer sales that begin in July. On Via del Corso and in the side streets you can find everything your heart desires.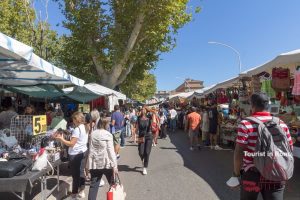 Outside of Rome, there are two outlet centers in Castel Romano and in Valmontone. Both also have an amusement park.
Bargains and collectibles can also be found at the Porta Portese flea market every Sunday morning between Viale Trastevere and Tiber, streetcar 3 and 8.
More details can be found in our Shopping in Rome category.