The food stores in Rome are a paradise for foodies. Fresh and processed regional specialties are the basis of Mediterranean cuisine.
Many delicatessens have their own artisan suppliers, so it can be very exciting to sample rare products and make a list of what you want to take home. Leave enough room in your suitcase for pasta, spices, air-dried ham and a fresh buffalo mozzarella!
By the way, in Fiumicino airport, liquids in hand luggage are allowed without limit at the security check.
Partner links help us to provide our information free of charge. For completed bookings we receive a commission – at no extra cost to you! More
Delicatessen
Delicatessen specialties in Rome, the offer is huge. Air-dried ham from Parma, Tuscany or the Apennines, buffalo mozzarella from Campania, cheeses and sausages from all regions and vegetables pickled in oil belong as antipasti on the starter plate.
Many supermarkets have a counter where sausage and ham are freshly sliced.
However, delicatessen shops and delicatessen shops offer a larger selection and selected products that cannot be found in the supermarket.
The most famous delicatessen shops are Paciotti in the northwest behind the Vatican, in Via Marcantonio Bragadin, Cipro metro station, and Volpetti by the pyramid in Via Marmorata at the bus stop for lines 23, 75, 280, 716. The Piramide metro station for line B is 450 m away.
At the back of Ostiense train station is the Eataly delicatessen temple. There is a direct passage from the Piramide metro station, it will be around 450 m.
Here you will find high quality restaurants and you can buy good quality products from all Italian regions. Eataly offers selected products, also directly from the farmers or from small craft businesses, fruit and vegetables, fish and meat, cheese and sausage products, pasta, bread, oil, wine, beer, juices and everything that can be found in Italy in terms of high-quality food.
Eataly is open daily from 9 a.m. to midnight.
Castroni is a coffee roaster with several branches with specialties from all over the world. Many special products can only be found in Rome at Castroni.
Supermarkets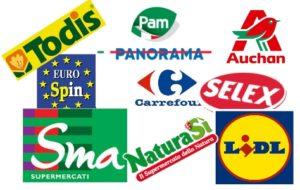 The names are Todis, Conad, SMA, Auchan, Carrefour, Elite, PAM, Panorama and others. Lidl and Eurospin are only in the periphery and they can usually only be reached by car.
Most of the organic supermarkets belong to the Naturasì group. The luxury supermarket Eataly belongs to the delicatessen segment.
Most large supermarkets are also open on Sundays and only close on major public holidays such as Christmas, New Year, Easter and Ferragosto (on August 15th).
The supermarkets in Rome open between 8:00 and 9:00 in the morning and close between 8 and 10 p.m.
A cheap chain is Todis. Here you can find good, inexpensive products, fruit and vegetables, cold cuts, milk, cheese, bread and, in some markets, a meat counter and a fish department.
PAM, Panorama, Auchan, Carrefour, SMA and Conad are very well sorted, but more expensive.
Many supermarkets offer home-made bread and pizza as well as fried foods.
Bakeries
Yeast, salt, water and flour are the ingredients for Roman bread and pizza. Mixed breads and wholemeal breads are not part of the tradition in Rome. In addition to bread, the bakery – il panificio – in Rome also offers sweet pastries and pizza. Many also offer small dishes.
In the shops you can find a greater variety of breads, bread baked in a wood oven from the Castelli Romani, unsalted bread from Tuscany (pane sciapo) or bread from Altamura in Puglia. At the Volpetti delicatessen you can even find Paarl and pear bread from the South Tyrolean Venosta Valley.
You can find fresh artisanal pretzels in the Viennese pastry shop La Dolceroma in the Ghetto, to the left of Gigetto at Portico d'Ottavia. Pretzels and rolls are also available at Lidl's baking stations.
The most famous bakery in Rome is Panella on Via Merulana, coming from the Basilica of Santa Maria Maggiore on the left. Here you will find a large selection of bread, pizza and pastries, Arabic desserts and a delicatessen shop.
Markets · mercati rionali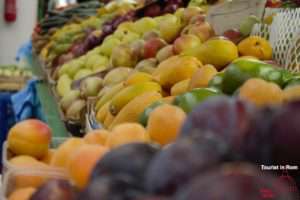 In almost every neighborhood in Rome you can find a food market where you can find fresh fruit and vegetables, meat, fish and housewares. The markets are generally open Monday to Saturday from 7 a.m. to 2 p.m., some of them a little longer. In some markets you can find restaurants that are open until 10 p.m.
One of the most famous markets is the Mercato Trionfale in Via Tunisi, opposite the entrance to the Vatican Museums. Here you can find fresh eggs sorted by laying date.
In the center there are markets on Via Flaminia, just a few hundred meters after Piazza del Popolo, and on Via Cola di Rienzo just after Piazza di Risorgimento.
Opposite the Museum Macro Testaccio is the Mercato Testaccio. Many boxes offer street food. At Box 15 you will find Mordi e Vai, a famous street food specialist for sandwiches. Here you can have the bread filled vegetarian or with all kinds of meat such as tripe or offal, sausages, chicken, beef or veal strips. Opening time is Monday – Saturday 8 a.m. – 3 p.m. On some weekends the market is open until 11 p.m.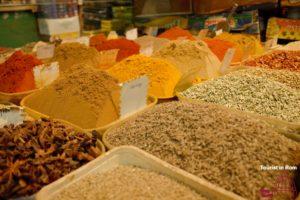 The market with the largest international offer is the Nuovo Mercato Esquilino (also called Mercato di Piazza Vittorio after its previous location), which is located on Via Giolitti diagonally opposite the station for regional trains from Termini Station (towards platform 29), behind the hotel Radisson Blu.
The city is also full of small fruit and vegetable shops.
With fruit and vegetables you can usually take by your own or you can specify the amount: Mezzo chilo – half a kilo; un chilo – one kilo; due chili – two kilos, and so on.
A head of lettuce – in Italian a piece – un pezzo – di insalata. Two pieces are due pezzi, and so on. You want a bunch of rughetta, radishes, or whatever – un mazzo di rughetta, ravanelli …
Farmers markets
The Coldiretti farmers' association operates some farmers' markets in Rome. They are open for a day or two over the weekend.
The most famous farmers' market at Circus Maximus in Via di San Teodoro is open Saturday and Sunday. 8 a.m. – 3 p.m.
Another farmer's market is located at the San Paolo metro station in Via Alessandro Severo in a historic bus hall. It is open on Saturday and Sunday morning.
Meat & Fish
In Rome you can find mainly beef (manzo or vitellone), veal (vitello), poultry and lamb (abbacchio). Pork is used relatively rarely in Roman cuisine.
Many butchers (macellerie) also offer prepared meals. Angelo Feroci in Via della Maddalena behind the Pantheon and the butcher's Nasini in Testaccio are well known.
When it comes to fish you can find a wide range of fish in Rome, from cheap imported fish from aquaculture to freshly caught fish from Fiumicino and Anzio. Many Romans like to eat raw fish and raw crustaceans. Some fish shops (pescherie) offer the products already prepared and you can eat them directly in the shop.
Confectionery
Sweet pastries can be found at bakeries (panificio) and pastry shops (pasticceria). In Rome you will mainly find Sicilian specialties. A lot of almonds and marzipan are processed. The cantucci come from Tuscany and are often dipped in sweet wine as a dessert.
There is also a long tradition of chocolate in Italy, particularly in Piedmont and Perugia. A well-known representative of this guild is Venchi with several branches in Rome.
Wine shops · Wines, grappas, liqueurs and olive oil
There are numerous well-stocked wine shops in Rome. They offer a large selection of selected wines as well as liqueurs and spirits.
The wine shops of the Bernabei Group, for example, offer a large selection and good advice. Shops that only advertise volume discounts and colorful liqueurs should be avoided.
Typical liqueurs are the yellowish cloudy limoncello made from lemon peel and orange liqueurs made from the peel of mandarins or oranges, mirto, the dark sloe liqueur from Sardinia, and the almost black nocino made from nuts. There are also all kinds of herbal liqueurs and amari – bitters.
Many wine shops also sell olive oil. Other good sources of olive oil are the farmers' markets and organic supermarkets.