There are many possibilities for shopping in Rome. Whether high-end brands, vintage shops or markets, in Rome there is everything.
City center> · Vintage> · Art&Antiquities> · Outlet Villages> · Groceries>
Shopping in Rome · Overview
In the following zones you will find a good selection of clothing shops:
In the city center around Via del Corso up to the Spanish Steps, in the area behind Piazza Navona in the direction of the Tiber banks and around Campo de 'Fiori and through the Via dei Giubbonari towards the Ghetto.
On the other side of the river, you will find interesting shops in Via Cola di Rienzo, from Piazza del Risorgimento near the Vatican in the direction of Piazza del Popolo.
Many shops can also be found in Via Nazionale, which runs from Termini train station to Piazza Venezia.
Just outside, but easy to reach by metroline A, you will find shops on the Via Appia Nuova between San Giovanni and Piazza Re di Roma.
Shopping in Rome · Shopping centers
Rund um Rom gibt es an den Autobahnen etliche Einkaufszentren. Sie sind jedoch mit den öffentlichen Verkehrsmitteln zum Teil nicht gut zu erreichen.
The main shopping centers are Parco Leonardo on the train line to Fiumicino airport, Euroma 2 on Via Cristoforo Colombo in the direction of Ostia and Porta di Roma in the north-east, bus lines 38 and 80.
Shopping in Rome · Outlet Villages
In the south of Rome there are two Outlet Villages.
The Outlet Village Castel Romano liegt an der Via Pontina auf halber Strecke nach Pomezia. is located on Via Pontina halfway to Pomezia. There is also the theme park Cinecittà World.
The Valmontone Outlet is located on the motorway to Naples, exit Valmontone. There is also the recreational park Rainbow Magicland.
Shopping in Rome · Via del Corso
The most famous shopping street is Via del Corso. It connects Piazza Venezia with Piazza del Popolo and can be easily reached by bus and metro line A. There you can find clothes shops, also cosmetic shops, and a few ice cream parlors for refreshing during shopping. You'll find chains such as Zara, H&M, Ralph Lauren, Subdued, Nike, Oisho, Sisley and Brandy Melville as well as cosmetics stores like Sephora, Kiko or Lush.
Another very popular and prominent shopping street is Via dei Condotti. It crosses Via del Corso and leads to the Spanish Steps. On this shopping street you will find high end designer brands such as Fendi, Giorgio Armani, Prada, Gucci, Moncler and Louis Vuitton, Cartier and Tiffany.
An attraction for kids is the Disney Store, which is located coming from Piazza del Popolo after Via dei Condotti on the left.
Shopping in Rome · Vintage
If you are more interested in vintage clothing there are Pifebo with several branches in Rome. In Monti there are numerous vintage stores in the area around the Via dei Serpenti. A branch of Humana Vintage is located on Via Cavour. Otherwise, you can find other No-Name Vintage or Second Hand Shops on the Corso Vittorio Emanuele II and some side streets.
An alternative to the vintage shops is the market of Porta Portese, which takes place every Sunday morning. In this market you have to pay particular attention to the fact that you are not stolen. Read my article Pickpockets in Rome.
Art and Antiques for sale in Rome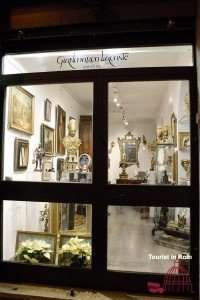 A famous street is Via Margutta. It is located behind Via del Babuino, which leads from the Spanish Steps to Piazza del Popolo.
Known for antiques is Via dei Coronari, which you will find behind Piazza Navona in the direction of Castel Sant'Angelo. There are also antiques on the Sunday market at Porta Portese.
You can find some photos of the Via dei Coronari at Christmas time in our gallery.