Eating out in Rome. Variety and quality of food in Rome are constantly improving. The restaurant scene is changing and during my walks through the city I discover interesting new openings, while other places disappear.
Here you'll find a general overview.
Pizzerias, restaurants and wine bars invite you to eat and relax in Rome. From the simple Trattoria to the top restaurant you can find a wide selection in Rome.

How do the Romans eat?
A Roman's breakfast mostly only consists in an espresso and a croissant – caffè and cornetto – at the bar for around 1.50 euros, maybe also a cappuccino.
At noon many go to a street food restaurant or to a pizza oven (pizza al taglio) and afterwards there is caffè again – the tourists are known to drink cappuccino in the afternoon.
In the evening there then is an extensive multi-course meal.
If cooked at home, noodles can be served for lunch and dinner.

Street Food
Street food is a very cheap alternative to the restaurant visit.
Street food in Rome · Paninoteche
In Rome you will find a wide range of sandwiches – Panini – in a Paninoteca. The sandwiches are offered in all possible variations: different kinds of meat, meatballs and sauces, ingredients of Roman cuisine and salads. A well known paninoteca is Mordi e Vai
in the Testaccio market.
Pizza al taglio
The pizza from the tray is one of the most popular choices for a quick meal in between bigger meals or as a substitute for a dinner. It is important that the pizza is prepared in the laboratory of the shop and is not heated up from the refrigerator. Many supermarkets now also own ovens and offer fresh pizza. Read pizza street food in Rome
Deep fried food
Many shops also offer deep fried foods. There are usually Supplì – fried rice balls in different varieties. Normal supplì contain tomato rice with mozzarella, besides you find variants such as Cacio e Pepe, Carbonara and Amatriciana. Arancini – the Sicilian variation – are conical fried rice balls with filling.
Often you will also find Olive Ascolane, deep-fried olives with meat filling, Fiori di Zucca, fried zucchini flowers, fried vegetables, potato croquettes and fried mozzarella.
Deep fried fish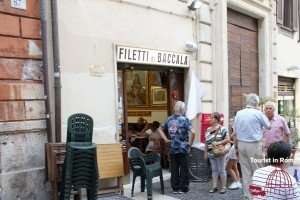 Some stores also offer deep-fried fish. It is important that the fish is freshly fried and doesn't sit-in the oil for too long. In particular the calamari, which can become rubbery otherwise.
The classic in Rome is the deep fried codfish Baccalà. It is an integral part of Roman cuisine and has kept the Romans from starvation. One of the classics is the very rustic restaurant Dar Filettaro
between Campo de' Fiori and the Ghetto.
At Filettaro you get the cod fillets fried in huge pans. As a starter they offer anchovies with butter and other dishes depending on the season. For drinks they can offer a good beer or house wine on tap.
Fried fish you find also at Pesce fritto e baccalà
behind Piazza Navona. The restaurant is not easy to find in Via del Teatro Pace 37. You will have to take the road to the right of the church of Sant'agnese coming from Piazza Navona. The second street on the left is Via del Teatro Pace.
Pesce fritto e baccalà has been around for several years in Ostia and is very popular there. Now the operators have opened this second restaurant in Rome. There are several varieties of deep-fried seafood, anchovies and baccalà. In addition, a daily dish of noodles with fresh seafood is offered. The fried ricotta with cinnamon as a dessert is also quite delicious.
Doner Kebab
You can also find kebab shops at many of the city's nodal points. The kebab rolled into the flatbread is inexpensive and replaces a complete meal.

Roman cuisine
The Roman cuisine is a simple and rather heavy kitchen. You will be able to find "Cucina alla Romana" in many simple restaurants marked "Trattoria" or "Osteria". Depending on the season, you can choose from a variety of artichokes such as "Carciofi alla Romana" or deep fried artichokes "Carciofi alla Giudia", "Fiori di zucca" deep fried courgette flowers, deep fried rice balls "Supplì" or a type of endive salad with anchovies "Puntarelle".
Usual pasta dishes are Cacio e Pepe, Amatriciana, Gricia, Carbonara and sometimes the Pajata, with the very delicate tripe of the milk calf.
As main courses, you will find innards of lamb and poultry "Coratella", tripe "Trippa", sweetbread "Animelle", oxtail in tomato sauce "Coda alla Vaccinara" and of course various preparations of codfish "Baccalà".
Many places with Roman cuisine can be found in the Ghetto, in Trastevere and also in the Borgo between the Vatican and Castel Sant'Angelo.
The Ghetto on
Trastevere on
The Borgo on
Sicilian cuisine
The Sicilian cuisine, which is characterized by diverse cultural and religious influences, from the Greeks to the Saracens and the Normans to the French and Piedmontese, is also really popular. In addition to a wide range of appetizers and main dishes, you will find a wide selection of desserts with a special ricotta, marzipan and candied fruits such as Cannoli or Cassata.
Sicilian restaurants are not very widespread in Rome, Sicilian sweets are available in many pastry shops instead.
Pizze and Focacce
Pizze and Focacce are made from a yeast dough which is baked at high heat. It can be considered to be a type of freshly baked bread, which can be served with or without tomato sauce and mozzarella and various other toppings. The version from Naples is higher, made from a thicker dough, while the Roman version is very thin and crispy.
Pizze and Focacce can be found in many restaurants.
A special kind is the " Pinsa ", which is prepared with particularly traditional ingredients and a slowly ripened dough.
Fish
In Rome, sea food is commonly popular. Freshwater fish, especially trout, can be found in the hinterland, for example in Tivoli.
In Rome, there are a lot of excellent fish restaurants and fish shops, where you can eat. In addition, there are restaurants specialized in crustaceans "Crostacerie".
The oyster situation is somewhat difficult. The supply of local oysters is scarce and the majority of the oysters have already traveled a long way.
A challenge is the preparation of raw mussels, crustaceans and fish, which must be particularly fresh.
Fish restaurants on
If you would like to have tips on my favorite places, write me!
Grilled meat
In many places you can choose your meat directly at the counter. The Chianina meat, an original cattle breed from Tuscany, is very popular. Danish beef is also popular because it's more marmorated.
Besides beef, lamb is popular, Arrosticini are small skewers, or Scottadito, grilled lamb chops, mostly little meat and lots of bones.
Of course you will also find sausages, ribs and other varieties of meat.
Restaurants for upscale events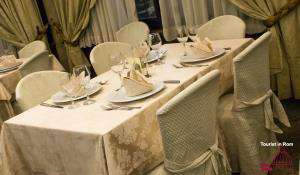 Some selected restaurants for a good meal in upscale surroundings, for engagement, baptism, wedding or anniversary. Continue->
Enoteca
You will find small tasty specialties in many wine shops.
Particularly to mention are the Antica Enoteca
in via della Croce, a crossroads of Via del Corso, and Cul de Sac
in Piazza di Pasquino, behind Piazza Navona.
All you can eat
In Rome, inexpensive Chinese restaurants have been established since many years. Many of these places have expanded their offer with sushi or Thai cuisine and offer quite inexpensive formulas for lunch and dinner.
At lunchtime some Italian restaurants offer a rich buffet of antipasti, first courses and desserts. For Sunday, the buffet is often advertised as a brunch, although the typical ingredients of a breakfast are missing.
Tip
To give a tip in Rome is not a duty, but tip is of course gladly seen. If you are satisfied with the service, you can give 1 euro tip per person, in very good restaurants with a very attentive service also 2 euro. You should always give tip in cash, the rounding up of the credit card bill is not possible for tax reasons.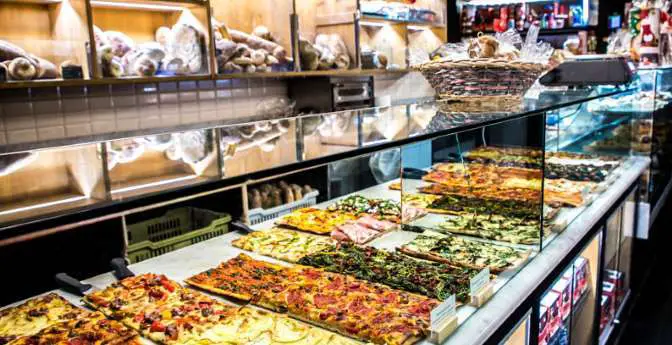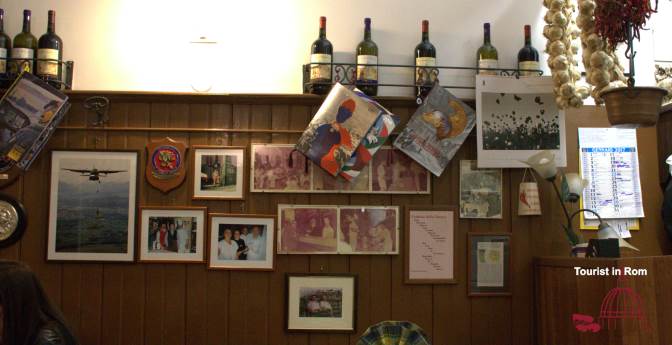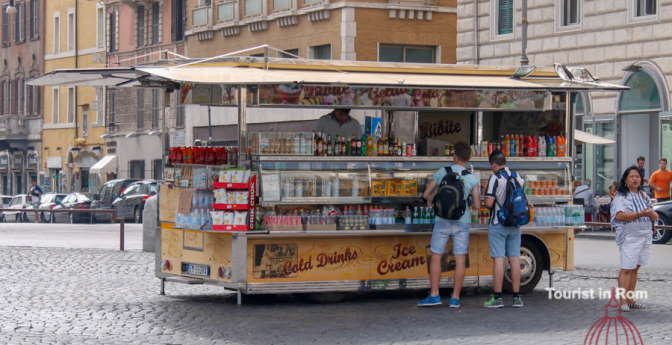 Gip and rip-offs are everywhere, even in Rome. Although much is warned, many tourists are… ►►►