Rome is a fascinating city with its own way of partying and enjoying the nightlife. Find out the best way to spend the nights in Rome and what nightlife in Rome is all about.
Partner-Links helfen uns dabei, unsere Informationen kostenlos bereitzustellen. Für abgeschlossene Buchungen erhalten wir eine Provision – ohne Mehrkosten für Sie! Mehr
Partner links help us to provide our information free of charge. For completed bookings we receive a commission – at no extra cost to you! More
I link dei partner ci aiutano a fornire gratuitamente le nostre informazioni. Riceviamo una commissione per le prenotazioni completate, senza alcun costo aggiuntivo per voi! Di più
When in Rome do as the Romans do! The best way to start off a night is with a nice dinner and some typical wine and limoncello. This will certainly give you a good base to continue your night.
The next step is to decide where to go and carry on. If you want to learn more about the nightlife in Rome you are in the right place.
Where to go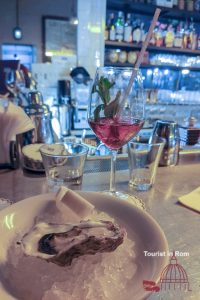 While there are many bars and clubs all over the city, the center is certainly the most popular and crowded part of the city. Both locals and internationals like to spend their evenings and nights around the beautiful neighborhood of Trastevere or the lively square of Campo de´ Fiori.
In this article we will dive into our personal favorites when it comes to bars and nightlife in the eternal city. Welcome to or little Rome Nightlife Guide!
Trastevere
Located on the other side of the river, Trastevere is one of the most picturesque and famous neighborhoods of Rome. Walking through the tiny streets will certainly make you fall in love with the city. Not only during the day will you find beauty in every corner. Especially when it comes to the nighlife in Rome, Trastevere plays an essential part.
Trastevere is full of popular bars and restaurants that will catch your attention. Here are our personal suggestions within the nightlife district Rome though.
VinAllegro
Our first place on our nightlife in Rome list is great for wine lovers on a budget. Vin Allegro is in the center of Trastevere and offers a wide range of local Wines by the glass or bottle. One glass of wine will run you anywhere between 5€ and 13€. This place also serves food! Both bigger plates and smaller charcuterie boards of sorts are on their menu

.
Bali Bar
This next place has a great selection of cocktails while also serving Thai food around dinnertime. Bali Bar is a small hidden gem in the heart of Trastevere with two beautifully decorated seating areas, including an inside smoking area. The main entrance is not very noticeable, once you find it you will have to ring a tiny bell to enter the bar. If you are many people it could be smart to call ahead to make sure you´ll find a table. Bali Bar definetly deserves a spot on our Nightlife in Rome list

.
PIMM´S GOOD
Another great option for some after dinner cocktails or beers is Pimm´s Good. This place is a staple for the nightlife in Rome. It is located on a very beautiful street in Trastevere and offers both outdoor and indoor seating. This place is very popular, which is why calling ahead to reserve a table is probably a good idea. Especially after dinner it can be hard to find a table if you are more than 4 people

.
Campo de' Fiori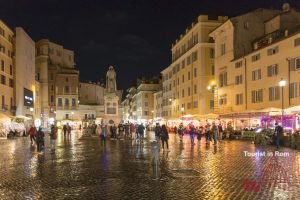 Just across the river Tiber from Trastevere is another great square to have some drinks after dinner. You might even say that Campo de' Fiori is the nightlife district in Rome. This square is the center of nightlife in Rome. Campo de´ Fiori hosts a beautiful market during the day and transforms itself into one of the most popular spots of the city at night. There are many bars right on the square that mainly offer outdoor seating and lively music, but these are our personal favorites.
Taba Café 
Taba Café offers a great selection of exquisite cocktails and beers in a characteristic environment. The outdoor area of the bar offers vintage sofas or basic chairs as seating, which makes the design of the bar particularly beautiful. This bar also serves food and typically closes before 2am

.
Giordi
Named after the statue of Giordano Bruno in the very center of the square, our next recommendation is Giordi. This Bar truly is a staple of nightlife in Rome. It is located right on the square and offers a very lively atmosphere with nice lighting and great selection of music. This place also serves food, a wide selection of beers, wine, cocktails and shots. Giordi is always a good time while also being a perfect place to socialize and meet people who want to have a good time. Their closing time is normally around 2 in the morning

.
The Drunken Ship
Another great bar on the square of Campo de´ Fiori is the Drunken Ship. This bar is very popular amongst internationals. It offers beer pong on the inside and a seating area on the outside. They offer great beers, cocktails and shots, and of course a good time. The Drunken Ship is a great place to watch Soccer Games as well. This place also closes before 2 in the morning normally

.
Jerry Thomas Speakeasy
This next bar is a very special one, it's not far away from Campo de Fiori Square, yet it can seem a bit hard to find at first. This Bar truly is a hidden gem of the nightlife in Rome. To access the bar you should book in advance and search for their daily password on their website. Since the bar is a speakeasy it's quite different from the rest of the bars on our list. It offers great and high quality cocktails in a unique atmosphere and location. The bar opens at 21 and closes around 3 or 4 in the morning

.
Monti
Moving on to the next part of the city: Monti
To be honest this part of town doesn't have a very high density of popular bars, but the ones on our list are certainly unique and worth it. Nightlife in Rome is a tricky subject, but if you are looking to consume well made cocktails in a relaxed atmosphere, Monti is the right place for you.
Blackmarket Hall
The first bar we present to you is always a good choice for before or after dinner affairs. Blackmarket Hall certainly deserves a spot on our Nightlife in Rome List. They serve great food and even greater cocktails with an equally as great variety. The music and atmosphere are impeccable, so is the general design and vibe of the place. We definitely recommend calling ahead and reserving a table since this place can get really busy

.
Drink Kong
The next bar is a truly special one. It was ranked at 19th place by World's 50 best bars. It is safe to say that Drink Kong counts as one of the best bars in Rome. They offer impeccable cocktails tailored to your desires and preferences. Apart from the cocktail bar they also serve japanese food. If you are looking to dive into thenightlife in Rome, this is a very good place to start. Especially if you enjoy the finer things in life. We definitely recommend booking a table in advance here

.
Other
Scholars Lounge
Our next suggestion is an Irish Pub that also offers karaoke 3 times a week. Irish Pubs are also popular in the Nightlife in Rome. The Scholars Lounge is located just next to Piazza Venezia and is open 7 times a week while offering karaoke on Tuesdays, Wednesdays and Sundays. This pub is very popular amongst internationals and locals and mainly offers indoor seating. After dinner is typically the best time to come here. This place always offers a good time and definetly counts as one of the staples of Roman nightlife. The Scholars Lounge normally closes at around 3 in the morning.

Yellow Bar
The Yellow Bar is a very popular nightlife spot in Rome. Located right by the most famous hostel in Rome the bar is highly known amongst internationals. This place certainly counts as one of the best spots for nightlife in Rome. The Yellow is not far from Termini central Station. The area it's located in isn't particularly known for bars or clubs so make sure you plan on taking a taxi or car to reach the location or to move to the next one if you choose to do some barhopping. Even though the yellow isn't close to the popular center of Rome, it's always very busy and fun. If you are looking for bars in Rome for students, the Yellow is a great place to start. In the later hours of the day the yellow bar also hosts a Club downstairs. We would not go as far as saying that it is one of the best clubs in Rome, but it certainly brings great fun. It's guaranteed that you'll meet some fun people and perhaps make new friends on the way

.
Clubs and Discos
Which clubs Rome offers is a very tricky question. It can be hard to find a good popular club in the center of Rome. Clubs can be as unpredictable as the stock market. Sometimes they will be completely empty and boring, other times you will have to stand in line for half an hour only to not be let inside.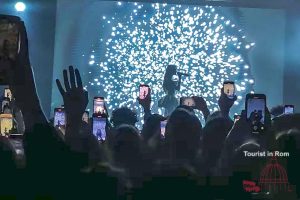 Our best advice is to ask the staff of any bar for recommendations for that particular night. A club that seems fun on a Friday won't always be as fun on a Tuesday for example, and vice versa. Just try to go with the flow and you will find a suitable option depending on the day of the week.
Concerts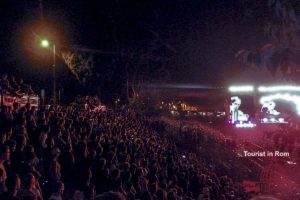 Rome is a city with a rich cultural history and a vibrant music scene. It ranges from classical to jazz and contemporary music.
Besides the Auditorium Parco della Musica there are various halls and open air venues. You can find an overview in our monthly calendar.