In Rome there is not only caffè and cornetto. A delicious breakfast provides the right start to a beautiful day of vacation.
Brunch and large breakfast buffets do not have a long tradition in Rome. Many international hotels offer their guests an extensive buffet, but in cafes and restaurants brunch and more extensive breakfast menus are rare.
Partner links help us to provide our information free of charge. For completed bookings we receive a commission – at no extra cost to you! More
Brunch in Rome
The Romans are known to eat little for breakfast. Most of the time they just drink a coffee at the bar and eat an oven-warm pastry with it. Often restaurants in Rome advertise brunch but it is an all you can eat buffet of Italian dishes and the typical components of breakfast with eggs and bacon are missing.
In the meantime, however, there are some places where you can find an extensive breakfast.
City center
Vivi Bistrot in the Palazzo Braschi
Vivi Bistrot is an institution in Rome. Vivi Bistrot is characterized by high-quality organic products and good service. The restaurant on the ground floor of Palazzo Braschi in Piazza Navona, which also houses the Museo di Roma, opens at 10:00 with breakfast and brunch.

Vivi Bistrot Navona web
´Gusto
The Restaurant Pizzeria ´Gusto is located on the Piazza di S. Apollinare, right in front of the Roman National Museum Palazzo Altemps. Here you can enjoy an American breakfast in a relaxed atmosphere with pancakes and cakes.

Ginger
Ginger is known for its particularly health-oriented cuisine. Here you can get the full load of Healthy Bowls, fruit and yogurt for breakfast, but also pancakes or eggs with bacon. Ginger has two restaurants in the center, near the Pantheon in Piazza Sant'Eustachio and between Via del Corso and the Spanish Steps in Via Borgognona. Web
VyTA Farnese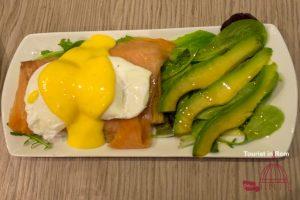 This Bar Bistrot on Via dei Baullari near Campo de' Fiori offers an extensive breakfast menu with American Breakfast, Eggs Benedict and a wide selection of fresh healthy produce.
Barnum
This small cafe on Via del Pellegrino from Campo de' Fiori toward the Vatican has a very neat and tasty breakfast menu.
Babington's
Babington's is very British and very classy, just to the left of the Spanish Steps. Two young English ladies sought adventure and opened this tea room in 1893, bringing English tea culture to Rome. Babington's opens at 12:00 with breakfast and brunch. Babington's web
Trastevere
Meccanismo
Immediately opposite the Ponte Sisto, on the left side of the Piazza Trilussa, is Meccanismo, a bar with American breakfast, hamburgers, couscous, hot dishes, salads, desserts and an extensive drinks menu. Opening times daily 7:30 a.m. – 2:00 a.m., breakfast 8:00 a.m. – 1:00 p.m., aperitif 6:00 p.m. – 9:00 p.m.

Meccanismo web
Eggs
As the name suggests, Eggs is all about eggs from the organic farm. Friday – Sunday 10:00 – 12:00 you will find an extensive breakfast menu with eggs Benedict and other specialties.

Eggs web
Villa Pamphili
Vivi Bistrot und Picnic
The bistro is located in the park of Villa Pamphili. It offers a large selection from breakfast to dinner with hot dishes, fresh juices and salads, all of which are strictly organic. You can also order a picnic basket and make yourself comfortable in Villa Pamphili.

Vivi Bistrot web
Homebaked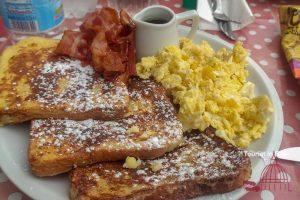 Homebaked is the only real American bakery in Rome that is run by Americans. The headquarters in Via Fratelli Bonnet 21 is located between Villa Pamphili and Villa Sciarra, right next to the American University of Rome. In addition to pastries and American coffee, you can enjoy an extensive American breakfast here.

Roma Nord
Vivi Bistrot Le Serre
Le Serre is a garden restaurant on Monte Mario in Via Decio Filipponi 1. The extensive menu in organic quality, including vegan dishes, offers a wide selection from brunch to dinner with a café, restaurant and American lounge.

Le Serre web
Bakery house Corso Trieste
Bakery house is an American restaurant with branches in Rome and Ostia Lido. Located on Corso Trieste in Piazza Ledro, the restaurant serves American Breakfast, Eggs Benedict and more daily from 8:30.
Faro
At Faro you get a wide selection of different coffees. With sweet and savory dishes, this specialty cafe in a relaxed atmosphere is also suitable for an extensive breakfast. It is located near Piazza Fiume and Porta Salaria at Via Piave 55. The café opens at 8:00 a.m. on weekdays and at 9:00 a.m. on Saturday and Sunday.

Molino Bakery
Molino Bakery and Restaurant and Pizzeria offers an extensive breakfast menu and a fixed-price brunch on Sundays. Branches in northern Rome can be found at Via Riano 11 and at Via Flaminia Nuova 251.
Termini
Molino Bakery
Not far from Termini Station and the Basilica of Santa Maria Maggiore, Molino has another branch at 281 Via Merulana, also offering an extensive breakfast menu and a fixed-price brunch on Sunday.
Re di Roma
Molino Bakery
Between San Giovanni and Piazza Re di Roma, Molino Bakery has opened a new restaurant at 82 Via Appia Nuova. There is an extensive breakfast and brunch on Sunday at a fixed price.
Pompi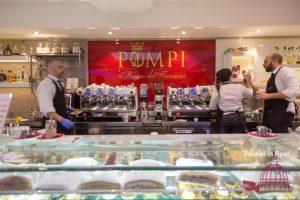 Pompi is famous for its excellent tiramisu. On Sunday, Pompi offers a large breakfast menu with bagels, omelets, eggs benedict and pancakes. Behind the inconspicuous entrance in Via Albalonga 7 b is the headquarters of Pompi with a large hall. Here you get first-class quality at reasonable prices. Menu
There are branches in Rome, Florence and London. The bar opens at 7:00 a.m. every day.

Pompi web
Ostiense
Marigold
Marigold is an innovative restaurant with a cosmopolitan flair. The team from nine countries contributes its experience. There is a daily changing menu with regional organic ingredients. Coffee is also roasted in Rome.
Marigold offers breakfast and lunch from Wednesday to Friday and brunch on the weekend. The opening times are Wednesday – Sunday 9:00 am – 3:30 pm.

Marigold web
Roma Sud
Bakery House EUR
Bakery house is an American restaurant with two branches in Rome and one in Ostia. The restaurant in Viale America 89-91 by the lake in the Quartier EUR opens every day except Tuesday with a large breakfast menu at 9:30 am. The nearest metro station is line B EUR Palasport.

Bakery House Ostia
The branch in Via delle Gondole 90 in Ostia Lido opens daily at 8:30 a.m. and on Sundays at 9:00 a.m..

A little curiosity
Eggs and bacon are also found in Italian cuisine. Think of the spaghetti carbonara, which seems to be an Italian national dish. The carbonara was probably invented by American soldiers.
In Italy, pasta with sheep cheese pecorino and bacon from the pork cheek Guanciale have a long tradition. The Gricia consists of sheep's cheese and guanciale, while the Amatriciana has tomato sauce added. In their nostalgia for eggs and bacon, the American soldiers stirred eggs into the Gricia and this is how the carbonara was invented. The recipe was first written in Chicago in 1952 and today the carbonara is an Italian national dish. More information on Roman cuisine