Villa Adriana in Tivoli was built in the 2nd century for Emperor Hadrian. It is the largest palace complex ever built by a Roman emperor.
Importance of the villa
Villa Adriana covered an area of more than 120 hectares and included a variety of structures, including palaces, libraries, temples, theaters, baths, porticoes and utilities. It is estimated that the villa had more than 30 buildings and housed more than 1,000 people, including the emperor, his family, guests and staff. Today, about 40 hectares are still accessible.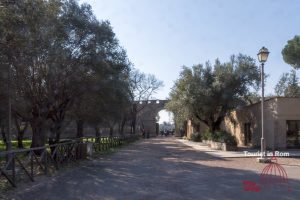 It is considered one of the most important examples of Roman architecture and technology and has been declared a World Heritage Site by UNESCO. Villa Adriana was built for Hadrian, a cultured and well-traveled emperor who retreated here between his travels.
Adriano's works can also be admired in Rome. His mausoleum is today's Castel Sant'Angelo and the Pantheon, destroyed by fire, was restored by him.
Despite its size and importance, Villa Adriana fell into disrepair over the centuries as many of its buildings and structures were destroyed or damaged by earthquakes, fires and looting. In the 16th century, Villa Adriana became a source of inspiration for Renaissance architects and artists, who used its designs and motifs for their own works. Today, part of Villa Adriana has been restored and the complex is open to visitors from all over the world who come to see the impressive buildings and appreciate their rich history and cultural significance.
Description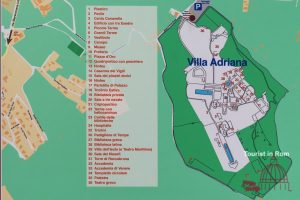 Villa Adriana was a significant example of Roman engineering and technology and was equipped with a number of innovative features, including a complex water management system, heating and cooling systems, and underground tunnels and passages. The villa was also designed to take advantage of the natural features of the Tivoli region. Many of the buildings were built on terraces to enjoy views of the surrounding hills and countryside.
Teatro Marittimo
The construction is one of the oldest parts of the villa. It is an island with a diameter of 45 meters, surrounded by a canal, which was accessible only through movable bridges. Possibly the emperor retired here and found all the necessary comfort in the flat building. Whether here was ever a theater is uncertain.
Pecile
Another important building in Villa Adriana is the Pecile, a replica of the Stoà poikìle in the Agorà of Athens. The huge square columned hall with a basin in the center provided shelter from sun and rain. Here one could talk, discuss and walk around.
The Libraries
On a hill are two buildings connected by porticoes, the Greek and the Latin libraries. The three-floor Greek library had heating and could therefore be used even in winter, while the Latin library was two floors high.
Il Canopo
Noteworthy is the Canopo, which was modeled after an arm of the Nile that connected the city of Canopo with Alexandria. Around the basin there are columns with copies of famous Greek statues. Under the esedra at the end of the basin, sumptuous state banquets were held.
The Baths
Villa Adriana also contains several large baths, including the Imperial Baths, which were used both for bathing and for social events. The baths were equipped with a variety of facilities, including hot and cold pools, steam baths and massage rooms, and could accommodate hundreds of people at a time. The baths were also decorated with beautiful mosaics and frescoes, many of which are still preserved today.
The best time to visit
If you prefer milder weather, spring (March to May) or fall (October to December) are the ideal times to visit. During these seasons, temperatures are pleasant for outdoor activities and nature provides a beautiful backdrop for visiting the villa.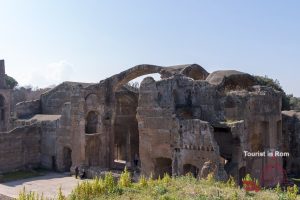 If you want to experience the hot Mediterranean climate, the summer months (July to September) are a good time to visit. During this time, temperatures can be quite hot, but the villa is open longer, and the longer days provide ample time to explore the grounds and enjoy outdoor activities.
Regardless of the time of year, it is always advisable to check the weather forecast before visiting Villa Adriana and to equip yourself with appropriate clothing and sun protection.
Combination Villa Adriana and Villa d'Este
On the slopes of the Tiburtine mountains lies the city of Tivoli at an altitude of 235 meters / 770 ft. Here you can find Villa D'Este. This luxurious villa is most famous for its enormous fountains and water features, supplied with water from the Aniene River.
In the shady park and with the cool breeze from the waterfalls and fountains, it is very pleasant here even on very hot summer days.
Tours for Villa D'Este and Villa Adriana
Using public transport, it is a bit difficult to visit Villa D'Este and Villa Adriana in one day. We therefore recommend booking a tour from Rome. Tours for Villa Adriana
Opening hours
Opening 8:15, on Mondays and after holidays from 14:00
Closes Jan. 29-Feb. 25 5:45 p.m., Feb. 26-March 30 6:45 p.m., through Sept. 17 7:45 p.m., Sept. 18-Oct. 1 7:15 p.m., Oct. 2-Oct. 28 6:45 p.m., Oct. 29-Jan. 28, 2024 5:15 p.m. Box office closes 90 minutes prior.
How to get to Villa Adriana
Villa Adriana is located in the valley of Tivoli Terme. The entrance is at Largo Marguerite Yourcenar

. At the entrance you will find a large parking lot.
One of the fastest and most convenient ways to reach Villa Adriana from Rome is by car. The drive takes about 30 minutes to an hour, depending on traffic. You can either drive yourself or hire a private driver. If you drive yourself, you should use a navigation system to find your way to Villa Adriana.
By COTRAL bus from Ponte Mammolo, get off at the Tiburtina / Via Serena stop. From there it is a 1.3 km walk.