Rome travel guide for your journey to Rome by plane, train or car as well as useful information on public transport and safety.
With our information for your Rome trip, you will get along quickly on arrival and in Rome.
We inform you about all aspects of arrival, explain the Roman airports and the transfer options to the city.
Here we will give you an overview of to get to Rome by high-speed trains and by car.
Read how public transport works and which tickets are available for the metro, bus and train.
Leonardo da Vinci intercontinental airport in the municipality of Fiumicino is the largest airport in Italy. In 2019 it was voted the best European airport with more than 25 million passengers by the Airport Council International ACI, ahead of Munich and Copenhagen.
In our Rome travel guide you will find practical information about Fiumicino airport and the transfer from Fiumicino to Rome and from Fiumicino to Civitavecchia.
Ciampino is the older airport in Rome and operates the low cost flights.
It is closer to the city, but has no rail and highway connections.
Read in our Rome travel guide how to plan your time at Ciampino Airport and how to get from Ciampino to Rome and from Rome to Ciampino.
Civitavecchia Port · Cruises and Ferries
Civitavecchia is the cruise port of Rome. Numerous cruise ships arrive here and enable passengers to take a day trip to Rome.
The ferry port of Civitavecchia offers connections to Sardinia and Sicily as well as to Spain and Tunisia.
Rome train stations · travel by train to Rome
Italy has a well-functioning system of high-speed connections. Air traffic between the centers of northern Italy with Rome and Naples is therefore hardly competitive.
You can be in Rome in a few hours from Naples, Florence, Bologna, Venice, Bolzano, Milan and Turin. Milan and Turin are connected to the TGV.
The routes away from high speed are less efficient. It can happen that it takes as long from Pisa or Pistoia to Florence as from Florence to Rome.
Over the Alps to Austria, Switzerland and Germany, as well as to southern Italy, the routes are still wildly romantic.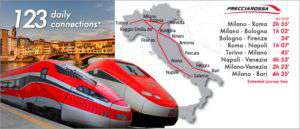 Within Italy in particular, high-speed trains (alta velocità = AV) are an interesting way to get to Rome. The network extends from Bolzano, Venice, Milan and Turin via Bologna to Rome and on to Naples and Salerno. On the Milan – Rome route, trains compete in terms of travel times with the flight connections from Milan Linate to Fiumicino.
Termini and Tiburtina stations plus Fiumicino (for two connections to Venice) are connected to the high-speed network.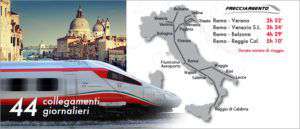 The high-speed trains of the Italian railways are divided into the Frecciarossa and Frecciargento families. The "red arrows" include the types ETR500 and the new ETR1000, the "silver arrows" consist of older series. 3G/4G mobile connections in particular are better in Frecciarossa than in Frecciargento.
There is also the private operator Italo. The trains are somewhat shorter and lighter than the "Frecce". Italo also offers good service and is often cheaper than the "Frecce".
The Frecciabianca – white arrow – express trains circulate outside of the Italian high-speed network.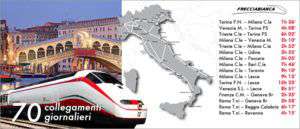 The trains are cheaper than the high-speed trains.
The route from Genoa via Pisa and Livorno to Rome, which for the most part dates from the second half of the 19th century, is particularly picturesque.
You can use regional connections with train tickets or with regional Metrebus tickets. The three zone tickets include, for example, the routes from Rome to Tivoli and to Castel Gandolfo.
Within Rome you can use the trains with the normal city ticket, for example from Ostiense or Trastevere to the San Pietro station at the Vatican.
There are often long queues at luggage storage in Termini station and it is quite expensive.
Fortunately, many hotels and shops offer luggage storage.
In Rome, traffic works like a type of swarm intelligence. Basically everyone does what they want. Romans often have difficulty driving a car in other countries. They are not used to observing lanes and rules.
Whether it is worth driving to Rome by car is a calculation task. Compared to trains and planes, long-distance travel by car in Italy takes up the biggest amount of time. However, the car is most convenient outside of the cities.
There is hardly any parking space in the center of Rome and owning a car is not very practical.
In Rome, in addition to taxis, there are licensed rental cars with drivers that are more luxurious.
Rome's transport network consists of bus, train, metro and tram. Here you can find out everything about the most important lines, the tariffs and where you can buy tickets.
Rome is basically a very safe city. You can find celebrities, MPs, senators and government officials on the street without bodyguards.
But Rome is not just the capital of Italy, it is home to the Vatican and three United Nations organizations. Many states have three embassies in Rome.
But of course there is petty crime in Rome too. Read more in our Rome travel guide!