Rome May 2020, here you will find information about May in Rome. Find out here about museums, events, holidays, the weather and much more.
Due to the corona virus crisis, it is currently not possible to predict whether the attractions will be open again in May and which events will take place. We are therefore currently only giving you an overview of the recurring events in May.
May in Rome is usually high season. It is not yet possible to say how it will develop this year. Maybe you can only make a decision at the last moment. To find out how to find an affordable room and which areas are most suitable, read our information about hotels in Rome.
May in Rome is climatically very pleasant. If you have some time, visit one of the Roman villas and of course a lookout point. If you can reserve a day for an excursion, there are destinations in the area surrounding Rome such as the excavations in Ostia Antica or the Villa Adriana and the Villa D'Este in Tivoli.
You can also reach more distant destinations such as Pompei, Naples, Florence or Venice in one day with the high-speed train.
After an intense day, you can experience Rome's culinary offerings in the evening. Whether light Mediterranean cuisine or hearty Cucina Romana, you can eat very well in Rome. You can find more about this in our category Food in Rome.
Queues are very common in Rome in May. The purchase of the bus ticket or train ticket at the airport can take a quarter of an hour. There are queues for luggage storage in Rome and at car rental companies.
Which regulations will apply to St. Peter's Basilica is still unclear. You can avoid the queue at St. Peter's Basilica by booking a tour or an audio guide.
Another option is to book a tour of the Vatican Museums with a direct passage to St. Peter's Basilica. You then go straight through a passage reserved for guided groups from the Sistine Chapel to St. Peter's Basilica and save several hours.
You can avoid the queue at the Vatican Museums by booking your ticket online or with a guided tour.
You can avoid the queue at the Colosseum by booking your ticket online in good time or with a guided tour. Tickets are often sold out weeks in advance.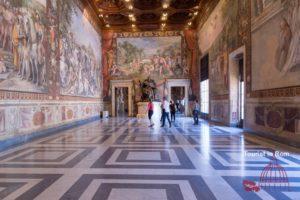 Reservation is mandatory for the Colosseum and the Borghese Gallery. Reservations are recommended for the Vatican Museums.
For the Borghese Gallery you have to make a reservation with the Roma Pass on +39 06 32810. Since the gallery is usually fully booked well in advance, we recommend purchasing the tickets directly.
Tickets to the National Museums
The Vatican Museums are closed on May 1st and every Sunday except the last Sunday of the month.
Opening hours
9 – 16 closing 18.
There are extended opening hours on May 2nd
9 – 17 closing 19.
You can visit the Vatica­n Museums at night every Friday except May 1st.
19 – 21:30 closing 23:00
Free entry to the Vatican Museums is on Sunday, May 31, 2020. However, there are long lines and it gets extremely crowded.
9 a.m. – 12.30 p.m. Closing 2 p.m.
The Apostolic Palace in Castel Gandolfo is open on weekdays in May 8:30 a.m. – 1 p.m. closing 2 p.m., on Saturdays 8:30 a.m. – 4:30 p.m. closing 5:30 p.m., on Sunday 10 a.m.- 2 p.m. closing 3 p.m. Closed on May 1.
Tickets to Vatican Museums and Sistine Chapel
St. Peter's opening hours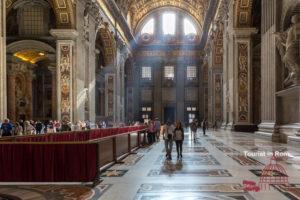 Entry to St. Peter's Basilica is free of charge.
In any case, we would advise you to take a guided tour, because otherwise you will not be able to capture many of the details of the basilica with its more than 1,500-year history. If you book the tour in advance on the Internet, you can pass the queue at the security checkpoint with priority granted by the visitor service of St. Peter's Basilica.
Opening hours:
St. Peter's Cathedral 7-19 – St. Peter's Dome 8-18 – Treasury 9-18:15
When is St. Peter's Basilica closed in May
St. Peter's Basilica is closed during the Pope's celebrations, for which you need invitation cards.
The dates for May are:
Pope masses on Sunday 3.5. 9:30 in St. Peter's Basilica and on Sunday, May 17th 10:30 in St. Peter's Square with invitation cards.
General audiences every Wednesday morning. You can pre-order the invitation cards for the audiences on our website.
3.5. 9:30 a.m. Pope Mass in St. Peter's Basilica, Priestly Ordinations, only with reservation
3.5. 12:00 Regina Caeli of the Pope
3.5. Free entry to the state museums and the museums of the municipality of Rome
postponed: Tennis – Internazionali BNL d'Italia ATP World Tour Masters 1000 WTA Tennis stadium Rome Foro Italico, Viale dei Gladiatori Metro A to Ottaviano, then bus 32 towards Saxa Rubra to De Bosis / Stadio Tennis Tennis
10.5. Regina Caeli of the Pope
10.5. Mother's day
17.5. 10:30 p.m. Pope Mass on St. Peter's Square, 100 years of John Paul II 17.5. 12:00 Regina Caeli of the Pope
21.5. Ascension Day – not a holiday
24.5. 12:00 Regina Caeli of the Pope
30.5. 19:00 Oltre la serratura
Concert in the Villa of the Maltese Order
Orchestra "RomÆnsemble" – Gile Bae, pianoforte – Luigi Di Iorio, direttore
musiche di F. Chopin, E. Elgar
May 31 Pentecost – 10:00 Papal mass in St. Peter's Basilica – 12:00 Regina Caeli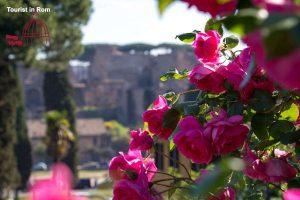 The rose garden of the municipality of Rome is open from May 18, 2020 every day except Monday 8:30 a.m. – 7:30 p.m. The rose garden is located on the slope of the Aventine above the Maximus circus. Entry is free. Guided tours can be booked on tel .: +3906 5746810. The call center is available on weekdays from 9 a.m. to 1 p.m.
until May 3 – Impressionisti segreti, treasures from private collections, including Monet, Renoir, Cézanne, Pissarro, Sisley, Caillebotte, Morisot, Gonzalès, Gauguin, Signac, Van Rysselberghe and Cross
Palazzo Bonaparte – on Piazza Venezia Tickets
Canova, eternal beauty, an exhibition of international collections, Museo di Roma Tuesday – Sunday 9-19 Piazza Navona
The sculptor Canova (1757-1822) with his marble figures is one of the main representatives of Italian classicism. Exhibition at the Museo di Roma Palazzo Braschi in Piazza Navona. Tickets for Palazzo Braschi
Galleria Colonna – one of the largest ancient private palaces in Rome. The most beautiful rooms of the palace and the art collection of the family with artists from the 15th and 16th centuries such as Pinturicchio, Cosmè Tura, Carracci, Guido Reni, Tintoretto, Salvator Rosa, Bronzino, Guercino, Veronese, Vanvitelli
Via della Pilotta 17 (near Piazza Venezia)

Bus 51, 60, 63, 80, 83, 85, 160, 170, H, n5, n8, n11, n90, n543, n716 (Piazza Venezia) Tickets
Domus Romane
– the Roman houses under Palazzo Valentini
Piazza Venezia, Via Foro Traiano 85, opposite the pillar of the Trajan Tickets
Capuchin Crypt – Museum and Crypt of the Capuchins
Via Vittorio Veneto 27

Bus 52, 53, 61, 63, 80, 83, 160, n90, nMA (Barberini) Tickets
Leonardo da Vinci Museum – in the Galleria Agostiana at Piazza del Popolo
Piazza del Popolo 12 Metro A, Tram 2, Bus 61, 89, 160, 490, 495, 628, nMA (Flaminio) Roma – Viterbo Tickets
The Coliseum tells of itself, permanent exhibition in the Coliseum – with the support of Heinz Beste, DAI Rom
Piazza del Colosseo Metro B Colosseo Tickets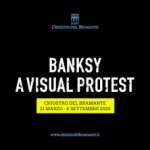 Banksy A Visual Protest
Over 90 works tell the world of Banksy. See the works of the unknown artist Banksy, who conquered the world with irony and sharpness, in the monastery built by the Italian architect Bramante in the 16th century.
In the Chiostro del Bramante (Zone Piazza Navona) Via Arco della Pace 5

Rome has a lively music scene. Many pubs and music venues offer live music, especially on weekends. Classical music can be found in many churches and palaces.
A jewel is the Parco della Musica, built by the internationally renowned architect Renzo Piano, in the north of Rome on Via Flaminia. Tram 2

The Parco della Musica has several auditoriums and an open air theater. Here you find performances in all styles.
Some events are organized together with the House of Jazz "Casa del Jazz" Events and tickets Casa del Jazz
Bus 160, 671, 714, 792

Practical tips for Rome May
In May it is climatically very pleasant in Rome. The maximum temperatures are 77°F and there are nine hours of sunshine, the minimum temperatures at 55°F. On average, there are four rainy days. As a rule, it does not rain for long. For an emergency, you should therefore have a light raincape, which you can cover yourself quickly.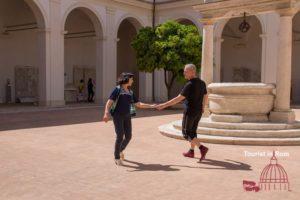 The temperatures are therefore very pleasant during the day and in the sun it can get really warm. To be able to sit outside in the evening, you need a light jacket.
Please note that when visiting sacral sites, you must cover your shoulders and knees. If you wear off-the-shoulder shirts or dresses, you will need a shawl or a pareo. You also need sturdy shoes. You should not wear high heels on the uneven Roman roads.
Of course it takes a certain effort to get up very early. Nevertheless, we would like to recommend that you set off early in the morning.
There is very little traffic in Rome until six in the morning and you can take beautiful photos of monuments and squares undisturbed in the sunrise. You may also meet a wedding couple at a photo shoot, at the Spanish Steps, at the Trevi Fountain or at the Colosseum. The sunrise in Rome in May is at 6:07 at the beginning of the month and at 5:38 at the end of the month.
Early morning is also the best time to jog.
High season in Rome, what you should consider
May is high season in Rome. Avoiding queues should therefore be your first priority.
Public transport is overcrowded at rush hour, especially metro line A, but also some bus routes.
The hop on hop off buses are a very good guide. It is best to get an overview on the day of arrival and use the hop on hop off buses for the journey from Termini Central Station to the Basilica Santa Maria Maggiore, to the Colosseum, to the Circus Maximus with the Aventine and to Castel Sant'Angelo with the Vatican.
The best way to get around the city center is on foot. Choose one of the small romantic side streets with less traffic. Read our information about the city center. We have put together a few tips with a half-day program in the category Three days in Rome.
The Trevi Fountain is another major attraction in Rome. A city policeman told us that the fountain is well attended until 3 a.m. During the day, the accesses sometimes have to be closed due to overcrowding.
Our recommendation: Book a hotel in the center and visit the fountains and squares before breakfast when there are few other visitors. It is a unique experience!
Roman gastronomy is usually excellent. Whether you want an opulent dinner, a pizza, a sandwich, an ice cream or something sweet, in Rome you will find a large selection of the best quality. It is therefore not necessary to get roped into the first restaurant that comes along with colorfully printed billboards and plastic models of the dishes. Good restaurants don't need that.
Rome has an interesting street food scene and of course the best pizza al taglio. The best ice cream parlors in Rome offer flavors for every season.
You can safely forget the so-called "r" rule, according to which seafood is only supposed to be eaten with "r" in months. In Rome, you can eat seafood all year round. They come fresh from good aquacultures from nearby Gaeta, Orbetello or Sardinia. Oyster farms are less common in Italy and so local oysters are very rare in Rome.
The typical Roman pasta dishes can be found all year round. The preparation of Cacio e Pepe with sheep's cheese and pepper is very tasty; variations are the Gricia, the Amatriciana and the Carbonara. Read more about Roman cuisine and get an overview on a street food tour.
It is also very beautiful by the sea. Many Romans go to Ostia on weekends and if you want to eat by the sea, you should reserve a restaurant.
Italian fashion is known worldwide and everyone will envy you for your purchases. Leave enough space in your suitcase for your purchases!
The luxury brands can be found around Via dei Condotti, which leads from the Spanish Steps to Via del Corso. Shops in all price ranges can be found along Via del Corso.
Rome also has art and antiques. Many visitors also stock up on gastronomic specialties. Read Shopping in Rome.
In the south of Rome is the Appia Antica Regional Park with numerous catacombs. The "Regina viarum" has been a free open-air museum for more than a hundred years. It is a popular destination, especially on weekends, and you can eat very well here.
If you can set it up, you should take a day to explore the area surrounding Rome.
The trip to the sea to Ostia by local train from the pyramid (Metro B) to Ostia Lido is very popular. On the way you can see the very interesting excavations in Ostia Antica. Here you will find the ruins of a complete ancient commercial city with theater.
When the weather is nice, you can take a walk on the beach and enjoy the fresh salty sea air. Also read day trip to Ostia.
A visit to Villa D'Este in Tivoli is fabulous. The numerous fountains and water games that are fed by the Aniene River are an impressive spectacle. There is also an organ fountain that is powered by water.
Also close to Tivoli is Villa Adriana, built by Emperor Hadrian. It is the largest villa ever built by an emperor. It is very pleasant here in May.
Very intersting is the trip to Castel Gandolfo. There you can visit the papal summer residence on the slopes of the volcano lake and have a good lunch with local wine.
A little further away is Assisi, where St. Francis founded his order. You can visit the Basilica of Francis there and enjoy a lunch of the excellent cuisine of Umbria.