Rome May. With the exception of May 1st, there are no public holidays in May. Most of the shops in the center are open 7 days a week and you can also shop comfortably at the weekend. With almost summer temperatures, there is a lot to see and experience in Rome.
May in Rome
May in Rome is usually high season. To find an affordable room and which areas are most suitable, read our information about hotels in Rome.
May in Rome is climatically very pleasant. If you have some time, visit one of the Roman villas and of course a lookout point. If you can reserve a day for an excursion, there are destinations in the area surrounding Rome such as the excavations in Ostia Antica or the Villa Adriana and the Villa D'Este in Tivoli.
But you can also reach more distant destinations such as Pompei, Naples, Florence or Venice in one day with the high-speed train or with a guided tour.
Weather and clothes​
In May it is climatically very pleasant in Rome. The maximum temperatures are 77°F and there are nine hours of sunshine, the minimum temperatures at 55°F. On average, there are four rainy days. As a rule, it does not rain for long. For an emergency, you should therefore have a light raincape, which you can cover yourself quickly.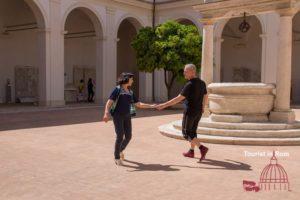 The temperatures are therefore very pleasant during the day and in the sun it can get really warm. To be able to sit outside in the evening, you need a light jacket.
Please note that when visiting sacral sites, you must cover your shoulders and knees. If you wear off-the-shoulder shirts or dresses, you will need a shawl or a pareo. You also need sturdy shoes. You should not wear high heels on the uneven Roman roads.
Eating
Roman gastronomy is usually excellent. Whether you want an opulent dinner, a pizza, a sandwich, an ice cream or something sweet, in Rome you will find a large selection of the best quality.
It is therefore not necessary to get roped into the first restaurant that comes along with colorfully printed billboards and plastic models of the dishes. Good restaurants don't need that.
Rome has an interesting street food scene and of course the best pizza al taglio. The best ice cream parlors in Rome offer flavors for every season.
You can safely forget the so-called "r" rule, according to which seafood is only supposed to be eaten with "r" in months. In Rome, you can eat seafood all year round. They come fresh from good aquacultures from nearby Gaeta, Orbetello or Sardinia. Oyster farms are less common in Italy and so local oysters are very rare in Rome.
The typical Roman pasta dishes can be found all year round. The preparation of Cacio e Pepe with sheep's cheese and pepper is very tasty; variations are the Gricia, the Amatriciana and the Carbonara. Read more about Roman cuisine and get an overview on a street food tour.
Shopping
Italian fashion is known worldwide and everyone will envy you for your purchases. Leave enough space in your suitcase for your purchases!
The luxury brands can be found around Via dei Condotti, which leads from the Spanish Steps to Via del Corso. Shops in all price ranges can be found along Via del Corso.
Rome also has art and antiques. Many visitors also stock up on gastronomic specialties. Read Shopping in Rome.
Avoid queues
Keeping your distance is a necessary precaution. Avoid the queues and make a daily schedule. In our category 3 days in Rome you will find suggestions that you can combine with each other.
Arrival
Organize the journey from the airport to the hotel in advance and read our information about the metro and how you can get tickets quickly and easily.
Museums
Many museums can only be visited by reservation. These include the Sistine Chapel in the Vatican Museums, the Colosseum, the Borghese Gallery and the museums of the Municipality of Rome. You can find information about the museums on our pages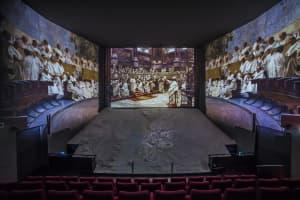 Welcome to Rome multimedia show
In the center of Rome, between the Vatican and Piazza Navona, a 30-minute multidimensional film show and an exhibition with interactive models await you.
Corso Vittorio Emanuele II 203

Bus 46, 62, 64, 916 Stop C.so Vittorio Emanuele / Navona
St. Peter's Basilica
Entry to St. Peter's Basilica is free. However, the queues can be quite long if there are many visitors.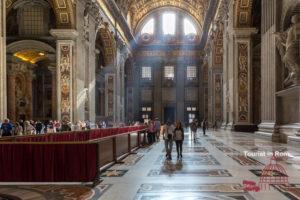 There is a very simple trick to avoid the queue: you book an audio guide or a guided tour in advance and you will be admitted through a special entrance without waiting. For more information read our pages on St. Peter's Basilica, St. Peter's Square and the history of St. Peter's Basilica.
Tickets at a glance
Partner links help us to provide our information free of charge. For completed bookings we receive a commission – at no extra cost to you! More
Rome May opening hours
St. Peter's Basilica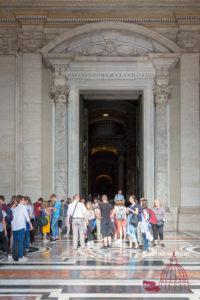 St. Peter's Basilica is closed during the Pope's celebrations, for which you need invitation cards. That is the Mass on Pentecost Sunday in May and the audiences on Wednesday mornings.
Colosseum
9 am – 6:15 pm, closing 7:15 pm
Free entrance is Sunday May 1st
Details about the Colosseum>
Vatican Museums
Monday – Thursday 9:00 – 16:00 closing 18:00, Friday, Saturday 9:00 – 20:30 closing 22:30. Closed on Sundays and May 1st. Free admission on May 29th. with opening time 9:00 – 12:30 with closing 14:00, but with very long waiting times. Free entrance is Sunday 29 May.
The Apostolic Palace in Castel Gandolfo is closed on May 1st. Otherwise, the opening hours are Monday – Friday 8:30 a.m. – 1:00 p.m., Saturday 8:30 a.m. – 5:30 p.m., Sunday 10:00 a.m. – 5:30 p.m., closing one hour later.
Details on the Vatican Museums>
City museums and national museums
In Rome, some of the museums belong to the municipality and some to the state. The museums are closed on May 1st.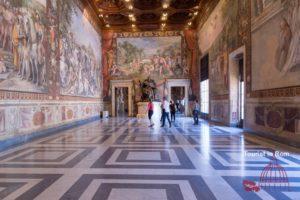 The city's museums include the Capitoline Museums, Trajan's Markets, Imperial Forums and numerous other museums. National museums include the Colosseum, Castel Sant'Angelo, Borghese Gallery and many more. For the full list of museums, opening times and tickets, see our Rome Museums page.
Free admission
Admission to the National Museums is free on May 1st and reservations are mostly required.
Night of the museums
On May 14, the Night of the Museums will take place. Many museums participate and offer a cultural program with animations and spectacles. 8 pm – 2 am.
Events
May 1st is traditionally a day for excursions in Rome. When the weather… ►►►
Papal audience every Wednesday at 9:30 am
Every Sunday at 12:00 Angelus prayer of the Pope at St. Peter's Square
Ascension Day is celebrated on Sunday May 29
5.-8.5. Race for the Cure
Event for the fight against breast cancer. With 5km run and free run.
Circo Massimo https://raceroma.komen.it/
6-8 May Roma Motodays
Rome motorcycle and scooter show
Fiera di Roma – Rome fair Train FL1 direction Fiumicino Airport
Magic Gran Gala' Internazionale di Magia
May 7 & 8 Auditorium Conciliazione, Via Della Conciliazione 4

May 8-15 Tennis – Internazionali BNL d'Italia ATP World Tour Masters 1000 WTA Tennis stadium Rome Foro Italico, Viale dei Gladiatori Metro A to Ottaviano, then bus 32 towards Saxa Rubra to De Bosis / Stadio Tennis Tennis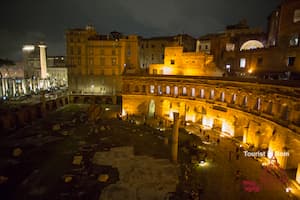 14.5. Night of the Museums
City musems: With cultural program with animations and presentations. 8 pm – 2 am Ticket 1 €
Musei Capitolini, Centrale Montemartini, Mercati di Traiano – Museo dei Fori Imperiali, Museo dell'Ara Pacis, Museo di Roma, Museo Napoleonico, Museo di Roma in Trastevere, Museo Pietro Canonica a Villa Borghese, Musei di Villa Torlonia, Museo delle Mura, Museo Carlo Bilotti – Aranciera di Villa Borghese, Museo di Scultura Antica Giovanni Barracco, Museo Civico di Zoologia, Museo della Repubblica Romana e della memoria garibaldina, Galleria d'Arte Moderna, Museo di Casal de' Pazzi.
National Museums: 7 pm – 10 pm Ticket 1 €
Colosseo, Pantheon, Galleria Borghese, Istituto autonomo Vittoriano e Palazzo Venezia, Museo Nazionale Romano – Palazzo Massimo – Palazzo Altemps – Terme di Diocleziano, Castel Sant'Angelo e Passetto di Borgo, Terme di Caracalla, Museo Nazionale degli Strumenti Musicali, Museo nazionale etrusco di Villa Giulia, area archeologica di Santa Croce in Gerusalemme, Mitreo Barberini, Mercato di Testaccio, Museo nazionale di Castel Sant'Angelo e Passetto di Borgo, Galleria Spada
Galleria Nazionale d'Arte Moderna e Contemporanea, Viale delle Belle Arti, 131

Extraordinary opening of the Palazzo Palazzo Patrizi, seat of the Soprintendence, Via Cavalletti, 2

Parco Archeologico dell'Appia Antica (Mausoleo di Cecilia Metella, Villa dei Quintili, Capo di Bove), Museo della Civiltà – Piazza Guglielmo Marconi, 14 (EUR)
Villa D'Este, Villa Adriana
Concerts
Rome has a lively music scene. Many pubs and music venues offer live music, especially on weekends. Classical music can be found in many churches and palaces.
Day trips
With the high-speed trains that are punctual to the minute, Florence and Naples are only around 1 ½ hours away. With our tips you can put together your own day tour or book an organized tour. Take a day to stroll around Florence and see the world famous Uffizi Gallery. Or visit the excavations in Pompeii and see Vesuvius, which is still active today and buried the city under its ashes.
Book at GetYourGuide (can be canceled free of charge):