Rome in May is top. The climate is almost summer and there are not too many visitors in Rome. Treat yourself to an exciting and relaxing vacation.
What's on?
With the exception of May 1st, there are no public holidays in May. Most of the shops in the center are open 7 days a week and you can also shop comfortably at the weekend. With almost summer temperatures, there is a lot to see and experience in Rome.
Partner-Links helfen uns dabei, unsere Informationen kostenlos bereitzustellen. Für abgeschlossene Buchungen erhalten wir eine Provision – ohne Mehrkosten für Sie! Mehr
Partner links help us to provide our information free of charge. For completed bookings we receive a commission – at no extra cost to you! More
I link dei partner ci aiutano a fornire gratuitamente le nostre informazioni. Riceviamo una commissione per le prenotazioni completate, senza alcun costo aggiuntivo per voi! Di più
May in Rome
In May in Rome it is quite crowded. But Rome is a big city and right next to the tourist trails there are many hidden places to discover.
For the accommodations in the best position in the city center you need a big budget. To find out what our favorites are, how to find a budget room and which areas are good, read our information on hotels in Rome.
May in Rome is climatically very pleasant. If you have some time, visit one of the Roman villas and of course a lookout point. If you can reserve a day for an excursion, there are destinations in the area surrounding Rome such as Castel Gandolfo, the excavations in Ostia Antica or the Villa Adriana and the Villa D'Este in Tivoli.
But you can also reach more distant destinations such as Pompei, Naples, Florence or Venice in one day with the high-speed train or with a guided tour.
How warm it is
How's the weather in Rome in May?
The temperature in Rome in May is ideal, pleasantly warm during the day and cool at night. Rain is rather rare.
In any case, you should take a sunscreen with you. To sit outside in the evening, you need a light jacket. Against possible rain showers you protect yourself with a foldable cape.
Climate data May
| | |
| --- | --- |
| Tmax Ø | 23°C/73.8°F |
| Tmin Ø | 13°C/55.4°F |
| Sunshine hours Ø | 7.3 |
| Days with rain Ø | 7 |
Source: www.wetter.com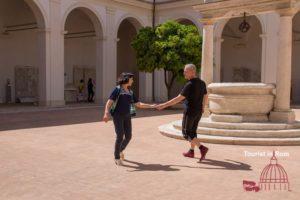 Many visitors are already very summer. However, when visiting sacred sites, you must follow the dress code. Cover your shoulders and knees so you can visit churches and catacombs. If you wear off-the-shoulder shirts or dresses, you will need a shoulder scarf or pareo. Comfortable shoes are also important in Rome, as you will be walking a lot and the sidewalks are often bumpy.
Rome for early risers
To be able to photograph a sunrise in Rome in May, you have to get up very early. At the beginning of May the sunrise is at 6:08, at the end of May at 5:39. Until 6 a.m. there is almost no traffic and some joggers do their laps. You can photograph the deserted Spanish Steps and the Trevi Fountain. From 7 am you can visit St. Peter's Basilica and you are almost alone in this magnificent basilica.
Eating
For gastronomy in Rome you can find detailed information in our category Food in Rome.
But we can't resist introducing you to our favorite pasta, carbonara. It was invented by American soldiers in Italy, who, following bacon with eggs, enriched the traditional Roman "gricia" with eggs. Today, carbonara is one of the classics of Roman cuisine and when we test restaurants, we always order a carbonara.
As for seafood, you often hear about the so-called "r" rule, according to which you should eat seafood only in months with "r". In Rome, however, seafood is always fresh and you can eat it all year round. They come fresh from good aquacultures in nearby Gaeta, from Orbetello or from Sardinia. Oyster cultures are less common in Italy and so local oysters are rarely found in Rome.
Shopping
Italian fashion is known worldwide and everyone will envy you for your purchases. Leave enough space in your suitcase for your purchases!
The luxury brands can be found around Via dei Condotti, which leads from the Spanish Steps to Via del Corso. Shops in all price ranges can be found along Via del Corso.
Rome also has art and antiques. Many visitors also stock up on gastronomic specialties. Read Shopping in Rome.
Avoid queues
Queues are annoying. You spend a lot of money for your trip and then lose valuable time in front of ticket machines and museum ticket offices? In the Roman metro and in many buses and streetcars, you can now pay for your ride contactlessly with your credit card (info on public transport in Rome). Airport transfers and museum tickets cost only a little more online than at the ticket office. If you break down the cost of the trip to an hourly rate of the time available for sightseeing, you will quickly find that even 10 minutes of waiting will cost more than the reservation cost on the Internet.
Arrival
Organize the journey from the airport to the hotel in advance and read our information about the metro and how you can get tickets quickly and easily.
Museums
Many museums can only be visited by reservation. These include the Sistine Chapel in the Vatican Museums, the Colosseum, the Borghese Gallery and the museums of the Municipality of Rome. You can find information about the museums on our pages
A time-saving way to book the Colosseum and Vatican Museums together is with the Rome Tourist Pass.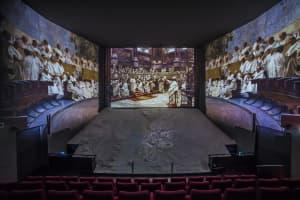 Welcome to Rome Multimediashow
In the center of Rome, between the Vatican and Piazza Navona, a 30-minute multidimensional film show and an exhibition with interactive models await you.
Corso Vittorio Emanuele II 203

Bus 46, 62, 64, 916 C.so Vittorio Emanuele / Navona
St. Peter's Basilica
Admission to St. Peter's Basilica is free of charge. However, there can be quite long queues when there are many visitors.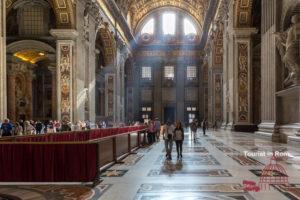 Unfortunately, there is currently no preferred entry skip the line. If you don't want to wait long, you should be there early in the morning. Also, if you book a guided tour for the Vatican Museums and St. Peter's Basilica, you won't have to wait in line.
For more information read our pages on St. Peter's Basilica, St. Peter's Square and the history of St. Peter's Basilica.
Opening hours
St. Peter's Basilica
Basilica 7 am – 7 pm – dome 8 am – 6 pm – treasure 9 am – 6:15 pm
More information about St. Peter's Basilica>
St. Peter's Basilica is closed during the Pope's celebrations for which you need invitation cards. In May, these are the masses of Pope Francis on Pentecost Sunday and the audiences on Wednesday mornings.
Vatican Museums
Monday – Saturday 9 – 16 Closing 18:00, Sundays closed. Evening opening Friday and Saturday last admission 20:30.
Free admission on Sunday 28 9 – 12:30 closing 14:00.
Details on the Vatican Museums>
City museums and national museums
In Rome, some of the museums belong to the municipality and some to the state.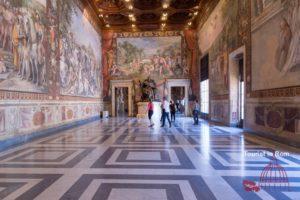 The city's museums include the Capitoline Museums, Trajan's Markets, Imperial Forums and numerous other museums. National museums include the Colosseum, Castel Sant'Angelo, Borghese Gallery and many more. For the full list of museums, opening times and tickets, see our Rome Museums page.
Free entry
For all the museums of the Municipality of Rome, such as the Capitoline Museums and the Markets of Trajan, free admission on May 7. Admission to the national museums is also free and no reservations are required with the exception of the Borghese Gallery.
Night of the museums
On May 13 is the European Night Museums. Many museums participate and offer a cultural program with animations and spectacles. City museums 8 pm – 2 am, National Museums 7 pm – 10 pm.
Exhibitions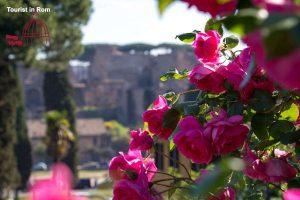 The rose garden of the Municipality of Rome is open daily 8:30 a.m. – 7:30 p.m. The Rose Garden is located on the slope of the Aventine above the Circus Maximus. Admission is free of charge.
Until May 20 only the Collections section is open, from May 21 the Competitions section is also open.
Stadium of the Domitian The stadium under Piazza Navona
Via di Tor Sanguigna 3 Tickets
Galleria Colonna – one of the largest ancient private palaces in Rome. The most beautiful rooms of the palace and the art collection of the family with artists from the 15th and 16th centuries such as Pinturicchio, Cosmè Tura, Carracci, Guido Reni, Tintoretto, Salvator Rosa, Bronzino, Guercino, Veronese, Vanvitelli
Via della Pilotta 17 (near Piazza Venezia)

Bus 51, 60, 63, 80, 83, 85, 160, 170, H, n5, n8, n11, n90, n543, n716 (Piazza Venezia) Tickets
Capuchin Crypt – Museum and Crypt of the Capuchins
Via Vittorio Veneto 27

Bus 52, 53, 61, 63, 80, 83, 160, n90, nMA (Barberini) Tickets
Leonardo da Vinci Experience – near St. Peter's Square
Via della Conciliazione 19

The Colosseum tells of itself, permanent exhibition in the Colosseum – with the support of Heinz Beste, DAI Rom
Piazza del Colosseo Metro B Colosseo Tickets
Dieter Nuhr – Surrounded by faraway
From the Ruhr area out into the world. Partly large-format, digitally reworked photographs and digital drawings with a strong painterly character. Link
Photo: Dieter Nuhr
until May 29, MAXXI Corner, Via Guido Reni 4a, free admission
Armando Trovajoli. A legend of music
The Museo di Roma in Trastevere Roma presents the first exhibition reconstructing the long artistic career of the master of light music Armando Trovajoli (Rome 1917 – 2013), an Italian pianist, composer and conductor who collaborated with major film directors and created more than 300 soundtracks and a record-breaking production.
Museo di Roma in Trastevere, Piazza di San Egidio, until May 14
Museo di Roma in Trastevere – Piazza di San Egidio
Peggy Kleiber. All Days of Life (Photographs 1959-1992)
May 19 – October 15, 2023
First monographic exhibition of non-professional photographer Peggy Kleiber.
The Tour. A History of Italy May 24 – June 28, 2023
The history of the Giro d'Italia in pictures from 1909 to today.
Bōchōtei. Lifes in the shadow of the wall. Enrico Graziani
A photographic exhibition dealing with the consequences of the construction of the mighty tsunami protection walls, focusing mainly on the architectural and social impact, as well as on the daily life of the inhabitants.
Museo delle Mura, Via di Porta San Sebastiano 18 (Appia Antica), until June 18
Tuesday – Sunday 9 – 14, free entry
Pericle Fazzini, the sculptor of the wind
A journey through the poetics of the artist of the Vatican Resurrection through a selection of about 100 works.
Museo Carlo Bilotti Aranciera di Villa Borghese, until July 2, free admission
Primarosa Cesarini Sforza. The matter and the perimeter
The contemporary Roman artist shows works from her 50 years of work. The exhibition includes drawings, paintings, installations, graphics, ceramics and books.
Villa Torlonia, Casino dei Principi, until July 2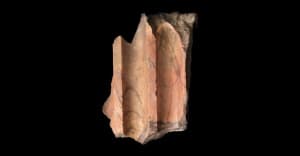 The Colors of Antiquity. Santarelli Marbles at the Capitoline Museums
In two rooms of Palazzo Clementino at the Capitoline Museums, there is on display a broad overview of the use of colored marbles, from their origins to the 20th century, through a fine selection of pieces from the Santarelli Foundation.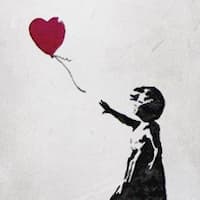 The World of Banksy – The immersive experience
Be captivated by the masterpieces of one of the most enigmatic artists of our time!
Tiburtina station – Shop gallery – until 28 May Tickets
The Sovereign Image – Urban VIII and the Barberini
Maffeo Barberini, from the wealthy Florentine merchant family, was elected Pope Urban VIII on August 6, 1623. He was a man of letters, a poet and a patron of the arts. The exhibition brings together the most important works of the Barberini Collection, including over 80 works by masters such as Gian Lorenzo Bernini, Caravaggio, Valentin de Boulogne, Francesco Mochi, Nicolas Poussin, Andrea Sacchi from over 40 museums worldwide.
Galleria Nazionale di Arte Antica at Palazzo Barberini – until 30.7.
The Rome of the Republic. The narrative of archaeology
At Palazzo Caffarelli, the exhibition of some 1,800 works illustrates, through a series of archaeological themes and contexts, the characteristics and changes in Roman society from the 5th to the middle of the first century BC.
INFINITY. Michelangelo Pistoletto.
Contemporary art without limits
until October 15, 2023
Fifty works and four large site-specific installations. More than 60 years of art, almost 90 years of life.
An infinity of ways of making art, an infinity of ways of seeing, of changing perspective, of reading reality.
In the Chiostro del Bramante (Piazza Navona area) Via Arco della Pace 5

Palazzo delle Esposizioni
via Nazionale 194
until August 27, 2023 VITA DULCIS. FEAR AND DESIRE IN THE ROMAN EMPIRE
A juxtaposition of contemporary and ancient art and the portrayal of Roman history in 20th century cinema.
from 5 May WORLD PRESS PHOTO EXHIBITION 2023
from 10 May DIETER KOPP. TRADITION AND FREEDOM
A selection of the works of the painter from Priem am Chiemsee, who lived in Latium since 1966
Hypothesis Metaverse – until July 25
Classical and digital art confronted in the metaverse
Palazzo Cipolla, Via del Corso 320
Events
Papal audience every Wednesday at 9:00 am
Every Sunday at 12:00 Angelus prayer of the Pope at St. Peter's Square
Ascension Day is celebrated on Sunday May 21, Pentecost on May 28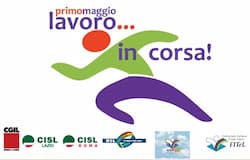 1.5. 9:00 Lavoro in corsa
10.3 km run and 5.35 km free run over Caelius Hill and Oppius Hill
Start: Via Carlo Felice web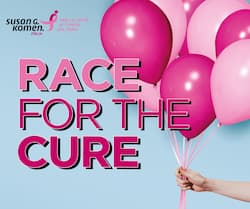 4-7 May Race for the Cure
Event for the fight against breast cancer. With 5km run and free run.
Circo Massimo https://www.raceforthecure.it/
6.5. Cage Warriors
Fighting Championship
Fiera di Roma – Messe Rom Zug FL1 Richtung Flughafen Fiumicino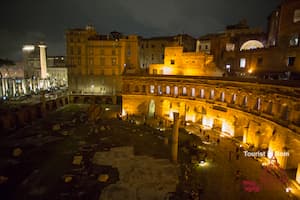 May 13 Night of the Museums
City musems: With cultural program with animations and presentations. 8 pm – 2 am Ticket 1 €
Musei Capitolini, Centrale Montemartini, Mercati di Traiano – Museo dei Fori Imperiali, Museo dell'Ara Pacis, Museo di Roma, Museo Napoleonico, Museo di Roma in Trastevere, Museo Pietro Canonica a Villa Borghese, Musei di Villa Torlonia, Museo delle Mura, Museo Carlo Bilotti – Aranciera di Villa Borghese, Museo di Scultura Antica Giovanni Barracco, Museo Civico di Zoologia, Museo della Repubblica Romana e della memoria garibaldina, Galleria d'Arte Moderna, Museo di Casal de' Pazzi.
National Museums: 7 pm – 10 pm Ticket 1 €
Colosseo, Pantheon, Galleria Borghese, Istituto autonomo Vittoriano e Palazzo Venezia, Museo Nazionale Romano – Palazzo Massimo – Palazzo Altemps – Terme di Diocleziano, Castel Sant'Angelo e Passetto di Borgo, Terme di Caracalla, Museo Nazionale degli Strumenti Musicali, Museo nazionale etrusco di Villa Giulia, area archeologica di Santa Croce in Gerusalemme, Mitreo Barberini, Mercato di Testaccio, Museo nazionale di Castel Sant'Angelo e Passetto di Borgo, Galleria Spada
Galleria Nazionale d'Arte Moderna e Contemporanea, Viale delle Belle Arti, 131

Extraordinary opening of the Palazzo Palazzo Patrizi, seat of the Soprintendence, Via Cavalletti, 2

Parco Archeologico dell'Appia Antica (Mausoleo di Cecilia Metella, Villa dei Quintili, Capo di Bove), Museo della Civiltà – Piazza Guglielmo Marconi, 14 (EUR)
Villa D'Este, Villa Adriana
27.5.-4.6. Edilexpo
International building fair
Fiera di Roma – Messe Rom Zug FL1 Richtung Flughafen Fiumicino
28.5. Giro d'Italia – last stage
Start: Roma EUR
Finish: Via dei Fori Imperiali, arriving from via di San Gregorio and passing by the Colosseum
Concerts
Rome has a lively music scene. Many pubs and music venues offer live music, especially on weekends. Classical music can be found in many churches and palaces.
Rome's Music Park​
A jewel is the Parco della Musica, built by the internationally known architect Renzo Piano, in northern Rome on Via Flaminia. See all events here. Events and tickets
Tram 2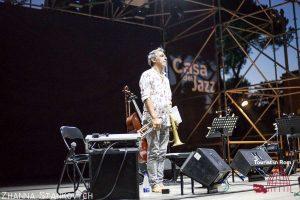 There are several auditoriums and an open-air stage in the Parco della Musica. There are performances in all styles.
Some events are also organized together with the Casa del Jazz. Events and Tickets Casa del Jazz
Bus 160, 671, 714, 792

Opera di Roma
Roman opera offers an extensive repertoire.
Piazza Beniamino Gigli

Tickets
Palazzo dello Sport​
The Palazzo dello Sport is a multifunctional hall where concerts are held regularly. It is located in Quartier EUR and is easily accessible by Metro B station Palasport.
Metro B EUR Palasport

Atlantico
Atlantico is a concert hall in the EUR neighborhood. You take Metro B to EUR Fermi and then bus 705 or 706 to Colombo / Atlantico.
Viale dell'Oceano Atlantico, 271D
Metro B EUR Fermi -> 705, 706

Tickets

Largo Venue
Largo Venue is a cultural center on Via Prenestina.
Largo Venue, Via Biordo Michelotti 2
Tram 5, 14, 19 Bus 81, 412, n5, n543, nMC Prenestina/Gattamelata

Tickets

Teatro Brancaccio
The Teatro Brancaccio on Via Merulana also hosts musical events.
Via Merulana 244

Bus 16, 75, 714
Tickets

Amusement parks
In Rome and the surrounding area there are a few parks that offer a welcome change.
Luneur

The Luneur Park offers many rides. It is located in the south of the city in the EUR district on Via Cristoforo Colombo. The opening times in winter are irregular, mostly Saturday and Sunday 10 a.m. to 6 p.m., in summer daily until midnight. On the Luneur website you can see the calendar with the opening days. Bus connections are lines 30, 170, 714 and 791, Colombo / Agricoltura stop. From there it is 750m to the entrance on Via delle Tre Fontane 100.
Cinecittà World
Cinecittà World is a theme park about cinema and television. It is located next to the Castel Romano outlet center on Via Pontina between Rome and Pomezia. A shuttle bus runs from the Termini main station. Tickets
Excursions around Rome
Rome has beautiful surroundings. The Romans go to the seaside or the mountains for a good meal on weekends.
The seaside fish restaurants are always busy. In the mountains there is a rustic cuisine that goes well with the cooler temperatures.
You can reach many destinations by public transport.
Excursions to the sea
If you want to see the sea, just go to Ostia Lido. A ticket for city traffic is sufficient for the journey and on the way you can visit the excavations of the old port city of Ostia Antica.
Excursions in the mountains
The most famous summer residence of the Romans in Castel Gandolfo. The popes spent the summer here at an altitude of around 400 m. Pope Francis, however, remains in Rome and the palace and gardens at Castel Gandolfo can be visited.
You can get to Castel Gandolfo by train from Roma Termini or from Ciampino with a 3-zone ticket. The train station is located on the volcanic hill between Lake Albano and the village.
Day trips
With the high-speed trains that are punctual to the minute, Florence and Naples are only around 1 ½ hours away. With our tips you can put together your own day tour or book an organized tour. Take a day to stroll around Florence and see the world famous Uffizi Gallery. Or visit the excavations in Pompeii and see Vesuvius, which is still active today and buried the city under its ashes.
Book at GetYourGuide (can be canceled free of charge):