Rome May. There are no public holidays with the exception of May 1st. Whit Monday is not a public holiday either. Most of the shops in the center are open 7 days a week. With almost summer temperatures, there is a lot to see and do in Rome.
You can always read whether there will be any restrictions in Rome in May due to the coronavirus in our information on the coronavirus in Rome.
May in Rome
May in Rome is usually high season. It is not yet possible to say how it will develop this year. Maybe you can only make a decision at the last moment. To find out how to find an affordable room and which areas are most suitable, read our information about hotels in Rome.
May in Rome is climatically very pleasant. If you have some time, visit one of the Roman villas and of course a lookout point. If you can reserve a day for an excursion, there are destinations in the area surrounding Rome such as the excavations in Ostia Antica or the Villa Adriana and the Villa D'Este in Tivoli.
But you can also reach more distant destinations such as Pompei, Naples, Florence or Venice in one day with the high-speed train or with a guided tour.
Weather and clothes​
In May it is climatically very pleasant in Rome. The maximum temperatures are 77°F and there are nine hours of sunshine, the minimum temperatures at 55°F. On average, there are four rainy days. As a rule, it does not rain for long. For an emergency, you should therefore have a light raincape, which you can cover yourself quickly.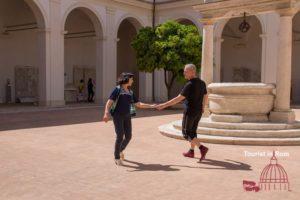 The temperatures are therefore very pleasant during the day and in the sun it can get really warm. To be able to sit outside in the evening, you need a light jacket.
Please note that when visiting sacral sites, you must cover your shoulders and knees. If you wear off-the-shoulder shirts or dresses, you will need a shawl or a pareo. You also need sturdy shoes. You should not wear high heels on the uneven Roman roads.
Eating
Roman gastronomy is usually excellent. Whether you want an opulent dinner, a pizza, a sandwich, an ice cream or something sweet, in Rome you will find a large selection of the best quality.
It is therefore not necessary to get roped into the first restaurant that comes along with colorfully printed billboards and plastic models of the dishes. Good restaurants don't need that.
Rome has an interesting street food scene and of course the best pizza al taglio. The best ice cream parlors in Rome offer flavors for every season.
You can safely forget the so-called "r" rule, according to which seafood is only supposed to be eaten with "r" in months. In Rome, you can eat seafood all year round. They come fresh from good aquacultures from nearby Gaeta, Orbetello or Sardinia. Oyster farms are less common in Italy and so local oysters are very rare in Rome.
The typical Roman pasta dishes can be found all year round. The preparation of Cacio e Pepe with sheep's cheese and pepper is very tasty; variations are the Gricia, the Amatriciana and the Carbonara. Read more about Roman cuisine and get an overview on a street food tour.
Shopping
Italian fashion is known worldwide and everyone will envy you for your purchases. Leave enough space in your suitcase for your purchases!
The luxury brands can be found around Via dei Condotti, which leads from the Spanish Steps to Via del Corso. Shops in all price ranges can be found along Via del Corso.
Rome also has art and antiques. Many visitors also stock up on gastronomic specialties. Read Shopping in Rome.
Avoid queues
Keeping your distance is a necessary precaution. Avoid the queues and make a daily schedule. In our category 3 days in Rome you will find suggestions that you can combine with each other.
Arrival
Organize the journey from the airport to the hotel in advance and read our information about the metro and how you can get tickets quickly and easily.
Museums
Many museums can only be visited by reservation. These include the Sistine Chapel in the Vatican Museums, the Colosseum, the Borghese Gallery and the museums of the Municipality of Rome. You can find information about the museums on our pages
St. Peter's Basilica
Entry to St. Peter's Basilica is free. However, the queues can be quite long if there are many visitors.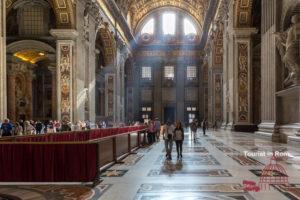 There is a very simple trick to avoid the queue: you book an audio guide or a guided tour in advance and you will be admitted through a special entrance without waiting. For more information read our pages on St. Peter's Basilica, St. Peter's Square and the history of St. Peter's Basilica.
Rome May opening hours
St. Peter's Basilica
Basilica 7 am – 7 pm – Dome 8 am – 6 pm – Treasure 9 am -6:15 pm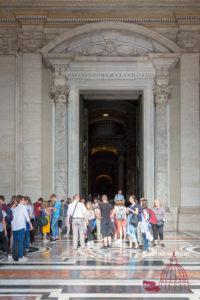 St. Peter's Basilica is closed during the Pope's celebrations, for which you need invitation cards. That is the Mass on Pentecost Sunday in May and the audiences on Wednesday mornings.
Colosseum
8:30 am – 6:15 pm, closing 7:15 pm
Details about the Colosseum>
Vatican Museums
Monday – Thursday 8:30 am – 4:30 pm, closing 6:30 pm, Friday + Saturday 8:30 am – 6:00 pm, closing 8:00 pm. Closed on Sunday and May 1st. The opening times of the Apostolic Palace in Castel Gandolfo are not yet known.
Details on the Vatican Museums>
City museums and national museums
In Rome, some of the museums belong to the municipality and some to the state. The museums are closed on May 1st.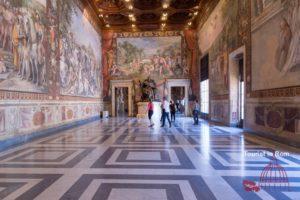 The city's museums include the Capitoline Museums, Trajan's Markets, Imperial Forums and numerous other museums. National museums include the Colosseum, Castel Sant'Angelo, Borghese Gallery and many more. For the full list of museums, opening times and tickets, see our Rome Museums page.
Exhibitions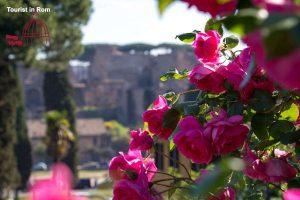 The rose garden of the Municipality of Rome is open daily 8:30 a.m. – 7:30 p.m. The Rose Garden is located on the slope of the Aventine above the Circus Maximus. Admission is free of charge.
Until May 15 only the Collections section is open, from May 16 the Competitions section is also open.
until 02.05.2021 Il tempo di Caravaggio
Exhibition in the Capitoline Museums of the works of the world-famous painter
Capitol hill
until September 26, 2021 Rome. Birth of a Capital 1870-1915
Initiative for the celebration of one hundred and fifty years since the proclamation of Rome as Capital City.
Capitol Hill
until June 27th, 2021 I Marmi Torlonia. Collezionare Capolavori
The legendary marble collection of the Torlonia family, exhibition in the Capitoline Museums, Villa Caffarelli
Capitol hill
Manolo Valdes
The Spanish artist can be seen in Rome again after 25 years
Palazzo Cipolla Via del Corso 320

Bus 62, 63, 83, 85, 119, 160, 492
Back to Nature 2021. Contemporary Art at Villa Borghese – 25/07/2021
Parco dei Daini – Piazza di Siena – Orangery Museo Carlo Bilotti (free entrance with reservation tel. 060608)

Cinecittà si mostra Visit the dream factory of Roman cinema, Metro A Station Cinecittà Tickets
Stadium of the Domitian The stadium under Piazza Navona
Via di Tor Sanguigna 3 Tickets
Galleria Colonna – one of the largest ancient private palaces in Rome. The most beautiful rooms of the palace and the art collection of the family with artists from the 15th and 16th centuries such as Pinturicchio, Cosmè Tura, Carracci, Guido Reni, Tintoretto, Salvator Rosa, Bronzino, Guercino, Veronese, Vanvitelli
Via della Pilotta 17 (near Piazza Venezia)

Bus 51, 60, 63, 80, 83, 85, 160, 170, H, n5, n8, n11, n90, n543, n716 (Piazza Venezia) Tickets
Capuchin Crypt – Museum and Crypt of the Capuchins
Via Vittorio Veneto 27

Bus 52, 53, 61, 63, 80, 83, 160, n90, nMA (Barberini) Tickets
Leonardo da Vinci Experience – near St. Peter's Square
Via della Conciliazione 19

The Colosseum tells of itself, permanent exhibition in the Colosseum – with the support of Heinz Beste, DAI Rom
Piazza del Colosseo Metro B Colosseo Tickets
Colors of the Romans – 15/09/2021
Mosaics from the Capitoline Collections
Centrale Montemartini, Via Ostiense, 106

All about Banksy 2
Thanks to about two hundred and fifty works from private collections, Chiostro del Bramante presents ALL ABOUT BANKSY: in Rome, from May 5, 2021 to January 9, 2022, a new exhibition to discover everything you can know about the most famous unknown artist in the world.
In the Chiostro del Bramante (Piazza Navona area) Via Arco della Pace 5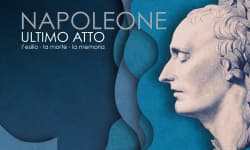 Napoleon Last Act. Exile, death, memory – 09/01/2022
Dedicated to the extreme moments of Napoleon Bonaparte's epic deeds, the exhibition aims to illustrate the events of the Emperor's exile and death on Saint Helena through an evocative visual narrative, constructed using prints, watercolors and sculptural and numismatic effigies.
Museo Napoleonico, Piazza di Ponte Umberto I

free entry
Concerts
Rome has a lively music scene. Many pubs and music venues offer live music, especially on weekends. Classical music can be found in many churches and palaces.
Day trips
With the high-speed trains that are punctual to the minute, Florence and Naples are only around 1 ½ hours away. With our tips you can put together your own day tour or book an organized tour. Take a day to stroll around Florence and see the world famous Uffizi Gallery. Or visit the excavations in Pompeii and see Vesuvius, which is still active today and buried the city under its ashes.
Book at GetYourGuide (can be canceled free of charge):