Enjoy the approaching spring in Rome in March. It is not yet too crowded in the city and you can easily stroll through the streets and parks. What's going on in Rome in March, you can find out here.
What's on?
March is a popular time to travel to Rome. The city is not yet so crowded and hotels are still rather inexpensive. Many school groups visit the city. Reservations are required at some museums.
March 8 is International Women's Day. Women have free entry to the national museums. Traditionally, there is a general strike for equality on March 8. This is probably a remnant of the tradition from the days of communism, when men celebrated Women's Day and then came home drunk in the evening. In Rome today, men give their wives mimosa branches with their yellow flowers. Street vendors cut them in the parks and sell them in the city and at the crossroads.
Father's Day is celebrated in Italy on the name day of St. Joseph on March 19. This makes one wonder whether Joseph or the Holy Spirit was the father and what that tells us today. Both days are not public holidays.
March 20 marks the official beginning of spring. The last Sunday of the month begins legal daylight saving time, and with it the longer evening opening hours of open-air museums such as the Colosseum and the Ostia Antica excavations.
Partner-Links helfen uns dabei, unsere Informationen kostenlos bereitzustellen. Für abgeschlossene Buchungen erhalten wir eine Provision – ohne Mehrkosten für Sie! Mehr
Partner links help us to provide our information free of charge. For completed bookings we receive a commission – at no extra cost to you! More
I link dei partner ci aiutano a fornire gratuitamente le nostre informazioni. Riceviamo una commissione per le prenotazioni completate, senza alcun costo aggiuntivo per voi! Di più
March in Rome
In March there are no vacations and public holidays and there is a lot of traffic. Public transportation does not work very reliably and many Romans drive their own vehicles to work, shopping or take their children to school.
In March, accommodation is still rather cheap. The more central you live, the less you are dependent on public transport. You can find out how to find an affordable room and which areas are best in our information on Hotels in Rome.
Rome is a very green city. Take the time to enjoy the daily changing nature in one of the Roman villas. And of course you have to visit a lookout point. Combine a visit to the excavations in Ostia Antica is with a trip to the sea. The still wintry Villa D'Este creates an interesting atmosphere, especially in the evening. Located in the valley below Tivoli, Villa Adriana is the largest villa that a Roman emperor has ever built. In its ruins, on sunny days, it can get quite hot as early as March.
But you can also reach more distant destinations such as Pompei, Naples or Florence in one day with the high-speed train or with a guided tour.
How cold it is
Even though March is astronomically counted as a winter month, it is already very spring-like in Rome. In the sunshine it is already very warm, at night it is still rather cold. Record temperatures in March are a maximum of 25°C/77°F and a minimum of -6°C/21.2F, although it is more likely that temperatures will rise above 20°C/68°F than that they will fall far below 10°C/34°F.
Climate data March
| | |
| --- | --- |
| Tmax Ø | 16°C/60.8°F |
| Tmin Ø | 7°C/44.6°F |
| Sunshine hours Ø | 5.1 |
| Days with rain Ø | 9 |
Source: www.wetter.com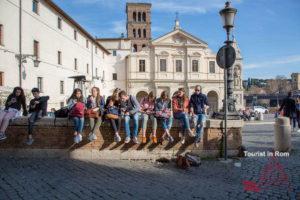 Skirts and pants are starting to get shorter. Remember, however, that your clothes must cover your knees if you plan to visit the Vatican, the catacombs, or other religious sites.
In March, there may be occasional rain. For the most part, the rain doesn't last long and you can find shelter. After 15 or 30 minutes it is usually all over again.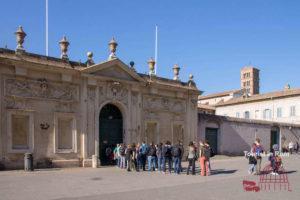 Since it can be very warm in the sun during the day and very cold at night, you have to be flexible with your clothes. In all cases you should have a light rain cover with you. Comfortable shoes are also important in Rome, as you will be walking a lot and the sidewalks are often bumpy.
Rome for early risers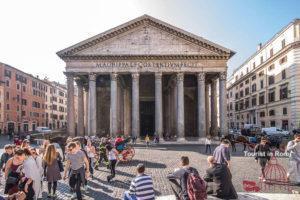 Of course it takes a certain effort to get up in the dark. Nevertheless, I would like to recommend that you set off early in the morning.
There is very little traffic in Rome until six in the morning and you can take undisturbed beautiful photos of the sunrise at monuments and places. If you are lucky, you will find a foggy morning that offers very beautiful and unique photo opportunities. The sunrise is in Rome in March at 6:44 am at the beginning of the month and before the change to daylight saving time at 6:01 am.
Early morning is also the best time to jog.
Mid season in Rome what you should consider
There are always many visitors in Rome. No matter whether you are interested in archeology, art, churches or culinary art, Rome has something to offer for everyone.
The European Union was founded in Rome; three UN organizations, FAO, WFP and IFAD, are based in Rome. Rome is the capital of Italy and, with the Vatican, the center of the world's Catholic religion.
So there is always a lot going on in Rome. In particular, when the situation with the coronavirus eases, many visitors will be in Rome.
Rome is also interesting for shopping in March. Here you will find a large selection in every price range.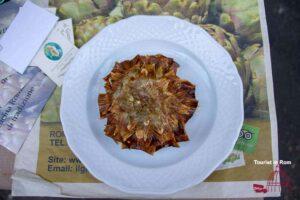 The heavy Roman cuisine goes perfectly with the cold season. In our Food category you will find tips on street food, pizza, the best ice cream parlors that offer creations to match the winter, but also on very elegant restaurants.
In winter, be sure to try the fried artichokes. They come fresh from the field and are freshly prepared every day. Read our information about Roman cuisine.
Avoid queues
Keeping your distance is a necessary precaution. Avoid the queues and make a daily schedule. In our category 3 days in Rome you will find suggestions that you can combine with each other.
Since you have to reserve in advance at most museums, the risk of queues is low there. Queues are almost always at ticket offices in airports and at the ticket machines. Bookings on the Internet are therefore the best choice.
Arrival
Organize the journey from the airport to the hotel in advance and read our information about the metro and how you can get tickets quickly and easily.
Museums
Many museums can only be visited by reservation. These include the Sistine Chapel in the Vatican Museums, the Colosseum, the Borghese Gallery and the museums of the Municipality of Rome. You can find information about the museums on our pages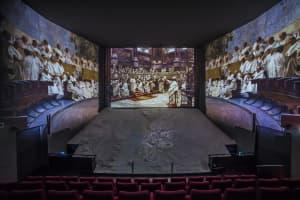 Welcome to Rome Multimediashow
In the center of Rome, between the Vatican and Piazza Navona, a 30-minute multidimensional film show and an exhibition with interactive models await you.
Corso Vittorio Emanuele II 203

Bus 46, 62, 64, 916 C.so Vittorio Emanuele / Navona
St. Peter's Basilica
Entry to St. Peter's Basilica is free.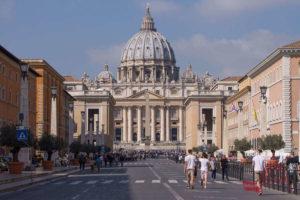 Priority entry to St. Peter's Basilica is unlikely to be offered in March. This imposing building is definitely worth a tour. For more information read our pages on St. Peter's Basilica, St. Peter's Square and the history of St. Peter's Basilica.
Rome March opening hours
St. Peter's Basilica
Basilica 7 am – 6:30 pm – dome 8 am – 5 pm – treasure 9 am – 5:15 pm
More information about St. Peter's Basilica>
Colosseum
9 am – 3:30 pm closing 4:30 pm
With daylight saving time from March 26 to 18:15 Closing 19:15
Details about the Colosseum>
Vatican Museums
Monday – Saturday 9 – 16 Closing 18, Closed Sundays. Free admission on Sunday 26 9 – 12:30 closing 14:00.
Details on the Vatican Museums>
City museums and national museums
In Rome, some of the museums belong to the municipality and some to the state.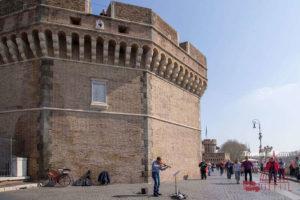 The city's museums include the Capitoline Museums, Trajan's Markets, Imperial Forums and numerous other museums. National museums include the Colosseum, Castel Sant'Angelo, Borghese Gallery and many more. For the full list of museums, opening times and tickets, see our Rome Museums page.
Free entry
All museums run by the Municipality of Rome, such as the Capitoline Museums and the Trajan's Markets, have free admission on March 5th. The entry time must be reserved by telephone +39060608. Admission is also free at the national museums, most of which do not require reservations.
Exhibitions
Stadium of the Domitian The stadium under Piazza Navona
Via di Tor Sanguigna 3 Tickets
Galleria Colonna – one of the largest ancient private palaces in Rome. The most beautiful rooms of the palace and the art collection of the family with artists from the 15th and 16th centuries such as Pinturicchio, Cosmè Tura, Carracci, Guido Reni, Tintoretto, Salvator Rosa, Bronzino, Guercino, Veronese, Vanvitelli
Via della Pilotta 17 (near Piazza Venezia)

Bus 51, 60, 63, 80, 83, 85, 160, 170, H, n5, n8, n11, n90, n543, n716 (Piazza Venezia) Tickets
Capuchin Crypt – Museum and Crypt of the Capuchins
Via Vittorio Veneto 27

Bus 52, 53, 61, 63, 80, 83, 160, n90, nMA (Barberini) Tickets
Leonardo da Vinci Experience – near St. Peter's Square
Via della Conciliazione 19

The Colosseum tells of itself, permanent exhibition in the Colosseum – with the support of Heinz Beste, DAI Rom
Piazza del Colosseo Metro B Colosseo Tickets
Pasolini Painter
Pasolini Pittore is an exclusive exhibition project, completely new in its kind, conceived on the occasion of the 100th anniversary of the birth of Pier Paolo Pasolini. It aims, more than forty years after the last complete publication on Pasolini the painter in 1978, to bring back attention to an important artistic aspect, often neglected by critics, in the overall context of the work of the writer and director.
The exhibition includes about two hundred works, most of which come from the Gabinetto Scientifico Letterario G.P. Vieusseux in Florence. They reconstruct Pasolini's artistic career since the early 1940s and document the continuity of Pasolini's painterly practice and his technical tenacity. In the end, the artist was always more interested in the "composition" – with its contours – than in the material, in line with that painterly phase of Italian art that, especially between the 1960s and 1970s, was increasingly defined also by its civic commitment.
Gallery of Modern Art, Via Francesco Crispi 24

– until April 16, 2023
La Movida. Spain 1980-1990
La Movida. Spain 1980-1990, the first exhibition in Italy by photographer and artist Miguel Trillo, through more than 60 photographs, chronicles the 1980s, the cultural movement known as La Movida and its social and political consequences.
Through April 30, Museo di Roma in Trastevere
VAN GOGH – Masterpieces from the Kröller-Müller Museum
In the run-up to the 170th anniversary of his birth, this exhibition and emotional journey, through an exceptional loan of 50 works – including his famous Self-Portrait (1887) – tells of his human and artistic life.
Special attention is given to the period of stay in Paris, in which Van Gogh devotes himself to an accurate color research in the wake of Impressionism and a new freedom in the choice of subjects, with the conquest of a more immediate and chromatically vivid language.
Palazzo Bonaparte, Piazza Venezia 5 – until March 26, 2023 Tickets
Medieval Rome – The Lost Face of the City
The exhibition traces the appearance of Rome between the sixth and fourteenth centuries and its central role for simple pilgrims as well as for kings and emperors.
Put yourself in the shoes of a medieval pilgrim who wanted to see the first witnesses of Christianity and the relics of the martyrs.
Museo di Roma, Piazza Navona, until 5 February 2023
Armando Trovajoli. A legend of music
The Museo di Roma in Trastevere Roma presents the first exhibition reconstructing the long artistic career of the master of light music Armando Trovajoli (Rome 1917 – 2013), an Italian pianist, composer and conductor who collaborated with major film directors and created more than 300 soundtracks and a record-breaking production.
Museo di Roma in Trastevere, Piazza di San Egidio, from 11.3.2023
Bōchōtei. Lifes in the shadow of the wall. Enrico Graziani
A photographic exhibition dealing with the consequences of the construction of the mighty tsunami protection walls, focusing mainly on the architectural and social impact, as well as on the daily life of the inhabitants.
Museo delle Mura, Via di Porta San Sebastiano 18 (Appia Antica), from 11.3.2023
Tuesday – Sunday 9 – 14, free entry
Pericle Fazzini, the sculptor of the wind
A journey through the poetics of the artist of the Vatican Resurrection through a selection of about 100 works.
Museo Carlo Bilotti Aranciera di Villa Borghese, from March 25, free admission
Technoscape – The Architecture of Engineering
The exhibition highlights the relationship between structural or avant-garde engineering and the omnipresence of technology in the contemporary world.
The exhibition is divided into technological innovation and structural engineering.
MAXXI – Museo Nazionale delle Arti del XXI secolo, Via Guido Reni 4a – until April 10, 2023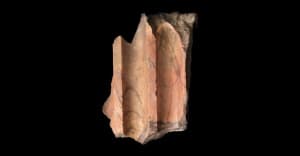 The Colors of Antiquity. Santarelli Marbles at the Capitoline Museums
In two rooms of Palazzo Clementino at the Capitoline Museums, there is on display a broad overview of the use of colored marbles, from their origins to the 20th century, through a fine selection of pieces from the Santarelli Foundation.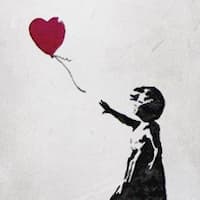 The World of Banksy – The immersive experience
Be captivated by the masterpieces of one of the most enigmatic artists of our time!
Tiburtina station – Shop gallery – until 28 May Tickets
The Rome of the Republic. The narrative of archaeology
At Palazzo Caffarelli, the exhibition of some 1,800 works illustrates, through a series of archaeological themes and contexts, the characteristics and changes in Roman society from the 5th to the middle of the first century BC.
INFINITY. Michelangelo Pistoletto.
Contemporary art without limits
March 18-October 15, 2023
Fifty works and four large site-specific installations. More than 60 years of art, almost 90 years of life.
An infinity of ways of making art, an infinity of ways of seeing, of changing perspective, of reading reality.
In the Chiostro del Bramante (Piazza Navona area) Via Arco della Pace 5

Events
Papal audiences and masses in March
General audiences of the Holy Father take place on Wednesdays at 9 am.
The Pope's Angelus prayer takes place on Sundays at noon in St. Peter's Square.
March 25. 17:00 Penitential celebration in St. Peter's Basilica
Traffic-calmed Sunday
March 26, Traffic-calmed Sunday – driving ban for private vehicles with combustion engines in the city center
7:30 am – 12:30 pm, 4:30 pm – 8:30 pm
Aerobatic Squadron Frecce Tricolori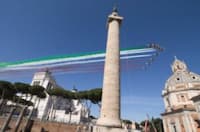 Mar. 19, 2023 Overflight on the occasion of the Rome Marathon – Foro Italico
Mar. 28, 2023 Overflights on the occasion of the Air Force Centennial Celebration
Sport
5 March 2023 Half Marathon Roma Ostia Info
Half Marathon from Roma EUR to Ostia on Via Cristoforo Colombo
11 March Rugby Six Nations
Italy – Galles
Olympic stadium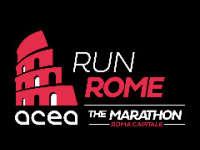 19 March 2023 Rome Marathon
Marathon and relay race
5 km Fun Run
Cirque du Soleil
From March 22 Cirque du Soleil  – Kurios
Concerts
Rome has a lively music scene. Many pubs and music venues offer live music, especially on weekends. Classical music can be found in many churches and palaces.
Rome's Music Park​
A jewel is the Parco della Musica, built by the internationally known architect Renzo Piano, in northern Rome on Via Flaminia. See all events here. Events and tickets
Tram 2

There are several auditoriums and an open-air stage in the Parco della Musica. There are performances in all styles.
Some events are also organized together with the Casa del Jazz. Events and Tickets Casa del Jazz
Bus 160, 671, 714, 792

Palazzo dello Sport​
The Palazzo dello Sport is a multifunctional hall where concerts are held regularly. It is located in Quartier EUR and is easily accessible by Metro B station Palasport.
Metro B EUR Palasport

Atlantico
Atlantico is a concert hall in the EUR neighborhood. You take Metro B to EUR Fermi and then bus 705 or 706 to Colombo / Atlantico.
Viale dell'Oceano Atlantico, 271D
Metro B EUR Fermi -> 705, 706

Tickets

Largo Venue
Largo Venue is a cultural center on Via Prenestina.
Largo Venue, Via Biordo Michelotti 2
Tram 5, 14, 19 Bus 81, 412, n5, n543, nMC Prenestina/Gattamelata

Tickets

Teatro Brancaccio
The Teatro Brancaccio on Via Merulana also hosts musical events.
Via Merulana 244

Bus 16, 75, 714
Tickets

Amusement parks
In Rome and the surrounding area there are a few parks that offer a welcome change.
Luneur

The Luneur Park offers many rides. It is located in the south of the city in the EUR district on Via Cristoforo Colombo. The opening times in winter are irregular, mostly Saturday and Sunday 10 a.m. to 6 p.m., in summer daily until midnight. On the Luneur website you can see the calendar with the opening days. Bus connections are lines 30, 170, 714 and 791, Colombo / Agricoltura stop. From there it is 750m to the entrance on Via delle Tre Fontane 100.
Cinecittà World
Cinecittà World is a theme park about cinema and television. It is located next to the Castel Romano outlet center on Via Pontina between Rome and Pomezia. A shuttle bus runs from the Termini main station. Tickets
Excursions around Rome
Rome has beautiful surroundings. The Romans go to the seaside or the mountains for a good meal on weekends.
The seafood restaurants by the sea are also well attended in the early spring. There is a rustic kitchen in the mountains that goes well with the cooler temperatures. When there is snow, the Romans ski in the nearby Appenines.
You can reach many destinations by public transport.
Excursions to the sea
If you want to see the sea, just go to Ostia Lido. A ticket for city traffic is sufficient for the journey and on the way you can visit the excavations of the old port city of Ostia Antica.
Excursions in the mountains
The most famous summer residence of the Romans in Castel Gandolfo. The popes spent the summer here at an altitude of around 400 m. Pope Francis, however, remains in Rome and the palace and gardens at Castel Gandolfo can be visited.
You can get to Castel Gandolfo by train from Roma Termini or from Ciampino with a 3-zone ticket. The train station is located on the volcanic hill between Lake Albano and the village.
Day trips
With the high-speed trains that are punctual to the minute, Florence and Naples are only around 1 ½ hours away. With our tips you can put together your own day tour or book an organized tour. Take a day to stroll around Florence and see the world famous Uffizi Gallery. Or visit the excavations in Pompeii and see Vesuvius, which is still active today and buried the city under its ashes.
Book at GetYourGuide (can be canceled free of charge):