Rome February, here you will find information about February in Rome. Rome in February is ideal for visiting the museums, shopping and good Roman cuisine. From the second half of the month you can feel the approaching spring. Temperatures are usually mild, but frost and snow can also occur.
If there are restrictions due to the coronavirus, you will find the relevant information on our page on the corona crisis. There have always been fewer cases in Rome than in other regions of Italy. If you follow the rules, you can be confident that you will be safe in Rome. Read what is planned in Rome in January and how you have to organize yourself.
Basically, one of the COVID precautionary measures is to avoid crowds and queues. Admission to most attractions must be reserved in advance on the Internet.
You should therefore book everything on the Internet as far as possible.
You risk queues at the airport if you have not arranged the trip to Rome in advance, as well as with public transport.
More information about Ciampino
More information about Fiumicino
The public transport in Rome is hopelessly overwhelmed and there is no working timetable. Only a few lines, such as lines 40 and 64 between Termini and the Vatican, run regularly. Take this into account when planning and choosing your accommodation. Book your accommodation in the city center, in Monti near the Colosseum or in the vicinity of the Vatican.
The hop on hop off buses circulate very reliably. When the weather is nice, you can rent a bike. You can also find electric scooters in the center.
The Roman center is not very big and you can walk to many attractions. Read in our article Hotels in Rome which neighborhoods are best for your accommodation.
St. Peter's Basilica opening times in February
Opening times of the museums
All information on opening times and tickets can be found on our page on the opening times of the museums.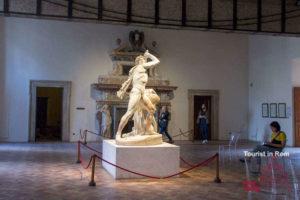 Reservation is compulsory for the Colosseum, Vatican Museums, Borghese Gallery and all museums in the Municipality of Rome. With the reservation you will receive an entry time that you should adhere to as closely as possible.
The Colosseum in February
You have to make a reservation for the Colosseum.
Opening hours: 8:30 am – 3:30 pm closing at 4:30 pm, from February 16 8:30 am – 4 pm closing at 5 pm.
They are closed on Sunday and on february 11th.
Opening hours 8:30 am – 6.30 pm
You can only visit the Vatican Gardens by reservation. There is a bus tour that departs to the left of St. Peter's Basilica and a guided tour on foot.
Papal audiences in February
General audiences of the Holy Father take place on Wednesdays at 9:30 am. The audiences are expected to be closed to the public and will be streamed from the library of the Apostolic Palace on the Internet. Current information can be found on our page on the papal audience. You can follow the broadcast live on our Papal Audience page.
February 11 Carnival – Giovedì grasso
February 12 Chinese New Year
February 13 Carnival – Saturday
February 14 Traffic-calmed Sunday – driving ban for private vehicles with combustion engines in the city center
7:30 am – 12:30 pm, 4:30 pm – 8:30 pm
21.2. 9 am Roma – Ostia half marathon
A jewel is the Parco della Musica, built by the internationally known architect Renzo Piano, in northern Rome on Via Flaminia. See all events here. Events and tickets
Tram 2

There are several auditoriums and an open-air stage in the Parco della Musica. There are performances in all styles.
Traffic Live Club is a music venue on Via Prenestina
Traffic live club Via Prenestina 738
113, 150F, 313, 314, 501, 508, n075 Prenestina/Tor Tre Teste

Tickets

Atlantico is a concert hall in the EUR district. You can take the Metro B to EUR Fermi and then bus 705 or 706 to Colombo / Atlantico.
Viale dell'Oceano Atlantico, 271D
Metro B EUR Fermi -> 705, 706

Tickets

until January 10th, 2021 Per Gioco
The toy collection of the Sovrintendenza Capitolina in the Museo di Roma
Piazza Navona
until January 11th, 2021 Il tempo di Caravaggio
Exhibition in the Capitoline Museums of the works of the world-famous painter
Capitol Hill
until June 27th, 2021 I Marmi Torlonia. Collezionare Capolavori
The legendary marble collection of the Torlonia family, exhibition in the Capitoline Museums, Villa Caffarelli
Capitol Hill
Galleria Colonna – one of the largest ancient private palaces in Rome. The most beautiful rooms of the palace and the art collection of the family with artists from the 15th and 16th centuries such as Pinturicchio, Cosmè Tura, Carracci, Guido Reni, Tintoretto, Salvator Rosa, Bronzino, Guercino, Veronese, Vanvitelli
Via della Pilotta 17 (near Piazza Venezia)

Bus 51, 60, 63, 80, 83, 85, 160, 170, H, n5, n8, n11, n90, n543, n716 (Piazza Venezia) Tickets
Capuchin Crypt – Museum and Crypt of the Capuchins
Via Vittorio Veneto 27

Bus 52, 53, 61, 63, 80, 83, 160, n90, nMA (Barberini) Tickets
The Colosseum tells of itself, permanent exhibition in the Colosseum – with the support of Heinz Beste, DAI Rom
Piazza del Colosseo Metro B Colosseo Tickets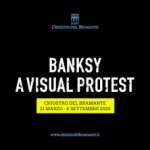 Banksy A Visual Protest
Over 90 works tell the world of Banksy. See the works of the unknown artist Banksy, who conquered the world with irony and sharpness, in the monastery built by the Italian architect Bramante in the 16th century.
In the Chiostro del Bramante (Zone Piazza Navona) Via Arco della Pace 5

Practical tips for Rome February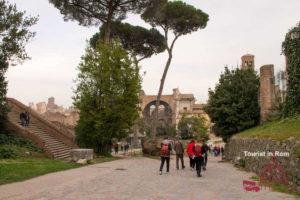 According to statistics, the maximum temperatures in Rome in February are 14° C, the minimum temperatures are 3° C. At the end of the month you start to feel spring.
It can rain occasionally in February. The rain usually doesn't last long and you may find a shelter. After 15 or 30 minutes the rain is mostly over again.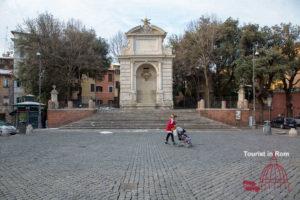 It is memorable when there is snow or frost in Rome. That only happens once in three or four years. This special spectacle then goes through all the newspapers.
Since you spend a lot of time outdoors in Rome, you need warm clothing and rain protection. Comfortable shoes are also important in Rome, as you will be walking a lot and the sidewalks are often bumpy.
Of course it takes a certain effort to get up in the dark. Nevertheless, I would like to recommend that you set off early in the morning.
There is very little traffic in Rome until six in the morning and you can take beautiful photos of the illuminated monuments and squares undisturbed. If you are lucky, you will find a foggy morning that offers very beautiful and unique photo opportunities. The sunrise in Rome in February is between 7:22 and 6:46.
Early morning is also the best time to jog.
Mid season in Rome what you should consider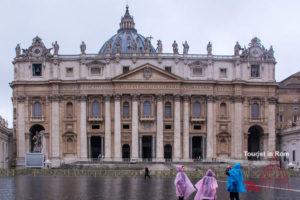 There are always many visitors in Rome. No matter whether you are interested in archeology, art, churches or culinary art, Rome has something to offer for everyone.
The European Union was founded in Rome; three UN organizations, FAO, WFP and IFAD, are based in Rome. Rome is the capital of Italy and, with the Vatican, the center of the world's Catholic religion.
There is always a lot going on in Rome, but a little less in February than in other months.
If you want to visit the museums in Rome and the Vatican, February is a good month for you.
Rome is also interesting for shopping in February. You can stock up on spring fashion here.
The heavy Roman cuisine goes perfectly with the cold season. In our Food category you will find tips on street food, pizza, the best ice cream parlors that offer creations to match the winter, but also on very elegant restaurants.
When there is snow, the Romans ski in the nearby Appenines.
Other interesting excavations can be found in the nearby Ostia Antica or on a day trip to Pompeii.
A day trip to Florence is also very interesting. Various organizers offer day tours in minibuses or by express train.