Rome February, here you will find information about February in Rome. Rome in February is ideal for visiting the museums, shopping and good Roman cuisine. From the second half of the month you can feel the approaching spring. Temperatures are usually mild, but frost and snow can also occur.
February is low season in Rome and you can find very cheap hotel rooms. Please also read our information about the hotels in Rome.
February in Rome is a good month to visit the museums. With fewer visitors in the city, the museums are quieter and there is less crowding and waiting.
The heavy Roman cuisine tastes particularly good in the cold season. You can get to know many delicious specialties.
February is therefore an interesting month to visit Rome.
Also in February you have to reserve the entry time at the Colosseum, at the Vatican Museums and at the Borghese Gallery, otherwise there may be waiting times.
The Roma Pass is not valid for the Borghese Gallery. For the Borghese gallery, you must reserve well in advance.
The Colosseum is the most visited museum in Italy. It can only be visited with reservation.
Opening hours:
Until 15.2. 8:30 – 15:30 closing 16:30
from 16.2. 8:30 – 16:00 closing 17:00.
More details about Colosseum Tickets>
First Sunday of the month free entry
Entry to the Colosseum is free on February 2nd and reservations are not possible. Due to the large number of visitors, there are long waiting times for the issue of the free tickets and for security checks.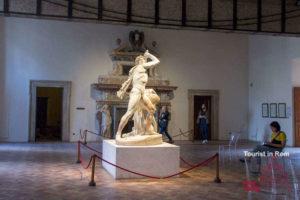 Sunday February 2nd is free entry to all national museums. The museums of the municipality of Rome also offer free entry on February 2nd, with the exception of the special exhibitions. All information and opening times can be found in the list of museums in Rome.
Tickets to the National Museums
Vatican Museums Rome February
The Vatican Museums are among the most visited museums worldwide. The Vatican Museums are always very busy during normal opening hours. It is much quieter before the official opening in the early morning.
The Vatican Museums are closed on February 11th and every Sunday except the last Sunday of the month. Opening hours 9 – 16 closing 18.
Free entry to the Vatican Museums is on February 23, 2020. However, there are long lines and it gets extremely crowded. 9 – 12:30 closing 14:00
The Apostolic Palace in Castel Gandolfo is open on weekdays in February 8:30 – 13 closing 14, on Saturdays 8:30 – 16:30 closing 17:30. Closed on February 11th and Sundays.
Tickets to Vatican Museums and Sistine Chapel
When is St. Peter's Basilica closed in February
St. Peter's Basilica is closed during the Pope's celebrations, for which you need invitation cards.
The dates for February are:
Mass on February 1st at 5:00 p.m. in St. Peter's Basilica, with invitation cards
General audiences every Wednesday morning, with invitation cards
Angelus prayer every Sunday at 12:00 in St. Peter's Square. You do not need invitation cards for the Angelus.
31.1.-2.2. Via Pulchritudinis International Fair of Sacred Art. Music, liturgical furnishings, paintings, sculptures, glass art
Fiera di Roma – Rome Fair Train FL1 direction Fiumicino airport
31.1. -2.2. Roma Travel Show Travel fair
Palazzo dei Congressi, Piazza John F. Kennedy


Bus 30/130F, 170, 714, 791, N2, N3 Colombo/Agricoltura
1.-3.2.
Rome International Estetica 
International Fair Aesthetics and Wellness Fiera di Roma – Rome fair Train FL1 direction Fiumicino airport
You need invitation cards for all Pope's masses in St. Peter's Basilica and for the general audiences.
1.2. 17:00 Pope Mass in St. Peter's Basilica
2.2. 12:00 Angelus prayer of the Pope
2.2. Free entrance to the Museums in Rome
9.2. 12:00 Angelus prayer of the Pope
13.-16.2. Cavalli a Roma Everything about the horse
Show jumping competition – western show – children's program
Evening program in hall 7: Carnival in Rome 13.2. 7:30-9:30 p.m. – 14./15.2. 8-10 p.m., Entrance 13./14.2. 12 €, after 7 p.m. 10 €, 15./16.2. 18 € after 7 p.m. 15 €
Fiera di Roma – Rome fair Train FL1 direction Fiumicino airport
16.2. 12:00 Angelus prayer of the Pope
20.2. 21:00 Europa League
Roma – Ghent
Olympic Stadium
21.-23.2.
Canapa Mundi
Hemp fair Fiera di Roma – Rome fair Train FL1 direction Fiumicino airport
20.2. Carnival – Giovedì grasso
22.2. Carnival – Saturday
22.2. 19:00 Oltre la serratura
Concert in the Villa of the Order of Malta – Archi e Coro femminile dell'Accademia Concertante di Milano – Mauro Ivano Benaglia, direttore
Lorenzo Meraviglia, violino – Marino Bedetti, oboe – Silvia Mapelli, soprano – Romina Tomasoni, contralto
musiche di JS Bach e GB Pergolesi
23.2. Carnival in the Biopark
23.2. Free entry to the Vatican Museums
23.2. 12:00 Angelus prayer of the Pope
25.2. Carnival – Martedì grasso
25.2. Free entry to the museums of the municipality of Rome, with the exception of the Museo di Roma Palazzo Braschi in Piazza Navona and the Ara Pacis.
26.2. Ash Wednesday – visit of the Pope to the Aventine – 16:00 Sant'Anselmo with procession to the Basilica of Santa Sabina
29.2. Solidary Run charity run 5 km
15:00 Piazzale del Pincio 10 €
Rome has a lively music scene. Many pubs and music venues offer live music, especially on weekends. Classical music can be found in many churches and palaces.
6.2. Ensi Rap italiano
Largo Venue, Via Biordo Michelotti 2
Tram 5, 14, 19 Bus 81, 412, n5, n543, nMC


Tickets

10.2. The Beatbox – The Beatles live again
Teatro Olimpico, Piazza Gentile da Fabriano 17



Tram 2 Apollodoro, Flaminia/Reni
Tickets

22.2.
Nanowar of Steel
bei Mascarata – Carnevale di Feudalesimo e Libertà Largo Venue, Via Biordo Michelotti 2 Tram 5, 14, 19 Bus 81, 412, n5, n543, nMC Prenestina/Gattamelata

Tickets

29.2. Wrongonyou römischer Musiker
Largo Venue, Via Biordo Michelotti 2
Tram 5, 14, 19 Bus 81, 412, n5, n543, nMC Prenestina/Gattamelata


Tickets

A jewel is the Parco della Musica, built by the internationally renowned architect Renzo Piano, in the north of Rome on Via Flaminia. Tram 2

The Parco della Musica has several auditoriums and an open air theater. Here you find performances in all styles.
Some events are organized together with the House of Jazz "Casa del Jazz" Events and tickets Casa del Jazz
Bus 160, 671, 714, 792

Family concert – Sunday matinee
Practical tips for Rome February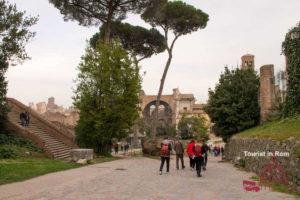 According to statistics, the maximum temperatures in Rome in February are 14° C, the minimum temperatures are 3° C. At the end of the month you start to feel spring.
It can rain occasionally in February. The rain usually doesn't last long and you may find a shelter. After 15 or 30 minutes the rain is mostly over again.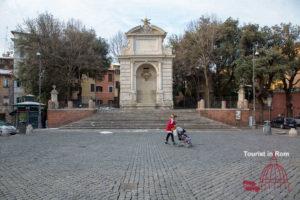 It is memorable when there is snow or frost in Rome. That only happens once in three or four years. This special spectacle then goes through all the newspapers.
Since you spend a lot of time outdoors in Rome, you need warm clothing and rain protection. Comfortable shoes are also important in Rome, as you will be walking a lot and the sidewalks are often bumpy.
Of course it takes a certain effort to get up in the dark. Nevertheless, I would like to recommend that you set off early in the morning.
There is very little traffic in Rome until six in the morning and you can take beautiful photos of the illuminated monuments and squares undisturbed. If you are lucky, you will find a foggy morning that offers very beautiful and unique photo opportunities. The sunrise in Rome in February is between 7:24 and 6:47.
Early morning is also the best time to jog.
Mid season in Rome what you should consider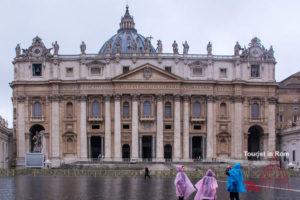 There are always many visitors in Rome. No matter whether you are interested in archeology, art, churches or culinary art, Rome has something to offer for everyone.
The European Union was founded in Rome; three UN organizations, FAO, WFP and IFAD, are based in Rome. Rome is the capital of Italy and, with the Vatican, the center of the world's Catholic religion.
There is always a lot going on in Rome, but a little less in February than in other months.
If you want to visit the museums in Rome and the Vatican, February is a good month for you.
Rome is also interesting for shopping in February. You can stock up on spring fashion here.
Even if you always have to reserve for major attractions like the Colosseum and the Vatican Museums, the visit is much more pleasant because there aren't that many visitors.
Entry to St. Peter's Basilica is free of charge.
In any case, I would advise you to take a guided tour, because otherwise you will not be able to capture many of the details of the basilica with its more than 1,500-year history. If you book the tour in advance on the Internet, you can pass the queue at the security checkpoint with priority granted by the visitor service of St. Peter's Basilica.
The Trevi Fountain often attracts so many visitors that it has to be closed for security reasons. Book a hotel in the center and visit the fountains and squares before breakfast when no other visitors are there. This is a unique experience!
Very useful are the Hop on hop off buses, especially between the Basilica of Santa Maria Maggiore, the Colosseum and Castel Sant'Angelo. The buses run at regular intervals and are more reliable than public transport.
If you are walking in the center, choose one of the small romantic back streets with less traffic. We have prepared some tips with half-day programs in the category Three days in Rome.
Romans have an extensive lunch only on Sundays. During the week they take only a sandwich at a bar or a first course in a small restaurant.
In Rome there is an interesting street food scene and of course the best pizza al taglio. Also in February, the ice cream parlors are open. The best ice cream parlors offer flavor variations for every season. For dinner, the Romans spend more time. It can take several hours between appetizer and dessert. There is a lot of fish and grilled. The heavy Roman Cuisine is very suitable for February. Book a street food tour to get a good introduction.
Also in February it is a good idea to take the train from the pyramid to Ostia and have a nice dinner by the sea.
Italian fashion is known worldwide and everyone will envy you for your purchases.
In February you will find many interesting bargains from the winter collection and can stock up for spring. Leave enough space in your suitcase for your purchases!
The luxury brands can be found around Via dei Condotti, which leads from the Spanish Steps to Via del Corso. Shops in all price ranges can be found along Via del Corso.
A special temple of consumption is the La Rinascente department store in via del Tritone. In the basement you can visit the ancient aqueduct that supplies the Trevi Fountain and the fountains in Piazza Navona with water. On the roof terrace you have a wonderful view of the city.
There are also many nice little shops and boutiques in the side streets around Piazza Navona and around Campo de 'Fiori.
Other shopping streets are Via Cola di Rienzo and Via Appia. Via Marconi and Via Tuscolana as well as the newly built shopping centers are too far away from the center for most tourists. Read Shopping in Rome.
It's a good idea to take a day to explore Rome's surroundings.
Very popular is the drive to the sea to Ostia with the local train from the pyramid (Metro B) to Ostia Lido. On the way you can see the interesting archaeological excavations in Ostia Antica.
Here you will find a complete trading city with theater. The theater stages some concerts still today.
When the weather is nice, you can take a walk on the beach and enjoy the fresh salty sea air. Read also my Day trip to Ostia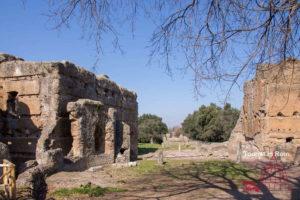 Very interesting is a visit to the Villa D'Este in Tivoli. The numerous fountains and water features fed by the river Aniene provide a cool breeze even on hot days.
Also close to Tivoli is Villa Adriana, built by Emperor Hadrian. It is the largest villa ever built by an emperor.
Nice is also a trip to Castel Gandolfo. There you can visit the papal summer residence and have a good lunch with local wine.
A little further away is Assisi, where St. Francis founded his order. You can visit the Basilica of St. Francis there and enjoy a lunch of excellent Umbrian cuisine.