Carnival is all year round in Rome and there is always party. How can the Romans top that?
Partner-Links helfen uns dabei, unsere Informationen kostenlos bereitzustellen. Für abgeschlossene Buchungen erhalten wir eine Provision – ohne Mehrkosten für Sie! Mehr
Partner links help us to provide our information free of charge. For completed bookings we receive a commission – at no extra cost to you! More
I link dei partner ci aiutano a fornire gratuitamente le nostre informazioni. Riceviamo una commissione per le prenotazioni completate, senza alcun costo aggiuntivo per voi! Di più
Rome Caput Mundi! Not only the Julian and Gregorian calendars originated in Rome, but also the carnival. The Romans don't need big celebrations and parades. Politics is entertaining enough.
Carnival in Rome · Dates
The Rome Carnival is now primarily a festival for children. The children celebrate the carnival in schools, department stores and on the streets. The tradition of the Carnival in Rome has largely been lost. The center of Rome is therefore largely a carnival-free zone. Some citizens' initiatives organize parades in some city districts, including Ostia Lido.
From Thursday to Shrove Tuesday you may find some masks around Piazza Navona and Via del Corso. Typical characters are "Rugantino", an arrogant rascal from Trastevere with old trousers and neckerchief, "Cassandrino", a bona fide nobleman, "Meo Patacca", a popular boy, and the benefactor Don Pasquale. There are also figures from Naples such as Pulcinella, Arlecchino, Pantalone and others.
While the city administration of Rome is busy and highly efficient with other things, the carnival is celebrated with great joy and passion in the surroundings of Rome. So you don't necessarily have to go to Venice or Lucca. The area around Rome also has a lot to offer.
Feb. 11 Carnival at Bioparco
Carnival at Bioparco di Roma is dedicated to the theme of camouflage and adaptations. From 10:30 to 15:00 you can participate in the animated path "The clothes of the animals", an exciting guided tour between camouflage liveries to hide, long and colorful feathers to attract females and bright colors to communicate danger.
The trail will touch on giraffes, mandrills, zebras, Caucasian leopards, Sumatran tigers and the snowy owl.
Carnival at Ronciglione
There is a lot going on in the carnival in Ronciglione!
80 kilometers north of Rome lies the picturesque town of Ronciglione below the volcanic lake Lago di Vico in the province of Viterbo. The tradition of carnival here dates back to the 16th century, making it one of the oldest in central Italy. Carnival is celebrated here extensively on the three weekends before Ash Wednesday and during the last week of Carnival. Together with Viareggio and Venice, Ronciglione is one of the strongholds of the Italian carnival.
The program:
Sunday 21 and 28 January, 4 February (admission 7.50 €, free up to 16 years): 11:00 Carnival of the street artists – 11:30 entertaining performance of the "Padiglione delle Meraviglie" 12:00 opening of the stalls with typical and gastronomic products 15:00 tour of the town band with majorettes 15:30 historical parade of the Hussars 16:00 great gala parade with masks, folklore groups and floats. Followed by traditional dance "Saltarello di Carnevale" with the music band
9 and 11 February big carnival program from 14:30 and from 17:00 gastronomic program
12 February Monday of the red noses from 14:30
13 February big program from 14:30 with death of King Carnival and opening of his will at 18:30
How to get to Ronciglione: By regional Cotral bus from Saxa Rubra (4 zones) or by car on Via Cassia bis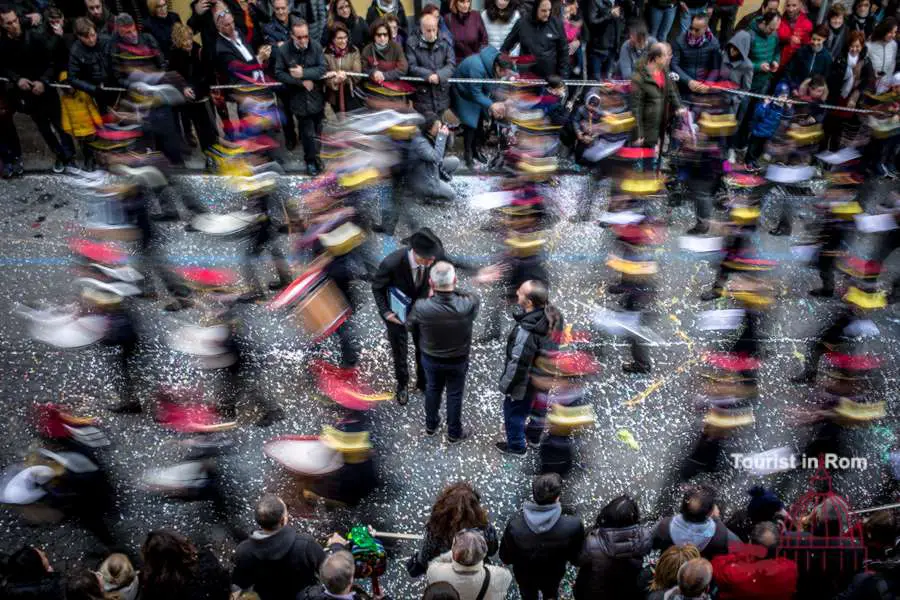 Carnival in Rome Ronciglione parade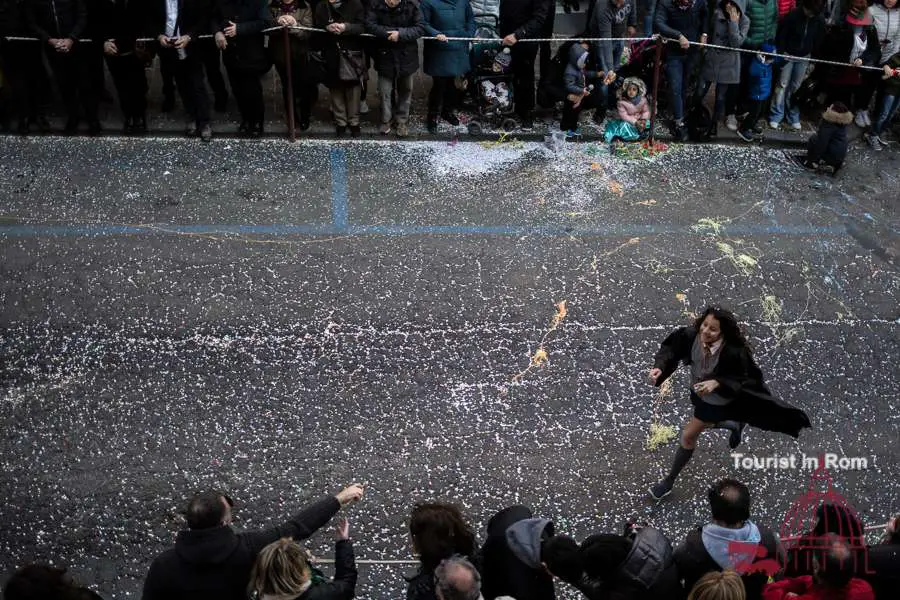 Carnival in Rome Ronciglione parade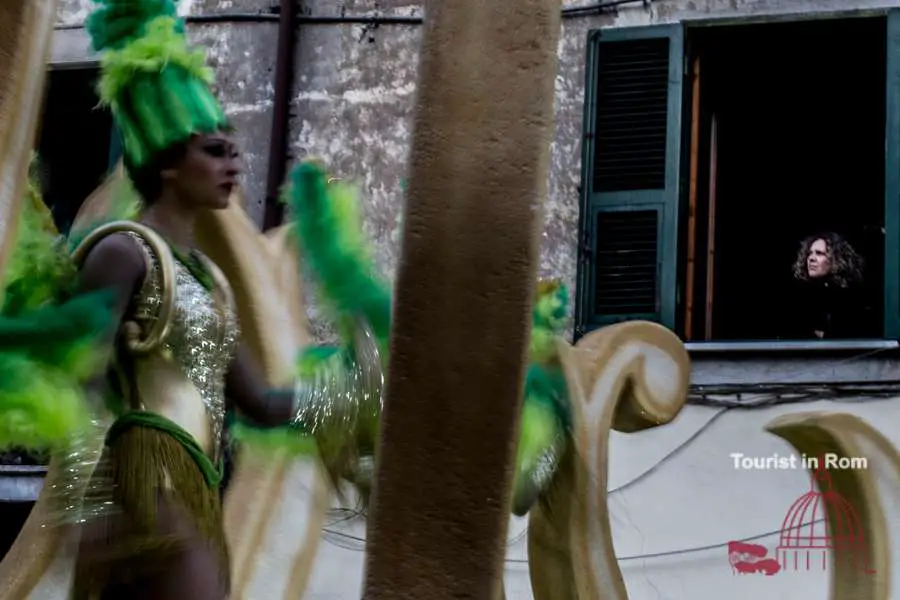 Carnival in Rome Ronciglione parade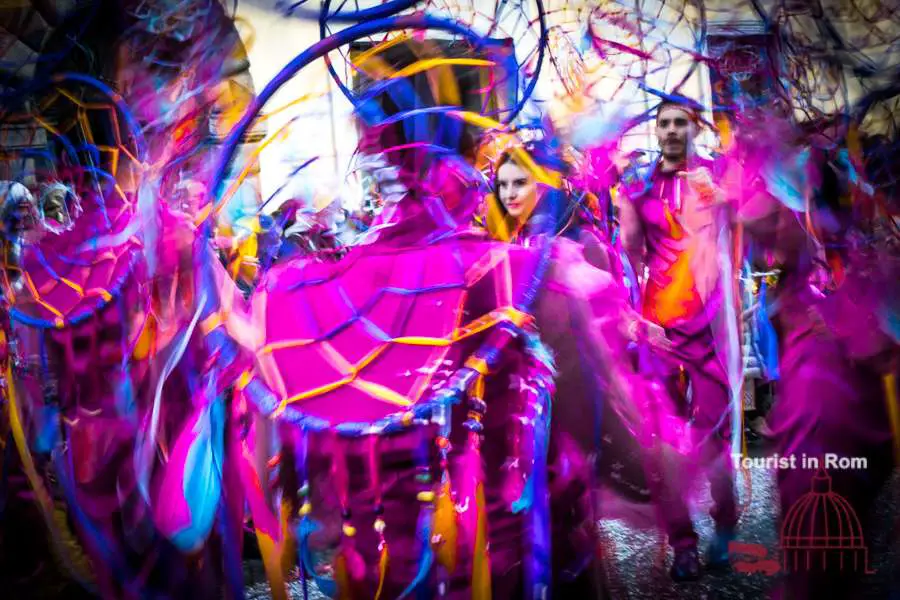 Carnival in Rome Ronciglione parade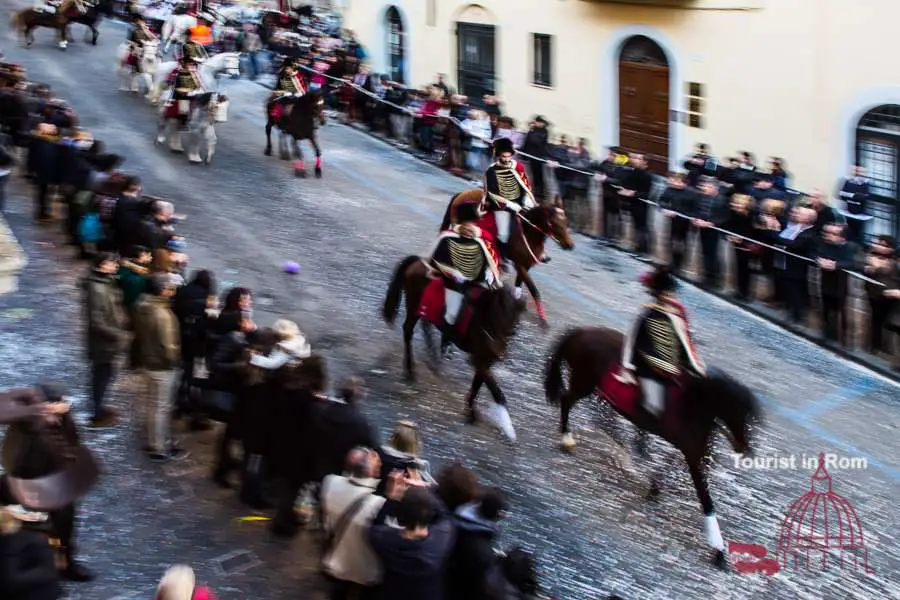 Carnival in Rome Ronciglione parade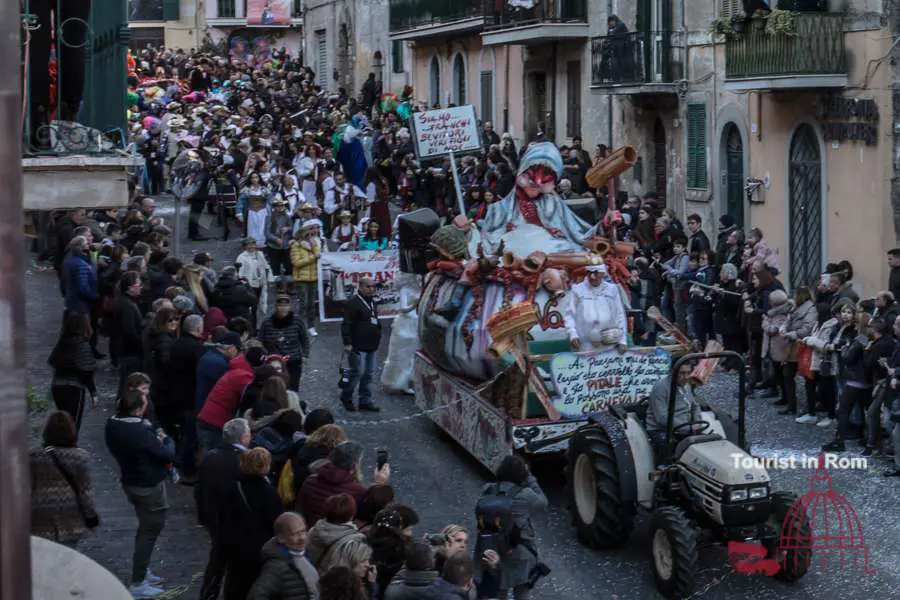 Carnival in Rome Ronciglione parade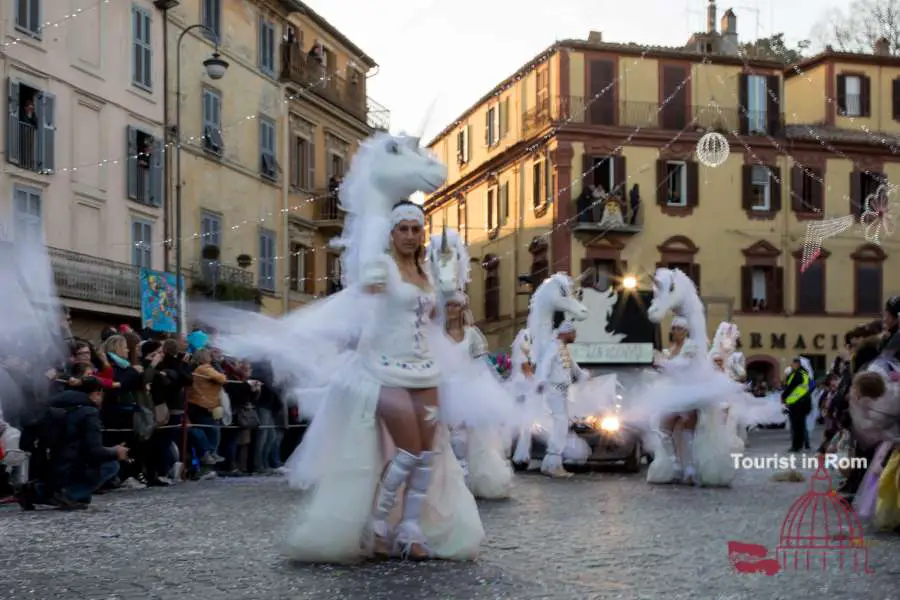 Carnival in Rome Ronciglione parade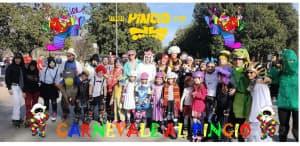 14:00 Piazzale Flaminio
Metro A Flaminio Event on Facebook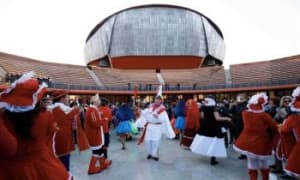 11.2. La Tarantella del Carnevale Festival at the Auditorium Parco della Musica
18:00 Tickets
Tram 2 Apollodoro – Flaminia/Reni, Viale Pietro De Courbertin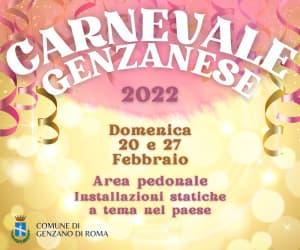 4+11 Feb Carnival at Genzano
In the wine villages of the Castelli Romani the tradition of the carnival is maintained.
How to get to Genzano: by regional Cotral bus from Metro A Anagnina (3 zones), by car on via Appia.
Genzano, pedestrian area 9:00 – 19:00

Event on Facebook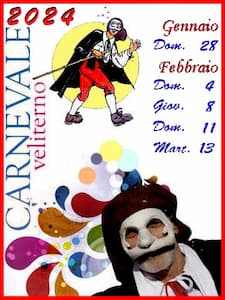 Carnival in Velletri
Velletri is also part of the Castelli Romani and here, too, people know how to celebrate carnival. There are celebrations on Sundays January 28, February 4 and February 11 as well as on Thursday giovedì grasso February 8 and Tuesday martedì grasso February 13.
How to get to Velletri: by train from Termini to Velletri every hour, by car via Via Appia.
Carnival in Rome · Costumes
Where can you find costumes for Carnival in Rome? Where can you get professional makeup? Here is some information and tips.
Simple masks and costumes can be found in souvenir stores in the center and in supermarkets and shopping centers.
Sophisticated costumes can be found at
Berte on Viale dei Colli Portuensi, 453/455, with bus 31, 33 stop Giandiglio
Roma in Maschera on Via Eugenio Barsanti, 5 near Piazzale Radio below Trastevere station, with tram 3, 8 stop Trastevere, Trastevere train station
Estro Costumi in Trastevere, Via Emilio Morosini, 10 with tram 3, 8 stopTras tevere/Min. p. istruzione
Bliz in the south of Rome southeast of Via Cristoforo Colombo and, in the same area
Pelatelli in via Aristide Leonori, 26-28. Directions for Bliz and Pelatelli: bus 30, 714 stop Colombo/Accademia Agiati
Arabesque in via al Sesto Miglio 16, in the north of Rome in the zone Cassia / Tomba di Nerone: bus 201/301 stop Cassia / Sesto Miglio
There are also some costume rentals.
You can get professional make-up at Studio 13 in Piazza Cavour 13. Studio 13 is a make-up center and also organizes courses. How to get there: Bus 30, 70, 81, 87, 280, 301, 492, 913
Carnival in Rome · History
Orgiastic festivals with public entertainment, dances and masks were already held in ancient Rome. It were the Saturnalia that were celebrated from December 23rd to 30th.
From the 10th century, there were carnival festivals on the hill Monte Testaccio, which is made up of potsherds. These festivals referred to the Saturnalia and wanted to revive the tradition. At the request of Pope Paul II, the celebrations were moved to today's Via del Corso. The highlight was the Berber horse race, which became a major attraction. Nobles, artists and travelers came to Rome to witness the race.
In 1874 the race was abolished by King Victor Emmanuel II after a boy was overrun and died.
Since then there have only been smaller carnival events in Rome.