Many say that the summer in Rome is too hot. Might be. But it's worth visiting Rome in summer. Many Romans are on vacation and on the mild summer evenings there is an extensive program with events and gastronomic offers.
Partner-Links helfen uns dabei, unsere Informationen kostenlos bereitzustellen. Für abgeschlossene Buchungen erhalten wir eine Provision – ohne Mehrkosten für Sie! Mehr
Partner links help us to provide our information free of charge. For completed bookings we receive a commission – at no extra cost to you! More
I link dei partner ci aiutano a fornire gratuitamente le nostre informazioni. Riceviamo una commissione per le prenotazioni completate, senza alcun costo aggiuntivo per voi! Di più
Rome summer · The best time to travel
Already at the beginning of the school holidays in mid-June the traffic is noticeably reduced and many Romans leave the city.
In August the city becomes even quieter because many companies and offices are closed for at least two weeks. There is little traffic during this time and the attractions are more accessible. In August, for example, you don't need to pre-order for papal audiences.
Summer weather in Rome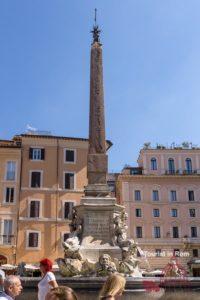 In summer, the maximum temperatures in Rome are regularly above 30°C and the minimum temperatures are rarely below 20°C. Grasses and meadows turn brown. When choosing accommodation, air-conditioned rooms are recommended. A regular breeze moves through the city and the temperatures are not uncomfortable in the shade. Nevertheless, you should have a sun hat or a parasol with you for protection. There are many watering spots with good cool drinking water.
Attention! When visiting the sacred sites, including the catacombs and papal audiences, the shoulders and knees must be covered, even on hot summer days.
Climate data Rome Summer
| | | | |
| --- | --- | --- | --- |
| | July | August | September |
| Tmax Ø | 31°C/87.8°F | 31°C/87.8°F | 27°C/80.6°F |
| Tmax absolute | 40°C/104°F | 40°C/104°F | 40°C/104°F |
| Tmin Ø | 20°C/68°F | 20°C/68°F | 17°C/62.6°F |
| Tmin absolute | 11°C/51.8°F | 9°C/48.2°F | 4°C/39.2°F |
| Sunshine hours Ø | 11.2 | 10 | 7.3 |
| Days with rain Ø | 2 | 2 | 5 |
Source: www.wetter.com
How to really enjoy Rome in summer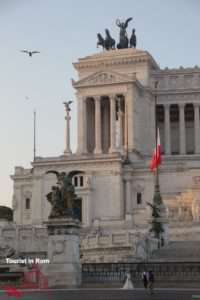 In the early morning the city is calm and empty. The sunrise offers wonderful pictures and maybe you will meet a wedding couple at the photo shoot. Early morning is also the best time to jog.
When planning your day, you should take care not to walk around in the heat of the afternoon. You should plan rest periods or a visit to a park, a swimming pool or a trip to the sea.
The best way to get around on two wheels is by e-bike or Vespa; on four wheels there are golf carts, hop on hop off buses and public transport. The luxurious variant is a sightseeing tour in the air-conditioned luxury limousine.
A lively and colorful nightlife develops after sunset. Traditional festivals and events along the banks of the Tiber provide variety.
What's going on in summer in Rome
For opening hours, exhibitions, events and concerts please read our monthly overviews.
Gastronomy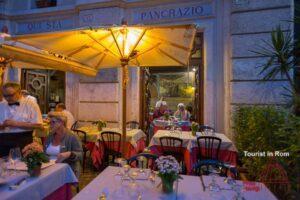 On hot summer days, Romans hardly eat anything for lunch.
Whether you want a sumptuous dinner, a pizza, a sandwich, an ice cream or something sweet, in Rome you will find a wide choice of the best quality. Roman gastronomy is usually excellent. In our category Food in Rome you will find tips on street food, pizza, the best ice cream parlors, but also very elegant restaurants. For a first overview we recommend a street food tour.
In the evening, stalls along the Tiber offer a varied selection of gastronomic specialties, drinks and entertainment as part of the Estate Romana.
Shopping
Italian fashion is known all over the world and everyone will envy you for your purchases. Leave yourself enough space in your suitcase!
The luxury brands can be found around Via dei Condotti, which leads from the Spanish Steps to Via del Corso. Along Via del Corso you will find stores in all price ranges.
There is a lot of art and antiques in Rome. Many visitors also stock up on gastronomic specialties. Read about shopping in Rome.
Estate Romana · Roman summer
Rome offers an extensive program in the summer to enjoy the long evenings outdoors. As part of the Roman Summer, the Estate Romana, there are numerous free concerts and film screenings.
In 2020, thanks to a flash of inspiration in the city government of then Mayor Raggi, Roman Summer was renamed Romarama and the duration of the event was extended until New Year's Day. The mascot of Romarama was not "La Lupa", the emblem of the city. It was a cat that somehow seemed to have made contact with the universe. Whether it received an answer, we do not know.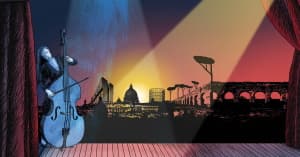 The new city government is now trying to give the event an organization again. It is now called Estate Romana again and has a new logo. However, the cat inventor seems to be still in office and dignity. A press release of the city-owned agency with the name Zètema of June 16, 2022, which was so incomprehensible that one could not read out any meaningful content, suggests this. For Zètema, its own work is probably already an art form with the technique of maximum entropy to trigger strong feelings in the customer out of the chaos created.
Be that as it may, we have gathered the most important information about the Roman summer for you from various sources and you will find the most important events in our monthly overviews.