Rome summer. Many say that the summer in Rome is too hot. Might be. But it's worth visiting Rome in summer. Many Romans are on vacation and on the mild summer evenings there is an extensive program with events and gastronomic offers.
Rome summer · The best time to travel
Already at the beginning of the school holidays in mid-June the traffic is noticeably reduced and many Romans leave the city.
In August the city becomes even quieter because many companies and offices are closed for at least two weeks. There is little traffic during this time and the attractions are more accessible. In August, for example, you don't need to pre-order for papal audiences.
Estate Romana · Roman summer
Rome offered an extensive program in summer to enjoy the long evenings outdoors. As part of the Roman summer, the Estate Romana, there were numerous free concerts and film screenings.
The program usually runs from June to September. In 2020 the city of Rome organized a shell-game: It allows the organizers to extend the program from the end of the corona crisis to the end of the year and it is no longer called Estate Romana, but Romarama.
The mascot of Romarama is not "La Lupa", the she-wolf, the symbol of the city and the mascot of the Estate Romana. It is a cat that somehow seems to have made contact with the universe. We do not know whether she received an answer.
June 4th – August 1st, 2021
Open air Cinema Festival · Trastevere · Monte Ciocci · Cervelletta
Trastevere – Piazza San Cosimato
Films are shown in Piazza S. Cosimato in Trastevere from Wednesday to Sunday. The films are shown in the original language with Italian subtitles. Admission is free. The projections start at 9:15 pm. Program
Cervelletta
Further projections will be held from June 10th to July 25th, at 9:15 p.m. from Wednesday to Sunday, in the Casale della Cervelletta. The Parco della Cervelletta is unfortunately difficult to reach by public transport, especially after midnight.

Monte Ciocci
There are projections on Monte Ciocci from June 17 to July 25, at 9:15 p.m. from Wednesday to Sunday. Monte Ciocci is a vantage point over Rome that is particularly popular with young people. From here you can see St. Peter's dome very well. From the Metro A station Valle Aurelia it goes up stairs to the mountain. The next train station is Appiano and from there it goes a little downhill.

Reservation
You need to reserve your free spot at Prenotaunposto. You must have a mask with you. If you get too cold, bring a blanket.
Il Cinema in Piazza 2019 Roma
Spot: The youngsters from Little America beg at an intersection to invite to the Il Cinema in Piazza event and give directions for getting to Casale della Cervelletta. Walking shoes, flashlight, stool and mosquito repellent are recommended.
Open Air Kino in the Villa Borghese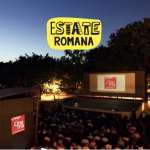 The Casa del Cinema in Villa Borghese organizes performances with free admission in summer. Reservations are made on site 2 hours before the show begins (at 9:00 or 9:30 p.m.). The screenings take place partly in the original sound with Italian subtitles. The program can be found at www.casadelcinema.it. Largo Marcello Mastroianni, 1 

Teatro India
The Teatro India offers an extensive cultural program in summer. The calendar can be found on the Teatro India website on the right bottom. Bus 170, 766, 775 Stop Marconi / Meucci 

Roman nights – Concerti del Tempietto
1.7.-30.9.2021 20:30
19:45 Guided tour of the Teatro di Marcello, 20:30 Concert
Chiostro di Campitelli

Jazz at Villa Celimontana
Jazz concerts are held every evening in the "Village Celimontana".
10th June – 19th September 21
Villa Celimontana on Caelius Hill can be reached on foot from the Maximus Circus via the Salita di San Gregorio. From the Colosseum, take Via Claudia. Bus 81 Stop Villa Celimontana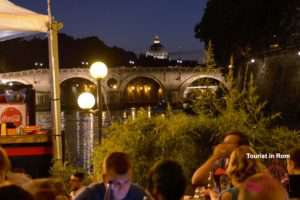 Summer on the Tiber
Gastronomy, culture and spectacle daily from 7 pm until the end of August.
Ponte Sisto – Tiber Island
Moovenda Village
Sterne am römischen Gastronomie-Himmel bauen ihre Stände am Tiber auf, mit Unterhaltung und Musik
bis 5. September, täglich ab 17 Uhr
Lungotevere Prati – Ponte Umberto I – Engelsbrücke
Summer weather in Rome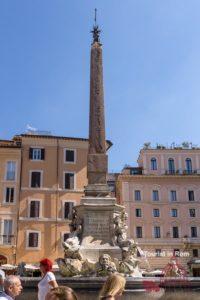 In summer, the maximum temperatures in Rome are regularly above 30°C and the minimum temperatures are rarely below 20°C. Grasses and meadows turn brown. When choosing accommodation, air-conditioned rooms are recommended. A regular breeze moves through the city and the temperatures are not uncomfortable in the shade. Nevertheless, you should have a sun hat or a parasol with you for protection.
Attention! When visiting the sacred sites, including the catacombs and papal audiences, the shoulders and knees must be covered, even on hot summer days.
How to really enjoy Rome in summer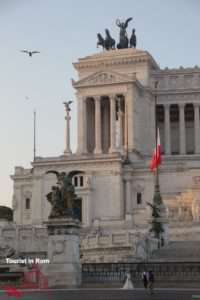 In the early morning the city is calm and empty. The sunrise offers wonderful pictures and maybe you will meet a wedding couple at the photo shoot. Early morning is also the best time to jog.
When planning your day, you should take care not to walk around in the heat of the afternoon. You should plan rest periods or a visit to a park, a swimming pool or a trip to the sea.
The best way to get around on two wheels is by e-bike or Vespa; on four wheels there are golf carts, hop on hop off buses and public transport. The luxurious variant is a sightseeing tour in the air-conditioned luxury limousine.
A lively and colorful nightlife develops after sunset. Traditional festivals and events along the banks of the Tiber provide variety.
Roman summer food
On hot summer days, you may not feel like having an extensive lunch. A nice salad plate, a sandwich, fresh fruit or an ice cream sundle is often enough. Many bars offer small dishes for lunch. Roman office workers go to lunch around 1pm. Follow them and you will find good places for a light lunch. For a good ice cream, we recommend our article on the best ice cream parlors in Rome.
Zum Abendessen lassen The Romans take more time for dinner. It can also take several hours between a starter and a dessert. There is a lot of fish and grilled food. The heavy Roman cuisine is less suitable for summer. Artichokes are winter vegetables, in summer they come from far away.
You might want to take the train from the pyramid to Ostia and have a nice dinner by the sea.