September is a very popular month in Rome and especially the second half is high season. If you have time, you can combine your stay in Rome with a trip to the sea or the nearby mountains.
What's going on in Rome in September?
In September, the first thing Romans have to do is recover from the vacations. The museums are preparing new exhibitions. Life takes place mainly outdoors during the balmy summer nights.
As there are many visitors to Rome in September, you need to reserve tickets for the most popular sights such as the Colosseum, the Vatican Museums or the Borghese Gallery in good time. Opening times of museums, events and concerts, here you will find all the important information.
Partner-Links helfen uns dabei, unsere Informationen kostenlos bereitzustellen. Für abgeschlossene Buchungen erhalten wir eine Provision – ohne Mehrkosten für Sie! Mehr
Partner links help us to provide our information free of charge. For completed bookings we receive a commission – at no extra cost to you! More
I link dei partner ci aiutano a fornire gratuitamente le nostre informazioni. Riceviamo una commissione per le prenotazioni completate, senza alcun costo aggiuntivo per voi! Di più
September in Rome
Rome is still pretty quiet until mid-September. School lessons begin in mid-September and by then at the latest all Romans will be back from vacation.
So that you can sleep well, your accommodation should have air conditioning. Find out in our information on hotels in Rome how to find an affordable room and which areas are best.
Rome is a very green city. Take a stroll in one of the Roman villas and visit a lookout point. A trip to the sea with a visit to the excavations in Ostia Antica is nice. It is also very pleasant in Villa D'Este in Tivoli. If you want to visit Villa Adriana, take a parasol with you.
But you can also reach more distant destinations such as Pompei, Naples or Florence in one day with the high-speed train or with a guided tour.
How warm it is
In the first half of September it can still be very hot in Rome, even if the maximum temperatures no longer exceed 30° C / 86° F and the minimum temperatures are often below 20° C. / 68° F. Rain is rare.
There is a regular breeze through the city and the temperatures are not uncomfortable in the shade.
Climate data September
| | |
| --- | --- |
| Tmax Ø | 27°C/80.6°F |
| Tmin Ø | 17°C/62.6°F |
| Sunshine hours Ø | 7.3 |
| Days with rain Ø | 5 |
Source: www.wetter.com
Since you spend a lot of time outdoors in Rome, you need protection against the sun. A sun hat or a parasol are well suited. You also need comfortable shoes.
When visiting the sacred sites, including the catacombs and the Vatican Museums, your shoulders and knees must be covered. If you're going off-shoulder, take a shoulder scarf or pareo with you.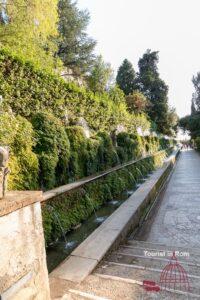 Don't walk around in the greatest heat in the afternoon and take a break in an ice cream parlor. Visit a park, a swimming pool or take a trip to the sea.
Take the hop on hop off buses, visit air-conditioned stores and enjoy the peace and coolness of the churches and the museums.
For more tips, see Heat in Rome.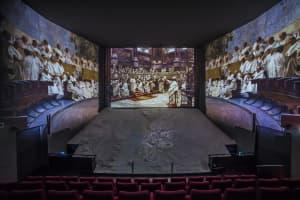 Welcome to Rome Multimediashow
In the center of Rome, between the Vatican and Piazza Navona, a 30-minute multidimensional film show and an exhibition with interactive models await you.
Corso Vittorio Emanuele II 203

Bus 46, 62, 64, 916 C.so Vittorio Emanuele / Navona
Avoid queues
Keeping your distance is a necessary precaution. Avoid the queues and make a daily schedule. In our category 3 days in Rome you will find suggestions that you can combine with each other.
Arrival
Organize the journey from the airport to the hotel in advance and read our information about the metro and how you can get tickets quickly and easily.
Museums
Many museums can only be visited by reservation. These include the Sistine Chapel in the Vatican Museums, the Colosseum, the Borghese Gallery and the museums of the Municipality of Rome. You can find information about the museums on our pages
Opening hours
St. Peter's Basilica
Basilica 7 am – 7 pm – Dome 8 am – 6 pm – Treasure 9 am – 6:15 pm
St. Peter's Basilica is closed each Wednesday morning until the end of the audience, with the exception of Wednesday 9/14.
More information about St. Peter's Basilica>
Colosseum
Vatican Museums
The Vatican Museums are booked up quickly and it is necessary to make a reservation in time. On Sunday 25 the entrance is free. The other Sundays the Museums are closed.
Mon – Thurs 9 – 18 Last admission 16 Fri + Sat 9 – 22:30 Last admission 20:30
City museums and national museums
In Rome, some of the museums belong to the municipality and some to the state.
The city's museums include the Capitoline Museums, Trajan's Markets, Imperial Forums and numerous other museums. National museums include the Colosseum, Castel Sant'Angelo, Borghese Gallery and many more. For the full list of museums, opening times and tickets, see our Rome Museums page.
Free entry
All museums run by the Municipality of Rome, such as the Capitoline Museums and the Trajan's Markets, have free admission on September 4th. The entry time must be reserved by telephone +39060608. Entry is also free to the National Museums, most of which do not require a reservation.
Events
Papal audiences in September
Audiences of the Holy Father are exptected every Wednesday with the exception of 9/14 morning.
There are no public papal masses in September
The Pope's Angelus prayer takes place every Sunday at noon in St. Peter's Square.
Riding
Longines Global Champions Tour
1.-4.9.2022 Circo Massimo
Running
Sep 17, 2022 Corriroma 10 km night run 9 p.m. Piazza del Popolo
25.9.2022 Cardio Race start at the Gasometer (Ostiense area) Info
10 miles / 10 km / 5 km
Roma Baccalà
Sept. 8-11, 12-24 Piazza Damiano Sauli
The Roma Baccalà Street Food Festival is now in its third year. Baccalà is part of the traditional Roman and Mediterranean cuisine. The salted cod, together with stockfish, has saved the Romans from famine many times.
The Garbatella recently celebrated its 100th anniversary. The picturesque neighborhood was designed as a garden city with a mixed stock as villas and tenements. The central Piazza Sauli is easily reached from the Garbatella metro station and from the Navigatori stop on Via Cristoforo Colombo.
Sept. 17 Free ride on metro, bus and streetcar
Garbatella Street Food Festival
Sep. 29 – Oct. 2 Via delle Sette Chiese 101
At this street food festival at the Garbatella, 15 stalls from different regions of Italy offer their specialties.
The Garbatella recently celebrated its 100th anniversary. The picturesque neighborhood was designed as a garden city with a mixed stock as villas and rental houses. The central Piazza Sauli is easily reached from the Garbatella metro station and from the Navigatori stop on Via Cristoforo Colombo.
Thursday + Friday 18-24, Saturday + Sunday 11-24

Concerts
Rome has a lively music scene. Many pubs and music venues offer live music, especially on weekends. Classical music can be found in many churches and palaces.
Roman nights – Concerti del Tempietto
1.07.-2.10.2022 20:30
18:30 – 19:30 Rehearsal
19:45 Guided tour of the Teatro di Marcello, 20:30 Concert
Chiostro di Campitelli

Rome's Music Park​
A jewel is the Parco della Musica, built by the internationally known architect Renzo Piano, in northern Rome on Via Flaminia. See all events here. Events and tickets
Tram 2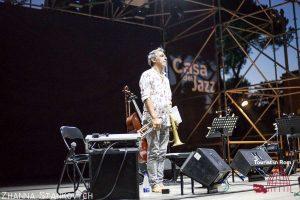 There are several auditoriums and an open-air stage in the Parco della Musica. There are performances in all styles.
Some events are also organized together with the Casa del Jazz. Events and Tickets Casa del Jazz
Bus 160, 671, 714, 792

Largo Venue
Largo Venue is a cultural center on Via Prenestina.
Largo Venue, Via Biordo Michelotti 2
Tram 5, 14, 19 Bus 81, 412, n5, n543, nMC Prenestina/Gattamelata

Tickets

Palazzo dello Sport​
The Palazzo dello Sport is a multifunctional hall where concerts are held regularly. It is located in Quartier EUR and is easily accessible by Metro B station Palasport.
Metro B EUR Palasport

The Roman Theater of Ostia Antica
Another spectacular venue is the Roman theater in the excavations of Ostia Antica. The theater was built in the time of Augustus with 3,000 seats and was expanded to 4,000 seats in the 2nd century.
Events and tickets Ostia Antica
Metro Piramide – Ostia Lido stazione Ostia Antica

Amusement parks
In Rome and the surrounding area there are a few parks that offer a welcome change.
Luneur

The Luneur Park offers many rides. It is located in the south of the city in the EUR district on Via Cristoforo Colombo. The opening times in winter are irregular, mostly Saturday and Sunday 10 a.m. to 6 p.m., in summer daily until midnight. On the Luneur website you can see the calendar with the opening days. Bus connections are lines 30, 170, 714 and 791, Colombo / Agricoltura stop. From there it is 750m to the entrance on Via delle Tre Fontane 100.
Hydromania
Hydromania is an amusement pool in western Rome.
Hydromania is located at exit 33 of the Grande Raccordo Anulare. Unfortunately it is not easy to reach by public transport. The journey by bus 088 from the terminus of Tram 8 near Casaletto is a bit lengthy.
Cinecittà World
Cinecittà World is a theme park about cinema and television. It is located next to the Castel Romano outlet center on Via Pontina between Rome and Pomezia. A shuttle bus runs from the Termini main station. Tickets
Roma World
Roma World is a theme park on ancient Rome. It is right next to Cinecittà World. The program is supported by the Gruppo Storico Romano. Roma World is open in summer. Tickets
Excursions in the area
Rome has beautiful surroundings. Romans mainly use the weekends for trips to the sea or the mountains. Therefore, you better set out during the week, when there is less going on.
You can reach many destinations by public transport. Of course, it is more convenient to rent a car.
Trips to the sea
Ladispoli, Santa Severa and Santa Marinella are very nice seaside resorts in the north of Rome. To do this, take the FL5 train line, which runs from Ostiense, Trastevere and San Pietro stations to Civitavecchia. A 3-zone ticket is sufficient for Ladispoli, and 4 zones for the locations of the two saints.
It is very easy to get to Ostia Lido. A ticket for city traffic is sufficient for the journey and on the way you can visit the excavations of the old port city of Ostia Antica.
Formia is very beautiful in the south of Rome. The journey from Roma Termini takes around 90 minutes.
Trips to the mountains
The most famous summer residence of the Romans in Castel Gandolfo. Here the popes spent the summer at around 400 m. Pope Francis, on the other hand, remains in Rome and the palace and gardens in Castel Gandolfo can be visited.
You can get to Castel Gandolfo by train from Roma Termini or from Ciampino with a 3-zone ticket. The train station is on the volcanic hill between Lake Albano and the village.
Day trips
With the high-speed trains that are punctual to the minute, Florence and Naples are only around 1 ½ hours away. With our tips you can put together your own day tour or book an organized tour. Take a day to stroll around Florence and see the world famous Uffizi Gallery. Or visit the excavations in Pompeii and see Vesuvius, which is still active today and buried the city under its ashes.
Book at GetYourGuide (can be canceled free of charge):