October is an exceptionally pleasant month in Rome. Many visitors come to Rome to enjoy this season.
October in Rome is high season and you will find long queues everywhere. The sights subject to reservation are fully booked long in advance. These are the Coliseum, the Borghese Gallery and the Vatican Museums. Without reservation you have a long wait and probably you can't get in. For St. Peter's Basilica, you can bypass the queues booking a tour or an audioguide.
The Colosseum is the most visited museum in Italy. It can only be visited by reservation. For the Coliseum, in addition to the standard ticket, there are a few variants with access to the arena, a visit to the underground or the upper floors, as well as a tour of archaeological features in the area of ​​the Roman Forum.
The single tickets in October are sold out long in advance. For most dates are only available tickets with video guide or guided tours.
Colosseum, Roman Forum and Palatine are open daily until the 26th of October 8:30 – 17:30 closing 18:30, from 27th October 8:30 – 15:30 closing 16:30. Details about the Colosseum>
The moon over the Coliseum: In October, the Coliseum is also open from 8pm to midnight for guided tours in small groups. The night tours are very nice, because the Coliseum is closed to other visitors. Since only a few visitors are admitted to these tours, they are very exclusive.
On the 4th and 6th October, admission to the Coliseum is free and no reservation is possible. Due to the high demand, there are long queues for the issue of the free tickets as well as for the security check. If you want to try it, you should check whether the queues are shorter at the entrance to the Palatine or the Roman Forum.
On Sunday, October 6, admission to all National Museums is free. Any other day with free admission will be decided by each museum itself. All information and opening times can be found in the
List of museums in Rome >
The Vatican Museums are among the most visited museums worldwide. During normal opening hours the Vatican Museums are always very busy. It is much quieter before the official opening in the early morning and at the evening opening on Friday.
The Vatican Museums are closed on Sundays with the exception of the last Sunday of each month. Opening hours 9 – 16 Closing 18 Night opening every Friday 4, 11, 18, 25 October 2019 19 – 21:30 closing 23
Free entrance to the Vatican Museums is on Sunday October 27, 2019. However, there are long lines and it gets extremely crowded. 9 – 12:30 closing 14:00
The Apostolic Palace in Castel Gandolfo is open on weekdays in October 8:30 – 13 closing 14, on Saturdays 8:30 – 16:30 closing 17:30, on Sundays 10 – 14 closing 15:00.
Tickets Vatican Museums and Sistine Chapel
Michelangelo and the secrets of the Sistine Chapel
Until October 2019, there is a breathtaking show in the auditorium in Via della Conciliazione.
Original music, actors and 270° projections are the ingredients of this show, which brings audiences closer to the fascination and beauty of the art of the Sistine Chapel. It is produced with technical advice from the Vatican Museums. There are shows in Italian and English. Book now
Papal Audience and Angelus Prayer
In October, the Papal Audience takes place every Wednesday. Pope Francis' Angelus Prayer will be held on St Peter's Square every Sunday and no ticket is required.
When is St. Peter's closed in October
St. Peter's Basilica is closed during the Pope's General Audiences on Wednesday morning and Sunday noon during the Angelus prayer. St. Peter's Basilica is closed during the pope's celebrations, for which you need invitations. These are in October: 1.10. 18:00 Vespers 4.10. 17:00 Episcopal ordination 5.10. 16:00 Consistory 6.10. 10:00 Pope's Mass in St. Peter's Basilica 13.10. 10:15 St. Peter's Square Pope's Mass with Beatification 20.10. 10:30 St. Peter's Square Pope's Mass for World Mission Day 27.10. 10:00 St. Peter's Basilica Pope's Mass at the conclusion of the Synod of Bishops
3.-6.10.
ROMICS
Comics, Movies, Games, Cosplay 10-20 Fiera di Roma – Rome Fair Train FL1 direction Fiumicino airport
3.-6.10.
ROMA SPOSA
wedding fair Thu-Fri 15-20 Sat-Sun 10-20 Roma Convention Center "La Nuvola" Metro B EUR Fermi, Bus 30, 714, 791
17 – 20 October 100 Pittori – Painter's exhibition
The historic exhibition of artists, 113th edition in Via Margutta, in the back of Via del Babuino between Piazza del Popolo and Piazza di Spagna
Every weekend in October there are Halloween themed children's parties in the Roman amusement parks. In many pubs and discos Halloween is celebrated extensively.
6.10. Ultra Marathon 30km and 50km Via delle Magnolie (Villa Borghese)
13.10. Matti per la corso 10km run Parco della Caffarella
20.10. Roma Urbs Mundi 15km run Viale delle Terme di Caracalla
Until 13.10.2019 Donne. Corpo e immagine tra simbolo e rivoluzione and Wechselspiel Galleria d'Arte Moderna Tuesday – Sunday 9am-7pm via Francesco Crispi 24 Metro A Barberini, Bus 52, 53, 62, 63, 84, 85, 160, 492 Tritone/Barberini Tickets for the Gallery of Modern Art
Until October 13 Frank Holliday in Rome, an exhibition of his works in Rome in summer 2016, Museum Carlo Bilotti in Villa Borghese, the entrance is free.
Until October 18 Mortali Immortali, Treasures of Sichuan in ancient China, Trajan's markets, at Piazza Venezia Tickets
Emperor Claudius
, Messalina, Agrippina uand the shadow of a dynasty, 9:30-19:30 Museo dell'Ara Pacis

Tickets
Until November 3, Bulgari – The story – The dream, Exhibition in the Castel Sant'Angelo and in the Palazzo Venezia. With the ticket of Castel Sant'Angelo you can also visit Palazzo Venezia.
Until November 3, Joint is Out of Time National Gallery of Modern Art Tuesday – Sunday 8:30am – 7:30pm via delle belle arti 131 Tram 3, 19 Galleria Arte Moderna Tickets for the National Gallery of Modern Art
Until February 2, 2020, Colors of the Etruscans, Treasures in terracotta in the Centrale Montemartini, Via Ostiense 106, Metro B Garbatella, Bus 23, 769, 792 Ostiense/Garbatella Tickets
From October 6,
Impressionisti segreti
, treasures from private collections, including Monet, Renoir, Cézanne, Pissarro, Sisley, Caillebotte, Morisot, Gonzalès, Gauguin, Signac, Van Rysselberghe and Cross Palazzo Bonaparte – at Piazza Venezia
From October 8,
Antonio Canova
, Canova:
Eterna bellezza
. The sculptor Canova (1757-1822) with his marble figures is one of the main representatives of Italian classicism. Exhibition at the Museo di Roma Palazzo Braschi in Piazza Navona.
Tickets for Palazzo Braschi
Festival del Cinema di Roma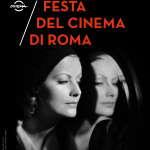 The 14th edition of the Cinema Festival of Rome
October 17 – 27, 2019 Tickets on

Auditorium Parco della Musica, Viale P. De Coubertin, 30
Tram 2

Rome has a lively music scene. Many pubs and music venues offer live music, especially on weekends. Classical music can be found in many churches and palaces.
A jewel is the Parco della Musica, built by the internationally renowned architect Renzo Piano, in the north of Rome on Via Flaminia. Tram 2

The Parco della Musica has several auditoriums and an open air theater. Here you find performances in all styles.
Some events are organized together with the House of Jazz Bus 160, 671, 714, 792

ROMAEUROPA FESTIVAL
Parco della Musica
10.10. Music Manara + Live Concert
11.10. Music 1958/Manga
12.10. Music Le cri du Caire e Love & Revenge
Tickets at

Practical tips for Rome in October
October is usually very pleasant in Rome. In the morning, the air is pleasantly fresh and tingling and during the day it is pleasantly warm, but not too hot. Especially in the second half of the month, it can get pretty cold and raining on some days. The rain does not last long, but it is very intense. Everything gets submerged within a few minutes and you have to find a refuge. After 15 or 30 minutes, rain is over usually.
Since you are in Rome a lot outdoors, you have to be flexible. During the day it is still pretty warm, in the evening it is already quite cold. Just in case, you should have a raincoat with you. Comfortable shoes are also important, as you will be walking a lot and the walkways are bumpy. Visiting the sacral sites, including the Catacombs and the Vatican Museums, your shoulders and knees must be covered.
In the early morning it is pleasantly fresh and there are only a few people on the way. There is very little traffic in Rome until six o'clock and you can take pictures of monuments and places undisturbed in the first morning light.
The sunrise offers wonderful pictures and with a little luck you will see a wedding couple on photo session at one of the monuments. The sunrise in Rome in October is between 7:07 and 7:35, with the clock change on October 27 at 6:36.
The early morning is also the best time to jog.
High season in Rome, what you should consider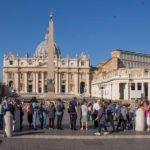 Most Rome visitors have the same destinations: the Vatican, St. Peter's Basilica, the Colosseum, the Trevi Fountain and the Spanish Steps. For the Colosseum, the single tickets for October are almost sold out and in all places you have to expect long lines.
My advice is to book guided tours for these sights. With the guide you can pass the queues and receive valuable and interesting information. Only with a guide can you make proper scheduling because the duration of the tour is defined.
The Trevi Fountain is often crowded with visitors. A city policeman told me that the place is well attended until 3 o'clock in the morning. Book a hotel in the center and visit the fountains and squares before breakfast, when few other visitors are there. This is a unique experience!
Very usful are the Hop on hop off buses, especially between the Basilica of Santa Maria Maggiore, the Colosseum and Castel Sant'Angelo. The buses run at regular intervals and are more reliable than public transport.
If you are walking in the center, choose one of the small romantic back streets with less traffic. I have prepared some tips with half-day programs in the category Three days in Rome.
The Romans have an extensive lunch only on Sundays. During the week they take only a sandwich at a bar or a first course in a small restaurant.
In Rome there is an interesting street food scene and of course the best pizza al taglio. For a good ice cream, I recommend to read my report on ice cream parlors in Rome. For dinner, the Romans spend more time. It can take several hours between appetizer and dessert. There is a lot of fish and grilled. The heavy Roman cuisine is rather less suitable on hot days. Artichokes are winter vegetables, in autumn they come from distant lands.
If you like the sea, take the train from the pyramid to Ostia and have a nice dinner there.
It's a good idea to take a day to explore Rome's surroundings.
Very popular is the drive to the sea to Ostia with the local train from the pyramid (Metro B) to Ostia Lido. On the way you can see the interesting archaeological excavations in Ostia Antica.
Here you will find a complete trading city with theater. The theater stages some concerts still today.
In October, it is too cold to swim in the sea, but you can sunbathe and enjoy the salty breeze. Read also my Day trip to Ostia
Very interesting is a visit to the Villa D'Este in Tivoli. The numerous fountains and water features fed by the river Aniene provide a cool breeze even on hot days. Not far from Villa D'Este is Villa Adriana, the largest villa ever built by an emperor. It is always hot there in summer, but in October the visit is very pleasant.
Nice is also a trip to Castel Gandolfo. There you can visit the papal summer residence and have a good lunch with local wine.
A little further away is Assisi, where St. Francis founded his order.
Also interesting is the ride on the Italian high-speed trains. The rides are very reasonably priced and there are cheap round-trip tickets on the same day. The trip to Naples takes about an hour, to Florence it is 1h 40′ and to Milan 3h. Also the return trip to Venice in one day is possible.