Security in Rome. The center of Rome is generally safe. Even so, as in any city, you have to be careful. We explain to you where it can be dangerous in Rome and how to protect yourself. See a video about the beggars in Rome.
Pickpockets
Pickpockets look for places with crowds or places where visitors are distracted. They mostly work in groups. The valuables that are stolen from you are immediately passed on to other members of the group and are gone forever. Pickpockets strike in overcrowded buses and when boarding the metro. They avoid having to drive with the victim to the next stop and therefore mostly steal either when getting on or off. Metro lines A and B and bus lines 40 and 64 between the main train station and the Vatican are particularly popular with pickpockets.
Pickpockets are very aware of when you are distracted. While you are looking at goods in the market, trying to find out which ticket to buy at the ticket machine or marveling at the view from the Angel's Bridge, you become an easy victim.
It is difficult to tell whether the distinguished elderly gentleman next to you is a pickpocket or the group of 8-14 year old children who may be accompanied by a music player.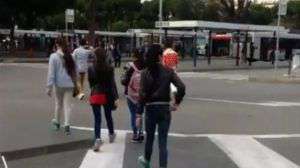 You may come across children holding up an illegible sign and your IDs and wallet are gone while you try to decipher it. Gangs of minors hang around particularly on public transport. They can hardly be prosecuted by the authorities, as most of the children are not yet of criminal age.
Thieves also dress up as backpackers and ask for directions, fiddling with the city map.
Be careful if someone bumps into you or steps on your feet. While you are distracted, someone else takes your money and phone.
You should be careful when dealing with people who offer you help at the ticket machines and with fortune tellers who make your precious ring disappear in a variety of petticoats.
You should also keep your distance from nice students who ask for a signature against AIDS, COVID or against injustice in the world.
Beggars
Beggars often kneel in pitiful positions in the middle of the sidewalk. Criminal organizations are often behind them.
Don't be begged or start rummaging around for your wallet, it will probably not be with you for long. Fiddle never with the purse in front of strangers.
It gets embarrassing when the beggars start arguing among themselves. The video was recorded at the exit from St. Peter's Basilica:
Scammers
Scammers are good storytellers. He was robbed and now needs the money for a ticket. But he has a valuable watch that he is offering you at a ridiculous price. Of course you would like to help and give him 50 or 100 euros for the valuable piece. Later you will discover that it is not even worth 5 euros.
A representative remains on the goods that a store has ordered and not accepted. He shows you valuable shirts and suits and you can determine the price. Most of the time you offer too much. Otherwise he just goes and takes the goods back with him.
Safety rules
Some general safety rules are:
Do not let strangers speak to you
Many street vendors will ask you how you are, where you are from or hold out a hand in greeting. Ignore them and just move on. Don't shake hands with anyone! Do not let yourself be stopped and do not stand still!
Do not expose yourself with valuables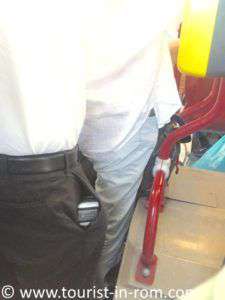 Do not hang yourself with jewelry, cameras and handbags like a Christmas tree. Neck pouches also like to disappear through the closing door of the metro train. Everything should be so stable that it cannot simply be torn off. Bags and handbags should be lockable and locked.
Don't leave your things lying around. Do not hang your bags over a chair in the restaurant or leave your shopping bags unattended.
Do not play around with the mobile phone or other electronic devices
If you want to keep them longer, keep them inaccessible. When you use them, hold them tightly in your hand.
Don't let anyone know where you keep your money, documents, and phone
You should always have access yourself and be able to prevent unauthorized access. When you keep the wallet in your trouser pocket, put your hands in your pockets when there are crowds, on the bus and on the metro.
Do not stand close to the door on the metro
A classic is that your belongings disappear together with the thief through the closing door of the metro. Perhaps the thief from the outside will also smile at you in a friendly manner or grimace after tearing off your neck pouch or handbag.
Preliminaries
So that you don't have to mess around with money or credit cards everywhere in Rome, you should buy the necessary entrance tickets and tickets for public transport online in advance. This saves you valuable time in Rome and reduces the risk of being robbed.
You can buy all entrance tickets, tours and train tickets online and save them on your mobile phone. Whether it's St. Peter's Basilica, the Colosseum or the Hop on Hop off buses, it is sufficient to show your electronic ticket everywhere.
Car thieves
Unfortunately, there are also frequent break-ins and theft of cars in Rome. Cars with foreign license plates, in particular, are a magical attraction for thieves. Therefore, do not leave valuables and luggage in the car.
Camping vehicles are particularly popular with thieves. Campers keep getting lost in Rome. Therefore, do not park your camper unsupervised and book an official camping site for your stay.
Dangerous areas
Things can get uncomfortable in Trastevere after midnight. Quarrels and fights often arise between drunks. In the extreme eastern periphery around Via Casilina and Via Tiburtina, you should not necessarily go for a walk at night and not even in green areas such as the Pineta Sacchetti.