Many ice cream parlors in Rome produce excellent artisan ice creams in an amazing variety of flavors. This is our best list.
There are ice cream parlors in Rome almost on every street corner and good ice cream is a staple in Rome. Read how to find a good ice cream parlor and find your way around our map of the best ice cream parlors.
How to find a good ice cream parlor in Rome
There are some signs that can tell you something about the quality of the ice cream parlor:
If the ice cream is strong colored, it is chemistry. Natural products do not light up in signal colors.
If a queue forms in front of an ice cream parlor, it is generally a good indication for quality.
If you can look into the laboratory, you are usually on the safe side.
The 12 best ice cream parlors in Rome
We added another ice cream shop to our list and now there are thirteen. Many ice cream parlors have multiple outlets. Our map of the best ice cream parlors will help you find one of the best ice cream parlors in Rome near you.
Otaleg
Otaleg is one of the brightest stars in the Roman ice cream parlor heaven.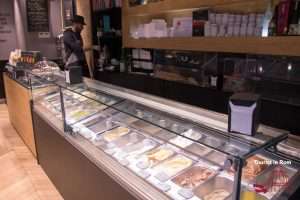 Already in 2014 the Otaleg gelateria was voted one of the three best gelaterias in the region by the Gambero Rosso gourmet guide, and again in 2022 it was awarded 3 cones. The gelateria is located in Trastevere on Via di San Cosimato 14a. At Otaleg you will find delicious creations with constantly new recipes such as bourbon vanilla with ginger, Avocado Menta or gorgonzola with chocolate and nuts.
Otaleg uses only the best ingredients. For example, Fiordilatte uses a special milk and the sorbetti are made with fruit preparations without water and with little sugar.
After a good meal in Trastevere, we like to go to Otaleg and enjoy the delicious ice cream for dessert.
Gelateria dei Gracchi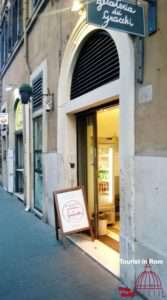 Another artisanal gelateria is Gelateria dei Gracchi. The ice creams are based on the products of the season. The Gelateria dei Gracchi has four sales outlets, Via dei Gracchi 272 near Via Cola di Rienzo, Via di Ripetta 261 near Piazza del Popolo, in Viale Regina Margherita 212, to the left of Via Nomentana and in V.le delle Province 30 near Piazza Bologna.
Günther Punto Gelato
The South Tyrolean Günther Rohregger has made his name among the Roman ice producers. Here you can find combinations like Madagascar cinnamon or Swiss stone pine. His selling points are in Via dei Pettinari just at the Sixtus bridge, in Piazza Sant'Eustachio between Piazza Navona and Pantheon and, named "The Taste Gelato", in Via due Macelli between the Spanish Steps and the Quirinal. Another point of sale is in Termini Station at Mercato Centrale in Via Giolitti.
Il Cannolo Siciliano
The pastry shop Cannolo Siciliano has won several awards for its ice cream.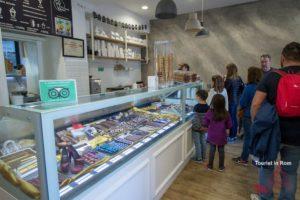 The name refers to the Sicilian cannolo, a crispy baked roll sweetly filled with ricotta and other ingredients.
In addition to a wide selection of ice cream, there are pies, cakes, pastries and Sicilian specialties.
The Cannolo is also filled with ice cream here.
Cannolo Siciliano pastry shop is located in Piazza Malatesta, Metro C stop.
Il Gelato di San Crispino
This ice cream parlor is one of the pioneers in Rome for natural ice cream.
A special feature is that they produce a kind of "whole-food" ice cream. Fruits are partially processed with the peel. The result is somewhat unusual but excellent.
San Crispino is located near the Trevi Fountain in Via della Panettiera 42.
La Gelateria del Teatro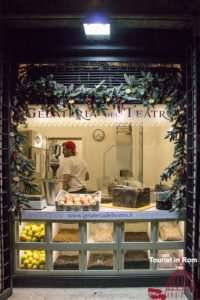 The ice cream parlor is located in Via dei Coronari between Piazza Navona and Castel Sant'Angelo.
Here you can see into the ice laboratory from the street. The flavor combinations are exciting, the choice is huge.
There is a branch on the Lungotevere dei Vallati 25 between Ponte Sisto and Ponte Garibaldi.
Fata Morgana
Natural ingredients and imaginative creations are the secret of the Fata Morgana. The flavor combinations are so varied that it is difficult to choose.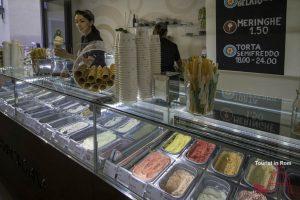 We tried the pistachios di Bronte and rose with purple flowers, really delicious. The ice cream sushi is also very interesting.
Fata Morgana has several sales points in Rome:
Near Piazza del Popolo, between Via del Corso and Via del Babuino in Via Laurina 10
Between Ghetto and Campo de 'Fiori in Via dei Chiavari 37, right next to the Antico Forno Roscioli
In Trastevere near Piazza di San Cosimato, in Via Roma Libera 11
In the Monti district at Piazza degli Zingari 5
South of the Basilica of San Giovanni at Piazza Re di Roma in Via Aosta 3
In the north of Rome near Villa Ada in Via Lago di Lesina 9.
Torcè
Claudio Torcè likes to experiment and has been using natural ingredients for more than 15 years. He offers over 100 types of ice cream in his ice cream parlors.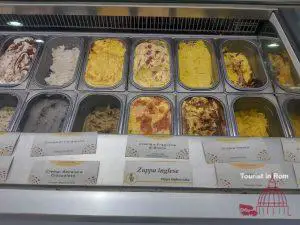 We counted 6 types of chocolate. The repertoire also includes varieties such as peperoncino, gorgonzola or celery. So you will find varieties for every taste here.
Torcè has three sales outlets:
The laboratory with ice cream parlor is at the terminus of Metro B, Laurentina, in Via dell'Aeronautica 105
There is a sales point near the Circus Maximus on the right side of the FAO building at Viale Aventino 59
In the Parioli quartier in Piazza Euclide 25.
Giolitti
One of the most famous ice cream parlors in Rome is Giolitti. At Giolitti, you'll find ice cream take away and a big saloon in the style of a Viennese coffee shop for sundaes. In these mugs the ice is buried under mountains of cream and they replace a lunch.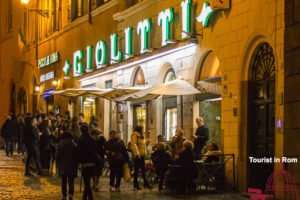 Giolitti is located below the Parliament Palace Montecitorio in Via degli Uffici del Vicario.
Giolitti also runs a pastry shop and ice cream parlor in the EUR quarter by the artificial lake at Viale Oceania 90. Metro B EUR Palasport
Il Palazzo del Freddo by Giovanni Fassi
Founded in 1880, Fassi's Ice Palace is the oldest ice cream parlor in Rome. The Palace is one of the largest ice cream parlors in Rome.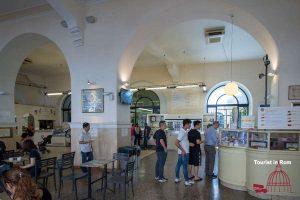 Fassi relies on tried-and-tested varieties as well as ice cream confectionery and specialties based on their own recipes. Here you get ice-filled yeast pastries and ice-filled tramezzini and good portions at reasonable prices.
Fassi is located in the Esquiline between Piazza Vittorio Emanuele and Porta Maggiore in Via Principe Eugenio 65

.
Grezzo Raw Choccolate
Grezzo means "raw" and Grezzo Raw Choccolate is a confectionery that makes its products only from raw, uncooked ingredients. All ingredients are heated to a maximum of 42° C – 107° F.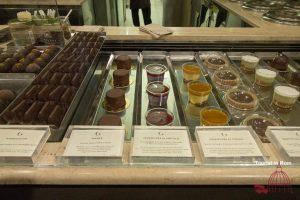 The ingredients must therefore be of the highest quality and must be able to be processed at this temperature. Grezzo also offers several types of ice cream. I tried the chocolate ice cream of course. I found the ice cream very interesting, made of the best chocolate and not very sweet.
Once you get to the Basilica of Santa Maria Maggiore, the Grezzo Pastry Shop is not far. It is located in Via Urbana 130 in the Monti district.
Branches are located in the ghetto near the Turtle Fountain in Piazza Mattei and in Parioli in Piazza Euclide.
Venchi
Venchi is a famous chocolate producer from Piedmont and has several branches in Rome.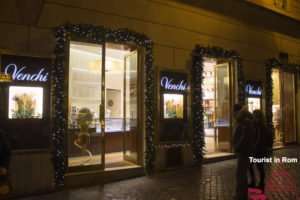 You will find shops at Termini Station, in Via del Corso between Piazza Venezia and Piazza Colonna, in the culinary Via della Croce (between Corso and Spanish Square) and near the Pantheon in Via degli Orfani. Other shops are located on the air side of terminals 1 and 3 in Fiumicino.
Gelateria La Romana
Despite the name, the headquarters of "La Romana" are located in Rimini. They have chocolate fountains to cover the cone and then they fill up with excellent ice cream. Finally, you can choose between different tastes of whipped cream, like chocolate or Zabaione flavour.
In Rome, you will find six sales outlets of the Gelateria La Romana, near Piazza Navona at Piazza di San Andrea della Valle 1, in Via Ostiense 48, from the Pyramid towards San Paolo, in Via Cola di Rienzo no. 2, immediately after the bridge to Piazza del Popolo, and in Via XX Settembre 60 opposite Via Castelfidardo. Other outlets are located at San Giovanni in Via Magnagrecia 47a and in the quartier EUR in the noble shopping street Viale Europa 123.