When it comes to the coronavirus in Rome, the Italian government relies on personal responsibility. Here you will find the current regulations and information.
Partner-Links helfen uns dabei, unsere Informationen kostenlos bereitzustellen. Für abgeschlossene Buchungen erhalten wir eine Provision – ohne Mehrkosten für Sie! Mehr
Partner links help us to provide our information free of charge. For completed bookings we receive a commission – at no extra cost to you! More
I link dei partner ci aiutano a fornire gratuitamente le nostre informazioni. Riceviamo una commissione per le prenotazioni completate, senza alcun costo aggiuntivo per voi! Di più
In Italy, masks are not mandatory and no proof of vaccination is required.
Checks on arrival
Travelers from all over the world are allowed to enter Italy and there are no COVID checks upon entry.
Also, registrations such as the Passenger Locator Form are no longer required.
Test before the return trip
Some countries outside the EU require a COVID test before the return journey. You can do the test in many pharmacies and it costs between 15 and 22 euro. There is usually a tent in front of the pharmacy where the tests are carried out. Have the test result certified in English so that it can be accepted by the airline and the authorities of the country of entry.
Since the regulations for entry vary greatly in different countries, you should obtain the appropriate information before returning home.
Quarantine in Italy
Quarantine is also not mandatory in the case of COVID infection. However, persons who are COVID positive are advised to wear a mask and avoid persons at increased risk.
If you test positive during your vacation, you must isolate yourself and are only allowed out for medical purposes, such as retesting.
The isolation is usually 5 days. If you have no symptoms, you can end isolation after 5 days without a test, or earlier with a negative test. Usually, you must have been symptom-free for 2 days or have a negative test to end isolation. For the next 5 days, the rules of autosorveglianza apply as described in the next section.
Anyone who has been in contact with a person tested positive must observe a so-called "self-monitoring" period – autosorveglianza. This means to wear an FFP2 mask for 10 days after contact indoors and in crowds.
How big is the Covid 19 risk in Rome?
Overall, the counted infections are currently rising.
The Romans are very careful about hygiene and the government's measures against the spread of the virus have always been followed very well in Rome. The incidence in Rome province is 75 (data as of September 15) Source: Il Sole 24 ore.
The most important regulation is that all people are invited to keep a minimum distance of 1 meter (3.2 ft).
Taxi
Masks are not required in taxis. All seats may be occupied.
Restaurants
Bars and restaurants are freely accessible.
Hotels
Hotels are freely accessible.
Stores
Stores, post offices and banks are freely accessible. Wearing of masks is recommended.
Museums
A Green Pass is not required in museums.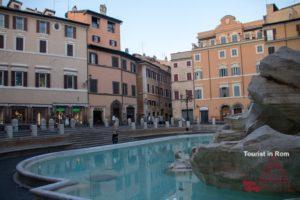 The museums are open. To avoid long queues, reservation is recommended. For the museums of the Municipality of Rome, reservation is recommended by calling +39060608. Due to the distance regulations, the number of visitors allowed is greatly reduced.
In high season, many museums are often fully booked. On our pages for the Colosseum and the Vatican Museums you can often still find tickets and guided tours from the contingents of our partners. But there is a lot to see in Rome even without a museum visit. In our section 3 days in Rome you will find many suggestions for walks and activities in Rome.
In most museums, but sometimes also in the St. Peter's Basilica, there is a path in that makes sure that all visitors can only go in one direction. It's like IKEA, you may have to walk a long way towards the exit.
St. Peter's Square is sometimes closed. You can then enter St. Peter's Basilica only on fenced paths and come to the exit on the other side.
Free attractions such as the Trevi Fountain may also have fixed paths and access will be closed if too many people gather in front of the fountain.
Public transport
FFP2 masks are not required from October 1 in all public transport in the city. No Green Pass is required.
The EU COVID certificate
There is some confusion with the EU digital COVID certificate because it is called differently in each country. In Germany it is called CovPass, in Austria grüner Pass, in Italy green pass or "certificazione verde", in Switzerland COVID certificate, and so on. All of these EU certificates are valid in Italy.
In Italy, a distinction is made between the "Green Pass Base" and the "Green Pass Super". The "Base" is also valid with a current test, the "Super" certifies fully vaccinated or recovered within the last 6 months.
The certification can also be issued in non-EU countries in the following languages: English, French, Spanish, Italian.
No certificate or negative test is required for for entry into Italy.
Health insurance
Of course, you should provide adequate health insurance during this time. It is sufficient for citizens of the European Union to have their health insurance EHIC card with them.
In case of suspected infection in Rome COVID-19
If you suspect that you have been infected with the SARS-Cov-2 coronavirus – the disease caused is called COVID-19 Corona virus disease 2019 – make an antigen test in a pharmacy. If this is positive, you should not leave the house so as not to infect other people. In Rome, call a family doctor or call 800 11 88 00, the phone numbers of other regions in Italy can be found on the website of the Ministry of Health.
Practical tips and precautions for Rome
Arrival and departure
There are several ways to travel to Rome. Whether in your own car, by Flixbus, by train or by plane, all roads lead to Rome.
Public transport is not our first choice in Corona times. We recommend to book a transfer in advance for the journey from the airport to the hotel.
Accommodation
There are several reasons why we recommend accommodation in the center of the city. The most important thing is that you can reach most of the attractions without public transport. Metro and buses are totally overloaded and you have to expect long travel and waiting times. If you have your accommodation in the center, you can walk to almost anything. Read our article Hotels in Rome.
Nightlife
Rome is known for the "Movida". Many Romans enjoy the mild autumn nights and meet on the streets and squares until late at the night to chat. For your safety, avoid crowds and keep away from people you don't know. If it's not possible to keep the distance, wear your mask! Places where people could gather can be blocked.
Security
Rome is a very safe city. However, there is a big problem with pickpockets. People from all over the world consider Rome a lucrative place for their criminal activities. You can find more information in our article Safety in Rome.