Rome Coronavirus. The travel restrictions in Italy ended on June 3, 2020 and tourists are welcome again. However, the regional governments have to keep the infection numbers under control, otherwise they cannot participate in the freedom to travel. Find out here what that means for your trip to Rome.
How big is the Covid 19 risk in Rome?
The Lazio region is one of the regions with the lowest risk. There was always an increased risk in northern Italy mostly. There were over 200,000 cases there by mid-May, while the south had just under 19,000 cases. The national institute for infectious diseases "Spallanzani" is based in Rome, where people from northern Italy are also treated. Of course, these cases are included in the regional statistics.
In total, there were around 5,500 cases in the province of Rome in mid-May with a population of more than 4.3 million. Many cases are due to travelers from northern Italy. Some travelers on cruise ships also had to be treated. The numbers continue to decline in June.
The Romans generally pay close attention to hygiene and the government's measures against the spread of the virus were very well followed in Rome at all times. The situation in Rome has developed correspondingly positively.
The healthcare system in Rome was never under stress. There were no interruptions in health care and necessary treatments and operations were carried out regularly.
The most important regulation is that all people must keep a minimum distance of 1 meter (3.2 ft). In addition, there is a requirement to wear a mask indoors and in closed public places, including public transport.
Restaurants
Reservations are recommended for restaurants. You must leave your name and telephone number at the restaurant. People living under the same roof can sit together at one table without having to maintain the minimum distance. Buffets are prohibited and bar service is not available in most cases.
Instead of the usual price lists, there are either plasticized menus that are easy to disinfect, or there are disposable lists.
Stores
Only a limited number of customers can be in a store at the same time. When this number is reached, you have to wait until another costumer leaves the store.
Temperature measurement
Temperature measurements are carried out at airports, train stations, in museums and at the large basilicas such as St. Peter's Basilica. If the measured temperature is 37.5 ° C (99.5 °F) or more, you can't enter.
Museums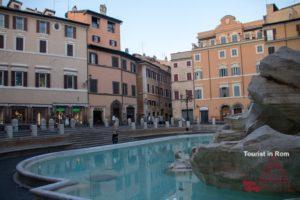 The Colosseum, the Borghese Gallery, the Vatican Museums and the museums of the City of Rome can only be visited by reservation. Due to the distance regulations, the permitted number of visitors is greatly reduced and you must reserve in good time. For example, only 10% of visitors are allowed to visit the Vatican Museums, 3,000 visitors a day instead of the 30,000 that were previously admitted. You must therefore reserve your visit to the museum in great advance. The passage in the Sistine Chapel from the museums to St. Peter's Basilica is currently closed.
In our section 3 days in Rome you will find many suggestions for walks and activities in Rome.
In most museums, but also in the St. Peter's Basilica, there is a path in that makes sure that all visitors can only go in one direction. It's like IKEA, you may have to walk a long way towards the exit.
St. Peter's Square is sometimes closed. You can then enter St. Peter's Basilica only on fenced paths and come to the exit on the other side. The dome and grottoes are also currently closed.
Free attractions such as the Trevi Fountain may also have fixed paths and access will be closed if too many people gather in front of the fountain.
Public transport
A limited number of passengers are allowed on buses. When the number is reached, you will have to wait for the next bus.
Only a limited number of passengers are permitted in the metro stations and on the trains. When the number of admitted passengers in a metro station is reached, you have to wait outside the station. During rush hour, additional buses are offered along the metro lines.
Health insurance
Of course, you should provide adequate health insurance during this time. It is sufficient for citizens of the European Union to have their health insurance EHIC card with them.
In case of suspected infection in Rome COVID-19
If you suspect that you have been infected with the SARS-Cov-2 coronavirus – the disease caused is called COVID-19 Corona virus disease 2019 – you should not leave the house to avoid infecting other people. In Rome, call a family doctor or call 800 11 88 00, the phone numbers of other regions in Italy can be found on the website of the Ministry of Health.
Practical tips and precautions for Rome
Arrival and departure
There are several ways to travel to Rome. Whether in your own car, by Flixbus, by train or by plane, all roads lead to Rome. If you want to come to Rome with your own car, you should check at short notice whether you can drive through regions with a higher risk, such as Lombardy.
Public transport is not our first choice in Corona times. We recommend to book a taxi in advance for the journey from the airport to the hotel.
Accommodation
There are several reasons why we recommend accommodation in the center of the city. The most important thing is that you can reach most of the attractions without public transport. Metro and buses are totally overloaded and you have to expect long travel and waiting times. If you have your accommodation in the center, you can walk to almost anything. Read our article Hotels in Rome.
Nightlife
Rome is known for the "Movida". Many Romans enjoy the mild summer nights and meet on the streets and squares until late at the night to chat. For your safety, avoid crowds and keep away from people you don't know.
Security
Rome is a very safe city. However, the corona crisis has left deep damage. Many people are desperate and rely on donations. Theft could therefore also increase. It is of course safer in the city center rather than in some neighborhoods on the periphery. And you shouldn't be out with lots of money and valuables late at night.