We look forward to welcoming you to the Eternal City. Immerse yourself in Roman life and get to know the countless sights with us.
Enjoy the dolce vita on the streets and squares of Rome with an ice cream or an aperitif and indulge in a delicious dinner.
Always stay up-to-date on sights, museums and events with our first-hand information.
A city trip is fun. Life on the streets of Rome, good food and sightseeing offer experiences and adventures. Buying tickets on site can also be a special experience. Gambler like to risk everything and go looking for long sold out tickets and tours at dubious street vendors. Since Corona, it has been mandatory to reserve a fixed entry time at the most important museums.
Bookings with the major portals Tiqets and Getyourguide are convenient and secure. Here you will find everything you need at a glance and you don't have to worry about the different booking systems of the individual museums on their websites. Check out our ticket page for a collection of the best tickets, tours, and activities.
Rome and the Vatican with their treasures from millennia are an open-air museum, most of which you can visit for free. There is always something new to discover for old hands too!
Surely you've heard of the Appia Antica, the queen of the streets, the Regina Viarum. Via Appia in ancient times was the main connection from Rome to Brindisi. From there they sailed to Greece. Even today, large parts of the old road are preserved.
Rome museums at a glance. With over 2,700 years of history, Rome is full of works of art from ancient times to modern times. Discoveries are still made today during excavations and construction work and can be visited. Read our overview with information on reservations, tickets and opening times.
From the most beautiful viewpoints you can enjoy wonderful views of Rome from above. Enjoy the view over the archaeological area of ​​ancient Rome, the Tiber Island, St. Peter's Basilica and the city center to the Albano Mountains and the Apennines.
Bread and games, that's what the Colosseum stands for. This multifunctional amphitheater of ancient Rome is one of the most visited attractions today. Learn how this colossal entertainment machine worked and how to best organize the visit.
Heinz-Jürgen Beste is a scientific advisor at the German Archaeological Institute in Rome. Here he reports on the history of the Colosseum and on his underground research into the stage technology of that time.
The Archaeological Park of Roman Forum and Palatine is part of the visit to the Colosseum. For Colosseum, Roman Forum and Palatine you need one hour each. So plan on a total of three hours.
In Rome everything always has a history. If we can believe the legend, it is thanks to Emperor Nero that St. Peter's Basilica and Vatican City were built on the Vatican Hill. Archaeologists are still doing research in the necropolis under St. Peter's Basilica, which was leveled by Emperor Constantine in the 4th century.
Guided tours for the Vatican Museums and St. Peter's Basilica give you an introduction to the works of art and a glimpse into 2,000 years of history. At the general audiences you can experience Pope Francis up close.
The halls and collections of the Vatican Museums are among the most important art treasures in the world. The gardens are an oasis of peace.
St. Peter's Basilica was built over the tomb of St. Peter the Apostle. Here manifest 2,000 years of history.
April is high season in Rome. To get in at museums like the Colosseum and enjoy your stay worry-free and without long queues, you need to prepare well in advance.
Enjoy the approaching spring in Rome in March. It is not yet too crowded in the city and you can easily stroll through the streets and parks. What's going on… ►►►
In February in Rome enjoy the cultural offer and winter cuisine. From the middle of the month you can feel the coming spring.
Whether by car, bus, train or plane, all roads lead to Rome. Play the trip to Rome – musical chairs – with us. The game is also very popular in the Roman traffic and local public transport.
Hop on hop off city tours offer a quick overview of Rome's center. A special line for pilgrims stops at many churches in Rome.
Rome has a simple and inexpensive fare system for metro, bus, streetcar and train. The Metrebus fare is valid for the whole city.
With these Rome City Passes all reservations are included: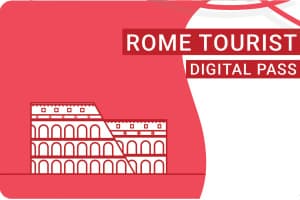 Hotels advertise a good location, even if you then need an hour to get to the center. Check here which locations are really convenient.
The best season is very individual. In winter you can mostly even go skiing in the vicinity of Rome. In summer you can combine your visit with a swim in the sea. Every season has its charm.
Three days or two nights are the classic for a city trip. With a little luck you will arrive in the morning and fly back in the evening. In our handicraft kit you will find suggestions that can be combined with each other so that you can see and experience as much as possible in Rome.
Taking a tour of Rome by bike is a good idea. If you want to go up the seven hills, you need a bike with good gears or an e-bike.
Jogging in Rome has something special. You run on historical ground, with archaeological remains and works of art that have arisen in the millennia, and through the gardens and parks of popes and princes. Find out where to go jogging in Rome at the best.
In Rome, good food is a cornerstone of the way of life. Rome offers a spectacular street food scene, traditional Roman cuisine, pizza and of course healthy Mediterranean cuisine.
Rome offers a wide range of shopping options. Whether fashion for every budget, culinary specialties, antiques, flea markets or esoteric, Rome has a lot to offer.
Rome is a wonderful city. Take it easy and don't stress yourself out. Don't drink a cappuccino after dinner, don't wear an open neck pouch, and don't let your wallet hang out of your pants.
Rome is a fascinating city with its own way of partying and enjoying the nightlife…. ►►►
Whether the Roma Pass or City Passes are worthwhile is hotly debated. Here you will find… ►►►
Rome has excellent drinking water and there are many public water points. The water supply… ►►►
Can you keep a secret? We too! Nevertheless, we would like to tell you a few anecdotes in our insider tips and introduce you to lesser-known sights off the beaten paths.
Rome, the center of Christianity, offers representations of the Madonna everywhere: inside and on the… ►►►
St. Peter's Square in Rome was significantly designed by Gian Lorenzo Bernini. Built by 1667,… ►►►
The Passetto di Borgo is a little known curiosity. It is a secret passage in… ►►►
Castel Gandolfo is a small wine town on the volcanic slopes of the Alban Hills,… ►►►
Pompeii, the ancient trading city sunk in the lava of Vesuvius, allows a unique insight… ►►►
Venice is not just the city of love. It impresses its visitors with the special… ►►►