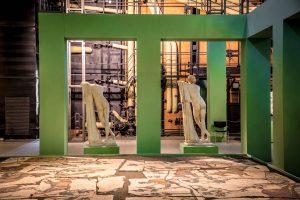 The Centrale Montemartini has a special charm. In this former power station and monument of industrial architecture with its smell of iron and machine oil, between the machines appears a hodgepodge of people and gods, jewelry and animals. The staging is fascinating.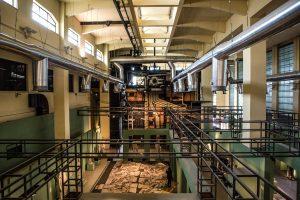 The power station was inaugurated in 1912. The name honours the assessor Giovanni Montemartini, who at the time supported the idea of public utilities. In this power station coal was burned and steam was produced to drive a generator. Diesel engines were also used.
Electricity production was stopped in 1963. Twenty years later restoration work began and in 1997 exhibits from the Capitoline Museums found their place here.
A steam turbine and diesel engines from this period can still be seen today. In addition, some supply and control installations can still be seen.
The antique exhibits date back up to the 4th century B.C. and show the most important developments of the city over time. The exhibits come from excavations of the last 100 – 150 years.
Entrance and opening hours
The opening hours are 9-18:30, closing 19:00. On Monday the museum is closed. Special opening hours apply on the 24th and 31st of December: 9-13:30, closing 14:00. The museum is closed on 1st of January, 1st of May and 25th December.
The entrance fee is 7,50 €, reduced 6,50 €, in the case of special exhibitions 11 €, reduced 10 €.
Reduced admission is paid by young people aged 6 to 25 and groups of at least 20 people. On Wednesday from 17:00 the price is reduced by 50%.
Free admission for children up to 6 years and persons with disabilities. Up to two children are admitted free of charge when accompanied by a paying parent. School groups accompanied by their teachers are admitted free of charge in the context of certain contingents. For this it is recommended to have a list of names on the stationery of the school.
The museum divides the collection into the following themes:
The power plant
Poetry, music and theatre
Dyonysos and his companions
Famous women
Battles and Warriors
Animals
The train of Pope Pius IX
Nevertheless, Pius IX was a modern Pope for his time, introducing many reforms. He also provided infrastructures. For example, the first railway line, Rome – Frascati, was inaugurated in 1856. The Pope's train was built in France and was shipped from Marseille to Civitavecchia in 1858. It consists of the locomotive and three cars. One car is the throne car, the second car is a consecrated chapel. The third wagon is open and from here the Pope could bless the cheering crowd.
How to get to Centrale Montemartini
The museum is located on Via Ostiense between the Pyramid and the Basilica of San Paolo. The nearest metro station is Garbatella. Take the exit to Via Ostiense. From the Vatican or Trastevere take bus 23 to Ostiense/Garbatella, from San Giovanni take bus 792 to Ostiense/Prefettura.

All photos © Zhanna Stankovych