There are 66 basilicas and over 900 churches in Rome. Here you can find the opening hours of important basilicas and churches in Rome.
Pope Basilicas
Campo Santo Teutonico
Founded by Charlemagne in the 8th century, Campo Santo Teutonico is readily regarded as the last remnant of the Holy Roman Empire of the German Nation.
The extraterritorial area is under the supervision of the Vatican and can only be accessed through the territory of the Vatican State. To get to Campo Santo Teutonico, you must request admission in German from the Swiss Guard between the Palace of the Congregation for the Doctrine of the Faith and the left columns of Bernini.
Access is possible every day from 7-12 am with the exception of the days of the general audiences of the Pope.
Saint John Lateran
The Basilica of San Giovanni is the oldest basilica in the Occident and the seat of the Bishop of Rome. Pope Silvester I consecrated it to Christ the Redeemer (Cristo Salvatore) in the 4th century. Sergius III added John the Baptist in the 9th century and Lucius II added John the Evangelist in the 12th century.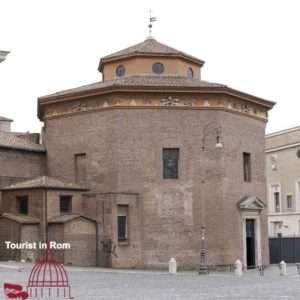 The octagonal baptistery also dates back to the 4th century in its origins.
Opening hours: Basilica 7 a.m.-6:30 p.m., sacristy 8 a.m.-12 p.m., 4 p.m.-6 p.m., cloister 9 a.m.-6 p.m., baptistery 7 a.m.-12:30 p.m., 4 p.m.-7 p.m., Basilica Museum 10 a.m.-5:30 p.m.
After the security check, you will find an information office to the right of the entrance to the Basilica, which offers audio guides. Hours are Monday through Saturday 9 a.m.-4 p.m., and it is closed on Sunday.
Toilets are located inside the Basilica on the left side.
Metro line A stop San Giovanni, streetcar line 3 (Trastevere station – Pyramid – Colosseum –
San Giovanni
– Basilica of St. Cross in Jerusalem, Basilica San Lorenzo, Bioparco), bus 81 (direction Risorgimento to Celio, Colosseum, Bocca della Verità, Piazza Venezia, Piazza Navona, St. Peter's Basilica), bus 218 (to the Catacombs and Sanctuary Divino Amore), bus 714 (direction Termini to Santa Maria Maggiore), bus 792 (to St. Paul).
Scala Sancta – The Holy Stairs
Opposite the Lateran Basilica is the building with the Scala Sancta, on which Jesus is said to have been led to Pontius Pilate. It was brought to Rome around the year 1450 and given to Pope Sixtus I.
Believers slide up the steps on their knees. Otherwise, you can also go up another staircase to the Papal Chapel Sancta Sanctorum.
Opening hours: 6:00-13:30, 15:00-18:30, Sundays and holidays from 7:00.
St. Paul Outside the Walls
The basilica is open all year round 7-18:30, admission is free. All areas of the basilica are accessible to wheelchair users.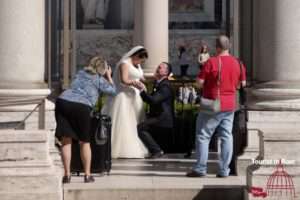 The cloister is open 9-17:30, the entrance fee is 4 euros.
In the grounds of the Basilica there is a souvenir store, a bar, sanitary facilities and a mailbox of the Vatican Post Office.
The grounds of the Basilica, as well as the adjacent branch of the Bambino Gesù Children's Hospital, belong to the territory of the Vatican State.
Bus 23 (from St. Peter's Basilica), Bus 792 (from San Giovanni), Metro line B stop San Paolo
Santa Maria Maggiore
The Basilica of Santa Maria Maggiore is the most important of over 40 Marian churches in Rome and dates back to the 4th century. It is the oldest Marian church in Rome. In the Cappella Paolina is the ancient venerated icon "Salus populi", which is considered miraculous. The Pope comes every December 8, the feast day of the Immaculate Conception, to pray in front of the icon.
The basilica was consecrated on August 5, 432. During the night of August 5, 358, Mary had appeared here to a patrician and his wife with the wish to build a basilica where there would be snow the next day. In fact, snow was found on this spot in the morning and the "snow miracle" is still celebrated every August 5.
Opening hours: Basilica 7:00-18:45, Sacristy 7-12:30 and 15 (holidays 15:30)-18:30, Museum 9:30-18:00.
Piazza di Santa Maria Maggiore 16, 70, 71, 75, 117, 360, 590, 649, 714, all
Hop on hop off buses
Churches of the Virgin Mary
Santa Maria in Trastevere is possibly the oldest Christian place of worship in Rome, built by Pope Calixtus in the 3rd century. Opening hours 7:30-20:30, Friday from 8:30, Saturday + Sunday until 20:00 in August closed at noon 13:00-15:30.
Santa Maria in Traspontina near Castel Sant'Angelo 08:00-13:00, 16:00-20:00
Santa Maria in Cosmedin – Bocca della Verità 09:30-18:00
Santa Maria in Ara Coeli near the Capitol is a popular wedding church open 9:00-17:30
Santa Maria del Popolo weekdays 7:15-12:15, 16-19 Sundays and holidays 7:15-12:30, 16:30-19:30
Santa Maria in Monte Santo near Piazza del Popolo Monday-Saturday 10 a.m.-12 p.m., Monday-Friday 5-8 p.m., Sunday 11 a.m.-1:30 p.m., Artists' Mass at 12 p.m.
Santa Maria dei Miracoli near Piazza del Popolo 7-12:30 a.m., 4-7:30 p.m.
Santa Maria in Via Lata on Via del Corso 17:00-21:30 (in summer from 18:00)
Santa Maria Sopra Minerva behind the Pantheon weekdays 09:00-12:00, 15:30-18:00, Sunday 15:30-18:00
Santa Maria della Vittoria via XX Settembre weekdays 09:00-12:00, 15:30-18:00, Sunday 15:30-18:00
Santa Maria degli Angeli e dei Martiri near Piazza della Repubblica (ex Terme di Diocleziano) 7:00 – 19:30
Monti
Basilica of San Pietro in Vincoli with Michelangelo's Moses 8-12:30 a.m. and 2-6 p.m., with daylight saving time until 7 p.m.
Basilica of St. Praxedis – Santa Prassede Monday-Saturday 10 a.m.-12 p.m., 4 p.m.-6 p.m., on Sunday 10 a.m.-11 a.m., 4 p.m.-6 p.m.
Basilica of SS. Silvestro e Martino ai Monti – Sylvester and Martin – with origins in the 4th century, on Oppio Hill 08:00-12:00, 16:00-19:00
Celio
Basilica of San Clemente Visiting hours 09:45-12:30, 15:00-17:45 Sunday 12-17:30
Basilica dei Santi Quattro near the convent of the Augustinian nuns 10:00-12:00
Santo Stefano Rotondo an interesting round church, closed Monday, summer 10-13, 15:30-18:30 winter 10-13, 14-17
The Basilica SS. Giovanni e Paolo on the Celio April-September 8:30-12, 15:30-18, October – March to 17:30. The restored Roman houses under the basilica 10-16, closed Tuesday.
Aventine
Santa Sabina ist eine beliebte Hochzeitskirche 8:15-12:30, 15:30-18 Uhr
Sant'Alessio Montag – Freitag 10:00–12:30, 15:30–19:00, Samstag 09:00–12:30, 15:30–19:00, 19:30–22:30, Sonntag 09:00–12:30, 15:30–19:00
San Anselmo 08:00–13:00, 14:00–19:00, Sonntag 10:30–13:00, 15:00–19:00
Center
Sant'Andrea al Quirinale 9-12, 15-18 Monday closed
San Carlo alle Quattro Fontane also San Carlino is a baroque church by architect Francesco Borromini Monday-Saturday 10-13
SS. Vincenzo e Anastasio near the Trevi Fountain 10:00-15:00, 16:00-20:00
Sant'Ignazio weekdays 9-20, Friday – Sunday extraordinary opening – 24:00
Chiesa del Gesù 7:30-12:30, 16:00-19:30 Sundays and holidays 7:45-13:30, 16:00-20:00. A gilded statue of the saint appears at the altar of St. Ignatius – on the left side of the church – daily around 17:30.
Trinità dei Monti 10-20, Wednesday 12-20, Sunday 9-20
Sant'Agnese in Agone 09:00-12:30, 15:30-19:00, closed on Monday.
Seven Churches Pilgrimage Route
St. Sebastian on the Via Appia Antica March-October 7:00 a.m.-6:30 p.m., November-February 8:00 a.m.-5:30 p.m. For the catacombs, read Catacombs in Rome
The Divino Amore Sanctuary 7-21
Holy Cross in Jerusalem – Santa Croce in Gerusalemme 7-12:45, 15:30-19:30
St. Lawrence – San Lorenzo at the Monumental Cemetery Verano 07:30-12:00, 16:00-19:00
More about the Vatican