Rome January: January in Rome is the ideal time for museum-goers and cheap shopping. The winter sales begin at the end of the Christmas season on January 6th. Whether luxury brands or inexpensive goods, you will find the latest fashion at greatly reduced prices.
For current regulations on entry and access to public transport, museums, restaurants and stores, see our page about COVID in Rome.
January in Rome
The more central you live, the less you are dependent on public transport. You can find out how to find an affordable room and which areas are best in our information on Hotels in Rome.
Rome is a very green city. A walk in one of the Roman villas is also interesting in January. And of course you have to visit a lookout point. Die-hard people combine a visit to the excavations in Ostia Antica is with a trip to the sea. In the wintry Villa D'Este in Tivoli with its water features, there is an interesting atmosphere, especially in the evening. Located in the valley below Tivoli, Villa Adriana is the largest villa that a Roman emperor has ever built. In its ruins, the sun burns mercilessly from spring to autumn and winter is the best time for us to see it.
But you can also reach more distant destinations such as Pompei, Naples or Florence in one day with the high-speed train or with a guided tour.
Weather and clothing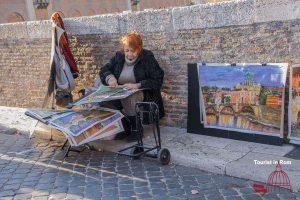 According to statistics, the maximum temperatures in Rome in January are 13° C / 55° F, the minimum temperatures 3° C / 37° F. January is the coldest month in Rome.
In January it can rain occasionally. The rain usually doesn't last long and you can look for a shelter. After 15 or 30 minutes, it's usually all over again.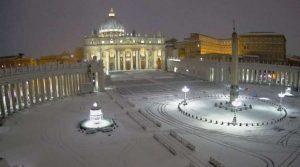 It is memorable when there is snow or frost in Rome. That only happens once in three or four years. This particular spectacle then goes through all the newspapers.
Since you spend a lot of time outdoors in Rome, you will need warm clothing and rain protection. Comfortable shoes are also important in Rome, as you will be walking a lot and the sidewalks are often bumpy.
Rome for early risers
Of course, it takes some overcoming to get up in the dark. Nevertheless, We would like to recommend that you start a day early in the morning. There is very little traffic in Rome until six o'clock in the morning and you can take beautiful photos of monuments and squares undisturbed. With a little luck, you'll find a misty morning that offers beautiful and unique photo opportunities. The sunrise is in Rome in January between 7:38 and 7:24.
The early morning is also the best time to jog.
Mid season in Rome, what you should consider
As soon as the Christmas holidaysare over on the 6th of January, the sights in Rome will be quieter.
There are fewer visitors to Rome in January because it's pretty cold.
If you would like to visit the museums in Rome and the Vatican, January is one of the best months for you. You are almost alone in the museums and benefit from shopping in the winter sales.
Gastronomy
The heavy Roman cuisine goes perfectly with the cold season. In our Food category you will find tips on street food, pizza, the best ice cream parlors that offer creations to match the winter, but also on very elegant restaurants.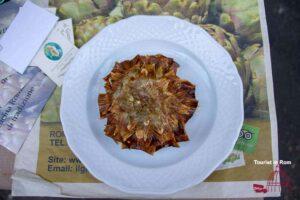 In winter, be sure to try the fried artichokes. They come fresh from the field and are freshly prepared every day.
Typical dishes of Roman cuisine are fried rice balls, supplì, salted cod, baccalà, and oxtail in tomato sauce, coda alla vaccinara.
Winter Sales Shopping
Italian fashion is known worldwide and everyone will envy you for your purchases. From January 6th you can find interesting bargains in the winter sales.
The luxury brands can be found around Via dei Condotti, which leads from the Spanish Steps to Via del Corso. Along Via del Corso you will find shops in all price ranges.
A special consumption temple is the department store La Rinascente in via del Tritone. In the basement you can visit the ancient aqueduct which supplies water to the Trevi Fountain and the fountains in Piazza Navona. On the roof terrace you have a wonderful view over the city.
Also in the side streets around Piazza Navona and around Campo de 'Fiori there are many nice little shops and boutiques.
Other shopping streets are Via Cola di Rienzo and Via Appia. The Via Marconi and the Via Tuscolana as well as the newly built shopping centers are too far away from the center for most tourists. Read about shopping in Rome.
Avoid queues
Keeping your distance is a necessary precaution. Avoid the queues and make a daily schedule. In our category 3 days in Rome you will find suggestions that you can combine with each other.
Since you have to reserve in advance at most museums, the risk of queues is low there. Queues are almost always at ticket offices in airports and at the ticket machines. Bookings on the Internet are therefore the best choice.
Arrival
Organize the journey from the airport to the hotel in advance and read our information about the metro and how you can get tickets quickly and easily.
Museums
Many museums can only be visited by reservation. These include the Sistine Chapel in the Vatican Museums, the Colosseum, the Borghese Gallery and the museums of the Municipality of Rome. You can find information about the museums on our pages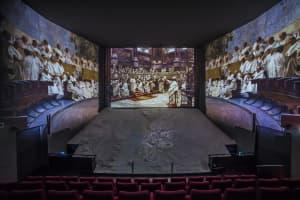 Welcome to Rome multimedia show
In the center of Rome, between the Vatican and Piazza Navona, a 30-minute multidimensional film show and an exhibition with interactive models await you.
Corso Vittorio Emanuele II 203

Bus 46, 62, 64, 916 C.so Vittorio Emanuele / Navona
St. Peter's Basilica
Entry to St. Peter's Basilica is free.
Priority entry to St. Peter's Basilica is unlikely to be offered in January. This imposing building is definitely worth a tour. For more information read our pages on St. Peter's Basilica, St. Peter's Square and the history of St. Peter's Basilica.
Rome January opening hours
St. Peter's Basilica
Basilica 7 am – 6:30 pm – dome 8 am – 5 am – treasure 9 a.m. – 5:15 pm
More information about St. Peter's Basilica>
Colosseum
Vatican Museums
Monday – Saturday 9 – 16 Closing 18, Closed Sundays and January 1 and 6. Free admission on Sunday 30 9 – 12:30 closing 14:00.
The opening hours of the Apostolic Palace in Castel Gandolfo are Monday – Friday 8:30 – 13:00 closing 14:00, Saturday and January 7 8:30 – 16:30 closing 17:30, closed Sundays and January 1 and 6.
City museums and national museums
In Rome, some of the museums belong to the municipality and some to the state. Almost all museums are closed on January 1st.
The city's museums include the Capitoline Museums, Trajan's Markets, Imperial Forums and numerous other museums. National museums include the Colosseum, Castel Sant'Angelo, Borghese Gallery and many more. For the full list of museums, opening times and tickets, see our Rome Museums page.
Free entry
All museums run by the Municipality of Rome, such as the Capitoline Museums and the Trajan's Markets, have free admission on January 2nd. The entry time must be reserved by telephone +39060608.
Events
Papal audiences and masses in January
General audiences of the Holy Father take place on Wednesdays at 9:30 am.
The Pope's Angelus prayer takes place on Sundays and on January 6th at noon in St. Peter's Square.
Papal masses are on January 1st and 6th.
Traffic-calmed Sunday
January 2 and 30, Traffic-calmed Sundays – driving ban for private vehicles with combustion engines in the city center
7:30 am – 12:30 pm, 4:30 pm – 8:30 pm
Sport
6.1. Corri per la Befana – races and games in the Ippodromo delle Capanelle https://www.romaroadrunnersclub.it/
30.1. 9:30 am La Corsa di Miguel 10 km at the Olympic Stadium https://www.lacorsadimiguel.it/
Concerts
Rome has a lively music scene. Many pubs and music venues offer live music, especially on weekends. Classical music can be found in many churches and palaces.
Amusement parks
In Rome and the surrounding area there are a few parks that offer a welcome change.
Luneur

The Luneur Park offers many rides. It is located in the south of the city in the EUR district on Via Cristoforo Colombo. The opening times in winter are irregular, mostly Saturday and Sunday 10 a.m. to 6 p.m., in summer daily until midnight. On the Luneur website you can see the calendar with the opening days. Bus connections are lines 30, 170, 714 and 791, Colombo / Agricoltura stop. From there it is 750m to the entrance on Via delle Tre Fontane 100.
Hydromania
Hydromania is an amusement pool in western Rome.
Hydromania is located at exit 33 of the Grande Raccordo Anulare. Unfortunately it is not easy to reach by public transport. The journey by bus 088 from the terminus of Tram 8 near Casaletto is a bit lengthy.
Cinecittà World
Cinecittà World is a theme park about cinema and television. It is located next to the Castel Romano outlet center on Via Pontina between Rome and Pomezia. A shuttle bus runs from the Termini main station. Tickets
Roma World
Roma World is a theme park on ancient Rome. It is right next to Cinecittà World. The program is supported by the Gruppo Storico Romano. Roma World is open in summer. Tickets
Excursions around Rome
Rome has beautiful surroundings. The Romans go to the seaside or the mountains for a good meal on weekends.
The seafood restaurants by the sea are also well attended in January. There is a rustic kitchen in the mountains that goes well with the cooler temperatures. When there is snow, the Romans ski in the nearby Appenines.
You can reach many destinations by public transport.
Excursions to the sea
If you want to see the sea, just go to Ostia Lido. A ticket for city traffic is sufficient for the journey and on the way you can visit the excavations of the old port city of Ostia Antica.
Excursions in the mountains
The most famous summer residence of the Romans in Castel Gandolfo. The popes spent the summer here at an altitude of around 400 m. Pope Francis, however, remains in Rome and the palace and gardens at Castel Gandolfo can be visited.
You can get to Castel Gandolfo by train from Roma Termini or from Ciampino with a 3-zone ticket. The train station is located on the volcanic hill between Lake Albano and the village.
Day trips
With the high-speed trains that are punctual to the minute, Florence and Naples are only around 1 ½ hours away. With our tips you can put together your own day tour or book an organized tour. Take a day to stroll around Florence and see the world famous Uffizi Gallery. Or visit the excavations in Pompeii and see Vesuvius, which is still active today and buried the city under its ashes.
Book at GetYourGuide (can be canceled free of charge):