On Rome's New Year's Eve and New Year's Day, there is usually a big street party and an extensive official program. Leave the old behind and start a happy new year in Rome.
New Year's Eve traditions in Rome
If you want to be lucky in the new year, then you have to wear red underwear on New Year's Eve, that's the tradition. A good dose of lentils with cotechino, a kind of coarse cooked sausage, promises financial success. In the past, porcelain was also thrown out of the window, but this custom is no longer common today for safety reasons.
New Year's Eve is in normal years a street festival in the Roman city center. Many Romans eat at home or in the restaurant and usually at midnight they flock to the city center, to the Colosseum or to the lookout hills to celebrate and watch the fireworks. In normal years the city organizes a 24-hour festival around the Circus Maximus.
Rome Christmas 2020. Here you will learn everything about Christmas markets in… ►►►
31.12. 14:00 Baths of Caracalla, New Year's Eve Run We Run Rome 10km and 5km
31.12. 17:00 St. Peter's Basilica, Vespers and Te Deum (only in video stream)
City Festival "La Festa di Roma"
The city of Rome is organizing a big festival for New Year's Eve and New Year every year.
However, this year the event will only take place online, as a curfew will be imposed on December 31, 2020 and January 1, 2021.
From 10 pm Oltre Tutto Festival of the Municipality of Rome video stream Art and culture, music and spectacles
Fireworks on New Year's Eve
At midnight there is usually a fireworks display of the Roman municipal utilities on the Palatine Hill. However, it will probably be canceled this year.
The current ruling Roman city administration has been trying to ban fireworks for years. The decree of the mayor of Rome of December 21, 2016 to ban fireworks in the urban area from December 29, 2016 to January 1, 2017 has been suspended by the Regional Administrative Court on December 28, 2016. On December 30, 2018, a ban was announced for December 31, 2018 and January 1, 2019. Nevertheless, there were quite impressive fireworks in the city.
Also in 2019, there was a last minute regulation by the mayor to prohibit fireworks.
This year it will probably be successful because of the curfew.
Usually you can see the public works fireworks on the Palatine Hill very well from Circus Maximus.
You can watch fireworks very well from the various viewpoints. Many Romans go to the terrace of the Gianicolo or to the Pincio.
In the supermarkets in Rome you will only find adult free fireworks. There are very few specialized shops in Rome selling real fireworks. The addresses can be found on the internet under the search term "vendita fuochi d'artificio Roma".
Before New Year's Eve, long lines formed in front of the fireworks and it may take several hours to get your turn. If you want to crack properly, you should already stock up two to three days before.
There is a curfew in Rome until 03/01/2021. This means that you are only allowed to leave the house for well-founded reasons. You are allowed to go shopping for essentials and you are allowed to do sports in the vicinity of your accommodation.
On New Year's morning in Rome, apart from the events around the Circus Maximus, it is very quiet. If you want to go for a walk, you should watch out for any unexploded bollards.
You can only attend the Holy Father's Mass by video stream. You can watch the Angelus prayer at 12 noon on St. Peter's Square. One can also consider a church visit or, in good weather, a trip to the sea to Ostia. Just take the local train from the Pyramid to Ostia Lido. You can use the normal ticket AB for city traffic.
Events New Year's Day 2020
Rome New Year open Museums
All museums are closed until January 15th, 2021.
Almost all museums are closed on 1 January. The following museums may be open 14-20:
Capitoline Museums – Markets of Trajan – Ara Pacis – Museo di Roma at Piazza Navona
The festival is canceled this year.
The city of Rome offers an extensive program of events in the area of ​​the Circus Maximus, on the Aventine and on the banks of the Tiber below the Aventine to the Tiber Island. Admission to all events is free.
The installations and lighting designs created for the festival will be activated from midnight.
The program for New Year 2021 is not yet known.
Unfortunately, all restaurants are closed. Delivery services are allowed to deliver until 10 p.m. Hotels are allowed to offer room service.
Many restaurants in Rome offer a New Year's Eve menu. If you want to celebrate New Year's Eve with a nice menu in a good restaurant in Rome, you definitely need to make a reservation. For the search I recommend Tripadvisor
. You will find all the information on any New Year's Eve menus including the prices and you can book directly online without having to deal with any communication problems on the phone. However, the restaurants are expected to close at 10 p.m.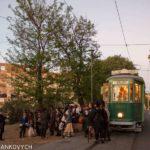 Due to the possible curfew, the operating times of public transport are not yet known.
The metro runs on December 31 from 5:30 am to 11:30 pm. The line to Ostia Lido runs until 11:30 pm and the line Rome-Flaminia Montebello leaves until 11 pm.
Bus and tram: Last departure on December 31 at 9 pm.
There are no night buses on New Years Eve.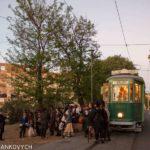 Due to the possible curfew, the operating times of public transport are not yet known.
The metro runs from 5:30 am on December 31 to 2:30 am on January 1. Also the line to Ostia Lido and the line Rome-Flaminia Montebello leave until 2:30. From 2:30 the lines nMA, nMB, nMB1, nMC and nME run along the metro lines and the line to Ostia.
Bus and tram: Last departure on December 31 at 9 pm.
From 9pm to 3:30am, the following lines operate:
Bus H: Termini piazza Venezia-Trastevere-Gianicolense-Bravetta / Capasso
Bus 128: Metro B San Paolo-viale Marconi-via della Magliana-via Crocco
Bus 170: Eur Agricoltura-viale Marconi-piazza Venezia-Nazionale-Termini
Bus 200: piazza Mancini-Ponte Milvio-corso Francia-via Flaminia-station Prima Porta
Bus 280: piazza Mancini-Lepanto Metro A-Piramide Metro B-station Ostiense Fs
Bus 301: Grottarossa via Cassia-Ponte Milvio-Lepanto Metro A-piazza Augusto Imperatore
Bus 336: Conca d'Oro Metro B1-Vigne Nuove-Fidene-via Quarrata
Bus 544: Stazione Sant'Agnese / Annibaliano Metro B-Monti Tiburtini-Stazione Gardenia Metro C-stazione Parco di Centocelle Metro C
Bus 766: via Andrea Millevoi-Grottaperfetta-Metro B San Paolo-Stazione Trastevere
Bus 881: via Avanzini-via della Pisana via Gregorio VII via Paola
Bus 905: metro A Cornelia via Boccea via Casal Selce-Casalotti-Malagrotta
Bus 913: Ottavia / via Tarsia via Trionfale-viale delle Medaglie d'Oro
Bus MA13: from Metro A Cipro to Metro A Cornelia
On 1st January the holiday schedule starts from 8 am
The weather on New Year's Eve
It's cold on New Year's Eve. It is windy at the viewpoints and if you want to light fireworks you should have a storm lighter with you.
If you want to party outside at night, you need warm clothes and gloves. The probability of rain can be found in the current weather report.
Sylvester was bishop of Rome in the years 314-335. He was buried on the 31st of December and he is celebrated on that day.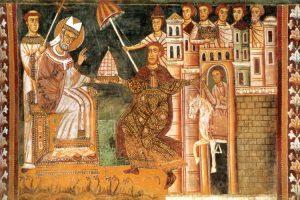 During the rule of Pope Sylvester occurred the Christianization of the state by Emperor Constantine and four important basilicas were built: St. Peter, St. Paul, St. John and Santa Croce in Gerusalemme. Many other churches were built during his rule over the graves of martyrs. He is venerated in the Basilica of San Silvestro e Martino in Monti in Viale del Monte Oppio 28