New Year's Eve in Rome is a celebration for all with traditional New Year's Eve menus, party in the streets and a big concert with fireworks.
Partner-Links helfen uns dabei, unsere Informationen kostenlos bereitzustellen. Für abgeschlossene Buchungen erhalten wir eine Provision – ohne Mehrkosten für Sie! Mehr
Partner links help us to provide our information free of charge. For completed bookings we receive a commission – at no extra cost to you! More
I link dei partner ci aiutano a fornire gratuitamente le nostre informazioni. Riceviamo una commissione per le prenotazioni completate, senza alcun costo aggiuntivo per voi! Di più
New Year's Eve is primarily a big street party in the center of Rome. Many Romans eat at home or in the restaurant and at midnight they flock to the city center, to the Colosseum or to the lookout hills to celebrate and watch the fireworks.
New Year's Eve traditions in Rome
If you want to be lucky in the new year, then you have to wear red underwear on New Year's Eve, that's the tradition. A good dose of lentils with cotechino, a kind of coarse cooked sausage, promises financial success. In the past, porcelain was also thrown out of the window, but this custom is no longer common today for safety reasons.
Events New Year's Eve 2022/23
You can party into the New Year in many restaurants and discos.
In St. Peter's Basilica, the Pope will celebrate a Te Deum at 5 p.m., which will be broadcast online.
On New Year's Eve there are many concerts. Don Quixote at the Roman Opera, in historic Roman churches the Three Tenors and other concerts.
A very special atmosphere offers the Palace Doria Pamphilij for a baroque concert.
The City festival
The city of Rome organizes a great festival for New Year's Eve and New Year's Day every year.
One of the most popular places to celebrate New Year's Eve in Rome is the Circus Maximus, where a big concert is held. The event is free and about 50,000 visitors are expected.
The concert, entitled "Rome Restarts 2023", will begin at 21:30 and the program, in which many well-known artists will participate, will be led by the speakers of RDS 100% Grandi Successi. After the New Year wishes continue with a DJ set with dancing and singing.
Glass bottles and containers are prohibited at the concert and in the streets!
Fireworks on New Years Eve
At midnight there is a fireworks display of the Roman municipal utilities. However, the private fireworks displays in the city are also interesting. Many Romans flock to vantage points like the Pincio and the Gianicolo to have a good look at them.
Private fireworks have been banned in Rome on New Year's Eve for years. That has never stopped Romans from greeting the New Year with big bangs and fireworks.
Even the curfew imposed because of Corona on New Year's Eve 2020 did not stop the Romans from the fireworks. They began already, while in the live broadcast Gianna Nannini at midnight still sobbed "io ti voglio". Afterwards, the mayor gave a short speech and in the background you could see the most beautiful fireworks.
A member of our Facebook group has documented in this video what was going on New Year's Eve 2021.
Watch fireworks
You can watch the fireworks in Rome very well from the various viewpoints. Many Romans come to the terraces of the Gianicolo or the Pincio. You can also admire the fireworks at the city festival.
On New Year's Eve it is mostly windy and very cold and you need to dress warmly accordingly,
Buy fireworks in Rome
In the supermarkets in Rome you will only find adult free fireworks. There are very few specialized shops in Rome selling real fireworks. The addresses can be found on the internet under the search term "vendita fuochi d'artificio Roma".
Before New Year's Eve, long lines formed in front of the fireworks and it may take several hours to get your turn. If you want to crack properly, you should already stock up two to three days before.
Rome New Year 2023
At New Years it is very quiet in Rome. Many Romans went to bed very late.
Therefore, January 1 is a very quiet day. You can take a walk around the city or a trip to the sea or the mountains. In our category 3 days in Rome you will find many suggestions.
The city festival continues on January 1 with a great cultural program. The National Museums and the Museums of the Municipality of Rome are open and admission is free.
There is a great musical offer:
Museum of the Ara Pacis 12:00 and 16:00 The songs of Lucio Dalla, Strauss waltzes and the Hungarian dances of Brahms.
Capitoline Museums 12:00 and 18:00 Brandenburg Concertos I, II and V, Johann Sebastian Bach
Centrale Montemartini 19:00: Ensamble of the 17th century, Mythical women from the 17th century to today
Teatro Argentina 17:00 and 19:00 Beethoven's Symphonies V and VI in the form of Symphonic Dialogues with the Audience
Auditorium Parco della Musica 17:30 Pieces from the music of Ennio Morricone
Casa del Jazz 12:00 The aristocracy of jazz played by the Campus Jazz Orchestra
Accademia Nazionale di Santa Cecilia 15:00 and 16:00 Baroque concert, music by Vivaldi and other composers
At 12 noon Pope Francis will pray the Angelus prayer, which you can attend in St. Peter's Square. Also at 12 o'clock there is the traditional jump from the Cavour Bridge into the Tiber.
From 15:30 Rome Parade. Parade for the New Year with groups from Italy and abroad. The parade starts from Piazza del Popolo and goes through Via del Corso to the Spanish Steps and back.
At the Roman Opera (Piazza Beniamino Gigli) there will be parades of various musical bands 16:00 – 21:00.
Museums
On January 1, the museums of the Municipality of Rome and the National Museums are open and admission is free.
The Vatican Museums will be closed on Jan. 1.
Restaurants
Many restaurants are open on January 1st. If you want an extensive menu or a brunch, you should make a reservation.
Amusement parks

New Year's Eve at Luneur
The Luneur amusement park is located in the EUR district. Luneur celebrates New Year's Eve with Christmas decorations and mythical creatures. You can find the opening times in the calendar.
Via delle Tre Fontane, 100

Bus 30, 170, 714, 791 Colombo/Agricoltura
Public transportation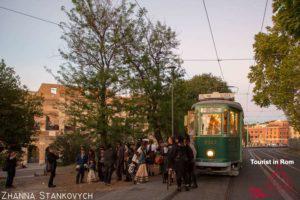 There is an extended timetable on New Year's Eve.
The metro runs on December 31 until 2:30 a.m. The line to Ostia Lido and the line Rome-Flaminia Montebello run until 2:30 a.m. From 2:30 to 8:00 along the metro lines and the line to Ostia Lido run the buses nMA-nMB-nMB1-nMC-nME.
Bus and tram: Last departure on Dec. 31 at 9:00 p.m., except for lines H-2-128-170-200-280-301-336-544-766-881-905, which run until 2:30 a.m.. In addition, the night bus line n913 runs from 9 p.m. to 2:30 a.m.
On 1st January the holiday schedule starts from 8 a.m. The metro runs from 8:00 a.m. to 11:30 p.m. After that, nMA-nMB-nMB1-nMC buses run along metro lines A, B and C.
Information on long distance bus and rail connections can be found on Trainline.
The weather on New Year's Eve
It's cold on New Year's Eve. It is windy at the viewpoints and if you want to light fireworks you should have a storm lighter with you.
If you want to party outside at night, you need warm clothes and gloves. The probability of rain can be found in the current weather report.
The name day
There are few name days where everyone knows which date is meant. Do you know which day is Martin's Day or Joseph's Day? So whose name day is on December 31?
Dec. 31 is the anniversary of the death of a Pope who served as Bishop of Rome in the years 314-335. In his time, Emperor Constatin made Christianity the state religion.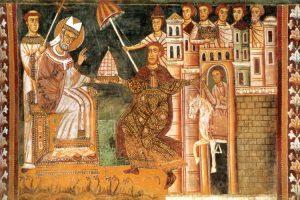 Under Pope Sylvester I, three of the four most important basilicas were built, the Basilicae maiores of St. Peter, St. Paul and St. John. In addition, the Basilica of Santa Croce in Gerusalemme was built under him to house the relics of the cross, and many other churches were built over the tombs of martyrs. He is venerated in the Basilica of San Silvestro e Martino in Monti in Viale del Monte Oppio 28.