Chinese New Year in Rome. The Chinese celebrate the New Year according to their lunar calendar on the second new moon after the winter solstice. It falls on a date between January 21 and February 20.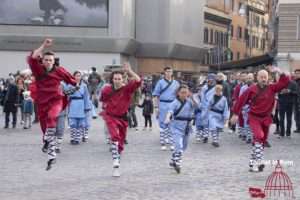 Beijing and Rome have been twin cities since 1998. There is a large Chinese community in Rome celebrating the Chinese New Year.
Even the Romans are happy about every festival, and so the Chinese New Year is celebrated in Rome since some time extensively.
Unfortunately, no events can take place this year due to the restrictions related to the coronavirus.
The Chinese New Year in Via dei Condotti
The boutiques in Via dei Condotti organize a joint exhibition of photographs of 55 Chinese sites of the UNESCO World Heritage.
Many brands on Via dei Condotti take part in the initiative. Take advantage of this and take a look at some designer pieces in connection with this unique exhibition.
When: 20.1.-2.2.2020, during business hours
Where: Via dei Condotti, between Via del Corso and the Spanish Steps
The following shops take part in the exhibition:
In Via dei Condotti: Swarovski, Battistoni, Federico Buccellati, Falconieri, Cartier, Damiani, Bulgari, Carlo Eleuteri, Dolce & Gabbana, Stuart Weitzman, Salvatore Ferragamo
On the Piazza di Spagna: Dolce & Gabbana
The Grand Hotel Plaza on Via del Corso
In the cross street Via Bocca di Leone: Angeletti
In the parallel street Via Borgognona: Il Bisonte
The Chinese New Year festival at Piazza Vittorio Emanuele II
Usually, the Chinese New Year is celebrated in Piazza Vittorio Emanuele II. Although the square has been beautifully rebuilt and reopened, the New Year's festival in 2021 unfortunately cannot take place.
Piazza Vittorio Emanuele II was inaugurated in 1882, 11 years after Rome became Italy's capital. The square is framed by imposing palaces with arcades in the style of the Piedmontese.
It is located south of Termini Central Station in the Esquilino district and many Chinese have settled here and there are many Chinese shops and stores selling goods from all over the world. Here is the Mercato Esquilino, the largest food market in Rome with the largest selection of exotic vegetables, fruits and spices.
There is also a door to visit in Piazza Vittorio. It is the last remnant of a 17th century mansion and is called the magic door or door of alchemy. The owner of the villa, Count Palombara, dealt with alchemy and moved in esoteric circles. The door bears signs of alchemy. Statues of the Egyptian god Bes are on the right and left.