The Chinese community celebrates the Chinese New Year in Rome with love and enthusiasm, demonstrating culture and traditions.
Partner-Links helfen uns dabei, unsere Informationen kostenlos bereitzustellen. Für abgeschlossene Buchungen erhalten wir eine Provision – ohne Mehrkosten für Sie! Mehr
Partner links help us to provide our information free of charge. For completed bookings we receive a commission – at no extra cost to you! More
I link dei partner ci aiutano a fornire gratuitamente le nostre informazioni. Riceviamo una commissione per le prenotazioni completate, senza alcun costo aggiuntivo per voi! Di più
Chinese New Year 2023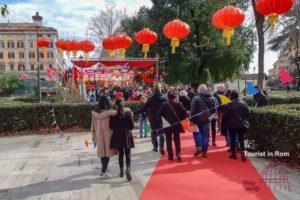 In 2023, the Chinese New Year begins on January 22 under the sign of the Rabbit, the fourth sign of the Chinese zodiac. It ends the year of the Tiger, a very self-confident animal. The Rabbit is considered proud and arrogant.
The festival is also called the  Spring Festival  and it lasts 15 days until the  Lantern Festival . The Chinese New Year is a family festival in which families come together from far away and it is the reason for the largest travel movement in the world.
The festival at Piazza Vittorio Emanuele II
Chinese New Year is celebrated in Piazza Vittorio Emanuele II. There will be a parade, information booths and performances.
The festival will be held on Sunday Feb. 5 from 12 noon.
Piazza Vittorio Emanuele II was inaugurated in 1882, 11 years after Rome became Italy's capital. The square is framed by imposing palaces with arcades in the style of the Piedmontese.
It is located south of Termini Central Station in the Esquilino district and many Chinese have settled here and there are many Chinese shops and stores selling goods from all over the world. Here is the Mercato Esquilino, the largest food market in Rome with the largest selection of exotic vegetables, fruits and spices.
There is also a door to visit in Piazza Vittorio. It is the last remnant of a 17th century mansion and is called the magic door or door of alchemy. The owner of the villa, Count Palombara, dealt with alchemy and moved in esoteric circles. The door bears signs of alchemy. Statues of the Egyptian god Bes are on the right and left.
Other Events
There are usually numerous events for the Chinese New Year celebrations. Involved are theaters, museums and the center around Via dei Condotti. In this year, unfortunately, no initiatives have been published.