The Carnival in Rome starts on Thursday, February 28, 2019 and continues until Tuesday, March 5, 2019. Shrove Tuesday is called "martedì grasso" in Rome. If the current city council wants to keep the tradition, there shall be a big official parade on Saturday, March 2, 2019. Last year, the dates – of what was cancelled – were published five days before the carnival weekend. The city council did not organize the traditional parade and anticipated the celebration of the Chinese New Year by one week.
Rome Caput Mundi! Not only the Julian and Gregorian calendars are from Rome. In 2018, the Chinese new year was successfully anticipated in Rome. As if we were celebrating New Year on December 28th. If that's not a carnival joke! And the honorable administration of the capital has so spared organizing the carnival.
Carnival in Rome · Dates
The carnival in Rome is a celebration for big and small. In schools, department stores and on the streets, children celebrate the carnival.
Around Piazza Navona and Via del Corso, you can find masks and parades from Thursday to Shrove Tuesday. Typical characters are "Rugantino", an arrogant rascal from Trastevere with old trousers and neckerchief, "Cassandrino", a bona fide nobleman, "Meo Patacca", a boy of the people, and the benefactor Don Pasquale. There are also figures from Naples such as Pulcinella, Arlecchino, Pantalone and others.

The official program of the Carnival in Rome is always published at very short notice. It usually begins on Saturday morning March 2, 2019 at the Capitol. Traditionally, the program includes a jazz concert, a large horse parade, masks, games and fireworks. Many Romans also celebrate carnival in the nightclub.
Carnival in Rome · Events
February 23, 2019
La Tarantella del Carnevale Auditorium Parco della Musica – Sala Petrassi 17:00 Parade 18:00 Concert 20:00 Parade viale Pietro de Coubertin 30 Tram 2 Apollodoro
Ex Dogana Disco with music of the 90ies Free admission until 11 pm with registration on Facebook Admission 10 Euro 22:30 – 4:30 Via dello Scalo San Lorenzo 10 Tram 2 direction Porta Maggiore, Tram 3, 19, N10, N11 stop Scalo S. Lorenzo/Talamo, Tram 8 Prolungata direction Porta Maggiore, N18 stop Porta Maggiore
February 28, 2019
Carnevale Veneziano – Una notte in maschera at Club Ristorante Shari Vari with registration on Facebook 20:00 – 4:00 Via De' Nari 14 Bus and night bus to Torre Argentina, Tram 8 Arenula/Cairoli
Dancing Zanussi Salsa and Bachata 22:30-2:30 Piazza Tarquinia 5E Metro A Re di Roma
March 1, 2019
Carnival of the universities of Rome in the Ex Dogana In the style of Elrow on Ibizia, Music in different styles from the 90s to trash in four halls with 12 DJs, admission only with registration on Facebook 23 – 4 Via dello Scalo San Lorenzo 10 Tram 2 direction Porta Maggiore, Tram 3, 19, N10, N11 stop Scalo S. Lorenzo/Talamo, Tram 8 Prolungata direction Porta Maggiore, N18 stop Porta Maggiore
Ex Magazzini Carnival Party Dj Set: RUM – Roma Underground Movement 23 – 5 via dei magazzini generali 27 23, 769, N2 Ostiense/Mercati Generali 715, 716, N9 Ostiense/Matteucci
Toy RoOm Rome Carnevale Cinematic Dresscode! bit.ly/CarnevaleCinematic 23 – 5 Via degli Avignonesi 73 Metro A Barberini 52, 53, 62, 63, 83, 85, 160, 492, N4, N5, N12, N25 Tritone/Barberini
March 2, 2019
Carnevale Popolare di San Lorenzo 15 – 20 Piazza dell'Immacolata Tram 3, 19 Scalo di San Lorenzo/Sardi
Sfilata di Carnevale del Quadraro 15 – 18 Piazza Aruleno Celio Sabino Metro A Giulio Agricola
Carnival in Ostia Moving through the streets of Ostia with conclusion and award ceremony in Piazza Anco Marzio Local train Rome (Piramide) – Ostia to station Ostia Lido
Discotheques:
Angelo Mai Pink Puffers Brass Band Gran Ballo In Maschera 22 – 4 Viale delle Terme di Caracalla 55 671, 714, 792 Terme di Caracalla 628 Terme di Caracalla/Valle Camene N2, N10 Aventino/Circo Massimo
Esc Atelier Torretta Stile Carnevale 21 – 5 Via dei Volsci 159 Tram 2 ->Porta Maggiore, Tram 3, 19, N11 Reti
Workshop ROMA-Original PARTY Carnevale Luigi XlV le follie nella reggia di Versailles 21 – 4 Via Cristoforo Colombo 50 671, 714, 792 Terme di Caracalla 628 Terme di Caracalla/Valle Camene N2, N10 Aventino/Circo Massimo
Dancing Zanussi Swing with live concert and DJ, all in mask 30s-50s people & cartoons 22:30-2:30 Piazza Tarquinia 5E Metro A Re di Roma
Exe Roma Evening with the subject Cartoon 21-4 Viale della Civiltà Romana 1, EUR quartier Metro B EUR Fermi, Bus 170, 714, 791, N2 Evaluations and booking on
March 3, 2019
Città dell'altra Economia: Like every year they celebrate the Carnival with workshops and activities for children and girls from 10 am to sunset Largo Dino Frisullo Metro B Piramide, then bus 719 to Franklin
Bioparco: Carnival at the Bioparco 9:30 – 17 Tram 3, 19 Bioparco

March 3: Aquatic carnival in the Bioparco
On the occasion of the World Wildlife Day the day is under the motto "Life under water". Children up to the age of 10, who disguise themselves as aquatic creatures, have free admission, adults in disguise pay 13 instead of 16 Euro.
To stop the spread of plastic in nature, the WWF collects signatures for the petition against plastic in our seas.
The program:
The whole day: Clowns with thematic games
11 – 16 at the African Penguins: Thematic didactic games about saving a sea turtle and cleaning penguins of oil debris.
12 Information about the African penguins in the Bioparco
11.30 + 14.30 at the oasis of the lake an entertaining show with ideas and skill tests to discover the secrets of the underwater world and the many animals that populate it, but above all to find out what threatens them and how to protect them.
Children can be made-up for their favorite animal or a person.
The World Wildlife Day is now taking place for the 4th time on the anniversary of the Washington Convention CITES on March 3, 1973. More information on wildlifeday.org
.
March 5, 2019
Qube Carnevale Italiano Super guest dj: NINA FLOWERS Mucca Resident djs: Jonathan Heitch, Moira, BradShaw, Anto , Sandro Venditti. Show: Vergana, She Dorian, Era Splendor, La Diamond, Le Riche, La Sheeva, Melissa, Petite Noire, Farida Kant, Mucca Dance Company 20 – 4 Via di Portonaccio 212 Bus 409, 545, N17 Portonaccio/Arimondi
Carnival at the Luneur Park

In the district EUR is the amusement park Luneur. Luneur celebrates Carnival on Saturdays and Sundays 16-17 february 10 am – 6 pm, 23-24 february and 2-3 march 10 am – 7 pm. Every day at 12:30 and at 4:30pm Baby Dance and big Confetti.
Directions: Bus 30 / 130F, 170, 714, 791, N2, N3 stop Colombo / Agricoltura
Carnival of animals
San Carlino – Puppet Theater at the Pincio At the Pincio above Piazza del Popolo Metro A Stops Flaminio or Spagna. The Pincio is one of the most beautiful viewpoints in the city center
Saturday 16.02.2019 4:30pm; Sunday 17.02.2019 11:30am – 4:30pm; Saturday 23.02.2019 4:30pm; Sunday 24.02.2019 11:30am – 4:30pm; Saturday 02.03.2019 11:00am – 4:30pm; Sunday 03.03.2019 11:00am – 4:30pm

Michelangelo and the secrets of the Sistine Chapel
Until October 2019, there is a breathtaking show in the auditorium in Via della Conciliazione.
Original music, actors and 270° projections are the ingredients of this show, which brings audiences closer to the fascination and beauty of the art of the Sistine Chapel. It is produced with technical advice from the Vatican Museums. There are shows in Italian and English. Book now
Carnival in Rome · Costumes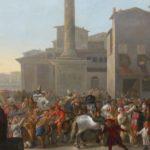 Where do you find costumes for the carnival in Rome? Where can you get professional make-up? Here are some information and tips.
Simple masks and costumes can be found in souvenir shops in the center and in supermarkets and shopping malls.
Sophisticated costumes are available at
Berte on Viale dei Colli Portuensi, 453/455, Directions: Bus 31, 33 stop Giandiglio
Roma in Maschera in Via Eugenio Barsanti, 5 at Piazzale Radio below Trastevere Station, How to get there: Tram 3, 8 Trastevere, Trastevere Trastevere
Estro Costumi in Trastevere, Via Emilio Morosini, 10 How to get there: Tram 3, 8 Trastevere / Min. p. istruzione
Bliz in Via dell'Arcadia 57, in the south of Rome, southeast of Via Cristoforo Colombo and, in the same zone
Pelatelli in Via Aristide Leonori, 26-28. Directions for Bliz and Pelatelli: Bus 30 / 130F, 714 stop Colombo / Accademia Agiati
Arabesque in the north of Rome, area Cassia / Tomba di Nerone, Via al Sesto Miglio 16: Bus 201/301 stop Cassia / Sesto Miglio
There are also some costume dealers.
Professional make-up can be enjoyed in Studio 13 in Piazza Cavour 13. Studio 13 is a make-up center and also organizes courses. Directions: Bus 30 / 130F, 70, 81, 87, 280, 301, 492, 913, N6, N7
Gran Galà di Carnevale a Villa Grant Sabato 2 Marzo 2019 ore 19.00
"Memento Audere Semper" Remember to always trust you. The sentence by Gabriele D'Annunzio, is the guiding principle of the event La Maschera di Roma, held on Saturday, 2 March 2019, in the impressive Villa Grant, near the EUR district, on the edge of the President's estate in Castel Porziano. The place was the home of famous people, not least the royal family of Savoy. Villa Grant is above all a Domus Romana, which once belonged to the poet Publio Terenzio. The charm of the park and the halls of the fifteenth century will rekindle the emotions of the old noble splendor.
The entrance to the villa in the atmosphere of ancient Rome is at 6.30pm, in historical costumes. The elegant dress code refers to the themes of ancient Rome, to the time 17.-18. Century or the Belle Epoque.
Maids and legionnaires of Imperial Rome receive guests in the rooms of Villa Grant. At 7 pm, in the enchanting park, there will be a delicious aperitif between the scents of the gardens with acrobats and spectacular performances by dancers with violin and flute. Photo shoot with legionaries and aperitifs until 9 pm until the gala dinner starts in the old halls. Gourmet reinterpretations of Roman dishes, the banquet accompanied by the string quartet with a concert of lyrical music. The repertoire includes arias from the most famous classical, Neapolitan and Roman operas belonging to the music of the Italian tradition. Musical inserts with the soundtracks of Ennio Morricone. After the dinner in the main hall of the villa, the masked ball joins.
La Maschera di Roma: Villa Grant Via di Pratica 281 Roma > 3479100214 > 0650570832
Sito internet www.lamascheradiroma.it
Carnival in Rome · History
Even in ancient Rome there were orgiastic festivals with public entertainment, dances and masks. It was the Saturnalia that were celebrated from the 23rd to the 30th of December.
From the 10th century there were carnival celebrations around the hill of potsherds Monte Testaccio. These festivals referred to the Saturnalia and wanted to revive the tradition. At the request of Pope Paul II, the celebrations were moved to today's Via del Corso. The highlight was the race of the Berber horses, which became a major attraction. Noblemen, artists and travelers came to Rome to experience the race.
In 1874, the race was abolished by King Victor Emmanuel II after a boy was overrun and died.
Since then, there are only smaller carnival events in Rome.