How you can find an open restaurant in Rome on Christmas Eve, you will learn here. Many restaurants are closed on Christmas Eve. Other restaurants offer special menus on Christmas Eve, Christmas day, and new year's Eve.
Partner-Links helfen uns dabei, unsere Informationen kostenlos bereitzustellen. Für abgeschlossene Buchungen erhalten wir eine Provision – ohne Mehrkosten für Sie! Mehr
Partner links help us to provide our information free of charge. For completed bookings we receive a commission – at no extra cost to you! More
I link dei partner ci aiutano a fornire gratuitamente le nostre informazioni. Riceviamo una commissione per le prenotazioni completate, senza alcun costo aggiuntivo per voi! Di più
Book a restaurant in Rome
The Romans like to eat and good restaurants are often booked early. You should therefore reserve a restaurant during the holidays. Very helpful is Tripadvisor. With the "Online Reservations" filter you can see all the restaurants you can book online. Your reservation will be confirmed immediately and you will not have to make a phone call and deposit payments. Before making your reservation you will also see if there is a special menu on Christmas Eve, Christmas Day or New Year's Eve or if the normal menu is offered. Evaluations and online booking of restaurants in Rome on
Restaurants Rome Christmas Eve December 24
Many restaurants are closed on Christmas Eve. If you want to celebrate Christmas Eve with a festive menu, we recommend a reservation.
As public transport stops at 9pm on Christmas Eve, you need to return to your hotel on foot or by taxi. In the late evening, the taxis could be scarce.
Tips for restaurants on Christmas Eve
If you do not want to roam the city of Rome at a venture looking for a restaurant, you should make a reservation for the Christmas Eve. I have selected some restaurants for you, which can be booked for the Christmas Eve:
Simple restaurants
Mercato Centrale – Termini
The Mercato Centrale is located in Termini Station on the side of Via Giolitti. Here the most prestigious names of Rome present themselves in a market-like atmosphere. On New Year's Eve open until 2 am. Mercato Centrale
Bottega Tredici – near the Ghetto
Bottega Tredici near the Turtle Fountain offers delicious and creative combinations with local ingredients. Bottega Tredici on
.
In the Tagliere Toscana you get primarily antipasti, appetizers. You can enjoy your meal with a big plate of appetizers and the quality is really good. On
you can reserve for a specific time on Christmas Eve at the Tagliere Toscano.
Pesceria Barberini – Piazza Barberini
The Pesceria Barberini is a kind of very simple trattoria in the style of a fishmonger. Here you will find very good fish dishes such as raw fish, pasta dishes and fish platters at good prices. Reserve the Pesceria Barberini on
.
Da Noantri al 41 – Pyramide
Da Noantri is a nice restaurant with pizzeria near the pyramid. There is a wide selection of Roman cuisine, pizza and steaks. Da Noantri on
L'Arrosticinaro – Tiburtina
Located near Tiburtina train station, this restaurant offers cold cuts, bruschetta and typical sheep-meat spits. L'Arrosticinaro on
.
Schietto – Re di Roma
Close to Re di Roma metro station you will find this restaurant, creatively combining recipes from Puglia and around the world. Schietto on
. Christmas menu
Trattoria Re di Roma
The restaurant is characterized by its special atmosphere, authentic Roman cuisine and courteous service.

Trattoria Re di Roma
Pesceria Appia Nuova – Re di Roma
The Pesceria Appia is a kind of very simple trattoria in the style of a fishmonger. Here you will find very good fish dishes such as raw fish, pasta dishes and fish platters at good prices. Book the Pesceria Appia on
.
Fine cuisine
Checco er Carrettiere – Trastevere
Checco is a traditional restaurant in Trastevere. You will find here typical Roman cuisine but also fish. If you want to eat here on Christmas Eve, be sure to book on 
at Checco er Carrettiere.
Osteria dei Cappellari – Campo de' Fiori
The Osteria dei Cappellari is a very nice restaurant in the vicinity of Campo de' Fiori. We have pre-sampled for you and can tell you, there is very good real Roman cuisine. The service is very attentive. The Osteria dei Cappellari offers a Christmas dinner at a very convenient price. I can highly recommend the Osteria dei Cappellari.
The restaurant Osteria dei Cappellari is closed on 25.12. and 1.1.
The Virginiae is just behind the German parish church of Santa Maria dell'Anima behind Piazza Navona. Click here for reviews and reservation for the Virginiae on
.
This interesting and elegant restaurant in Piazza delle Coppelle combines Italian and French elements. Casa Coppelle you can check and book on
.
Life – Center (Spanish Steps – Via dei Condotti)
Life is a secret place in the city center next to the Spanish Steps. Food and service are excellent. The prices are correspondingly high. Life on
Enoteca Regionale – Center
The Enoteca Regionale offers exclusively products from the Lazio region. The Enoteca is located in Via Frattina, a side street of Via del Corso and parallel to Via dei Condotti. Here you can enjoy the regional cuisine of Rome. Enoteca Regionale on
.
La Locanda di Pietro – Ottaviano
Below the entrance to the Vatican Museums is the Locanda di Pietro. In this family restaurant you will find good food and excellent pizza. Reviews and info about Locanda di Pietro on .
Osteria dell'Arco – Piazza Fiume / Salario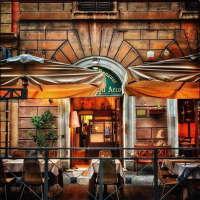 A very lively area is Salario around Piazza Fiume, Via Nizza and Piazza Alessandria. Here, Cristina has earned an excellent reputation in the kitchen and Nicoletta as sommelier. Here you will find homemade creations from the tradition of central and southern Italy. The ingredients come from local farms and are partly organic.

Roof Garden Hotel Forum – Imperial Forums
Right next to the Imperial Forums is the Hotel Forum. On the rooftop terrace is the Roof Garden Restaurant, which offers magnificent views of the Imperial Forums and the city. Das Roof Garden Restaurant on
.
L'Archeologia  – Appia Antica
Auf der Appia Antica befindet sich eines meiner Lieblingsrestaurants, die Archäologie. This restaurant is internationally known, Bill Clinton and other celebrities were guests here. The archeology offers very well-kept fish and meat dishes and interesting creations. L'Archeologia on
.
Hostaria Antica Roma –  Appia Antica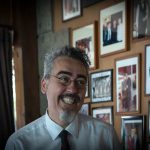 The Hostaria Antica Roma offers a special ambience. It is located in a large park opposite the Mausoleum of Cecilia Metella. Here you feel right at home. The landlord Paolo is a good storyteller and some writers have mentioned him and the restaurant in their novels. Many prominent personalities are among Paolo's guests. An evening at Hostaria Antica Roma is an unforgettable experience. Hostaria Antica Roma on
Restaurants Rome 25th of December
On December 25, more restaurants are open than on Christmas Eve. For reservations we recommend the above mentioned restaurants also for the 25th of December.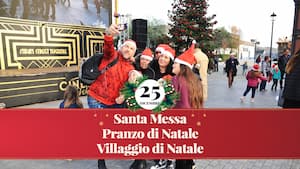 Cinecittà World is open on December 25
10:30 Holy Mass
Christmas menu
Cinecittà World is located on the Via Pontina between Rome and Pomezia.
Shuttle bus and entrance on Getyourguide
Regional bus COTRAL from Metro Laurentina to Castel Romano 2,60€ <->, buying the ticket on bord 14€ The shuttle bus departs from the ATAC stop in Viale America above the EUR/Palasport metro station on line B from 10:30 – return 18:00. 14€
Restaurants Rome New Year's Eve
New Year's Eve many restaurants offer a New Year's Eve menu. The evening usually starts between 8pm and 9pm and ends after midnight with a traditional lentil dish with cotechino, a cooked sausage. Cotechino con lenticchie aims to secure financial success in the new year.
For the New Year's Eve menu you must make a reservation. Many restaurants require a personal reservation and a deposit. Therefore, the booking of the New Year's Eve menu with Tripadvisor is very convenient.
Cinecittà World celebrates a big party on New Year's Eve. Reservations
[wp_show_posts id="25710″]
[wp_show_posts id="31769″]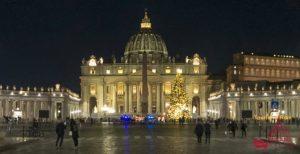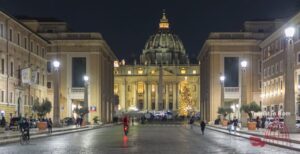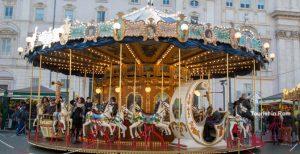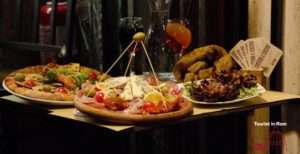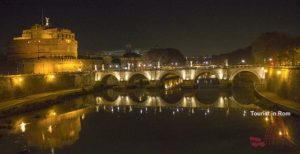 Photo Gallery Nativity 2021 in St. Peter's Square
2020 nativity scene on St. Peter's square · Photo gallery
Photo gallery of the Piazza Navona Christmas Market
Restaurants Rome Christmas and New Year's Eve
Photo Gallery Christmas shopping in via dei Coronari
Photo Gallery Christmas in Via del Corso