In our photo gallery you can see the nativity scene 2020 in St. Peter's Square and the exhibition 100 nativity scenes in the Vatican 2020. Enjoy the pictures and look forward to your next Christmas in Rome.
The Christmas crib
The 2020 nativity scene in St. Peter's Square comes from the town of Castelli in the Abruzzo Region. The figures are made of ceramic. The craft of ceramics has a millennia-old tradition in Castelli.
In the years 1965-75 the local art school worked on the theme of Christmas and built this crib. It was first exhibited in Rome in 1970. She was later seen in Bethlehem, Jerusalem and Tel Aviv.
The crib consists of a total of 54 statues, only a few of which are exhibited in St. Peter's Square. On the right side you can see the holy family with ox and donkey and an angel. To the left a girl is playing a flute, an astronaut and an alien can be seen. The astronaut is holding the moon in his hands, referring to the first moon landing in 1969. The three kings are on the left.
Even if the crib seems modern, it is already around 50 years old. It connects ancient traditions with today's times and thus shows the dynamism of the continuous development of mankind.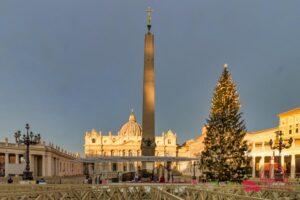 The exhibition 100 nativity scenes in the Vatican
The exhibition 100 Nativity scenes in the Vatican takes place at the turn of the year 2020/21 outdoors under the left colonnades of the Bernini. Schools, organizations and artists show their work. There are nativity scenes from all over the world.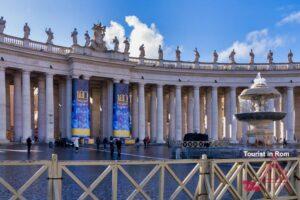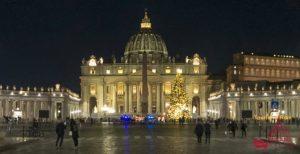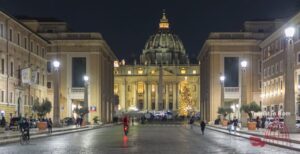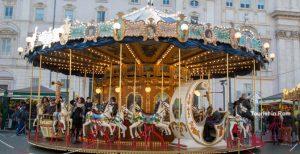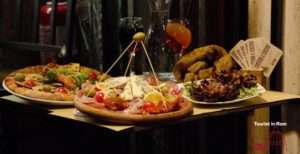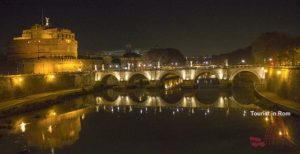 Photo Gallery Nativity 2021 in St. Peter's Square
2020 nativity scene on St. Peter's square · Photo gallery
Photo gallery of the Piazza Navona Christmas Market
Restaurants Rome Christmas and New Year's Eve
Photo Gallery Christmas shopping in via dei Coronari
Photo Gallery Christmas in Via del Corso