Here you will find all information and order Metrebus Rome tickets online for the urban area (Zone AB) and weekly tickets including zone C for connections to the airports.
Many Rome visitors prefer to get the tickets for public transport in advance. In Rome, the ticket machines are often broken, there are problems with the change and pickpockets often offer their help with the use of the machines. The tickets will be shipped within 2-3 working days inside Germany, for other countries it needs some more day.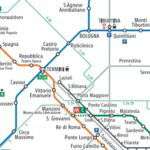 Tickets in the city of Rome are valid for all public transport, bus, train, tram and metro. The tariff boundaries of Zone AB are marked in red in the map, which you can download here. For many City Passes, the use of public transport is already included!
In Rome, you can buy the tickets at vending machines or at some tobacconists and newspaper stands. There you will find mostly only the tickets for the one way. There are also official ticket offices in some metro stations or ticket vending machines.
Conditions of carriage (extract)
A child up to the age of 10 accompanied by an adult does not need a ticket.
Tickets are required for luggage >50x30x25 cm, bicycles and pets.
No tickets are required for seeing-eye dogs, folded baby buggies and musical instruments which do not exceed 150x50x20 cm.
Metrebus Rome Tickets Online Order
Regional ticket 3 zones for 7 days. This ticket will allow you to travel from Fiumicino Airport to Rome on the FL1 trains, as well as by regional bus, from Ciampino Ciampino airport to Rome by train and regional buses, as well as using all public transport in the city of Rome. You can also use all the regional connections around Rome, such as to Tivoli and Castel Gandolfo.
Please note: Metrebus tickets AB are not valid from and to Fiumicino airport! The regional ticket CIRS for 3 zones is valid for the train line FL1 which connects to Trastevere, Ostiense, Tiburtina and other stations in Rome. The regional ticket is valid also for the regional buses.
The Metrebus tickets AB is valid between Ciampino airport and the Cinecittà metro station of line A with bus 520 and the Laurentina metro station of line B with bus 720.
One way ticket metrebus
BIT (1,50 €) valid for 100 minutes from the first validation or for a subway ride, also on several lines, without leaving the turnstiles. This ticket is not available online.
Tickets for regional transport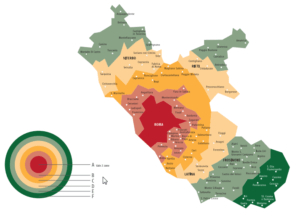 The Lazio region is divided into 7 zones, with the city center of Rome (see map-red) beating with 2 zones.
Attention! Limited validity on the connections to Fiumicino airport!
The regional tickets are not valid for the train "Leonardo express" from Termini to Fiumicino airport and not for the COTRAL connections between Termini station or Tiburtina station and Fiumicino airport.
For train line FL1 and the other COTRAL connections between Fiumicino airport and the city of Rome, a three-zone ticket (for details see below, BIRG 8 € for a day) is necessary or tickets for a single journey.
METREBUS LAZIO
Metrebus Rome Tickets Online are available online as a three-zone ticket for seven days (see above). There are also the following tickets: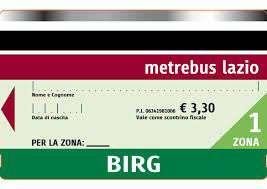 BIRG – day ticket valid until midnight for an unlimited number of trips in the area of Lazio.
The cost varies depending on the number of zones: 1 zone 3,30 € – 2 zones 6,00 € – 3 zones 8,00 € – 4 zones 9,30 € – 5 zones 12,00 € – 6 zones 14,00 € – 7 zones 14,00 €

BTR – 3-day ticket valid until midnight of the 3rd day valid for an unlimited number of trips in the area of Lazio.
The cost varies depending on the number of zones: 1 zone 8,90 € – 2 zones 16,50 € – 3 zones 22,00 € – 4 zones 26,10 € – 5 zones 33,70 € – 6 zones 39,20 € – 7 zones 39,20 €
CIRS – integrated regional weekly ticket valid until midnight of the 7th day for an unlimited number of trips in the area of Lazio. The cost varies depending on the number of zones: 1 zone 13,50 € – 2 zones 24,00 € – 3 zones 34,50 € – 4 zones 42,00 € – 5 zones 52,50 € – 6 zones 61,50 € – 7 zones 61,50 €